Hurricane Barry Is Brewing In Miami
Diller's plans for his HSN stations could lead to a new network
By and
Barry Diller, the Hollywood executive who brought you Raiders of the Lost Ark, the Fox Network, and a QVC Inc. with cachet, now wants to bring you something really new--lots of news about your little corner of the world. Starting with Channel 69 in Miami, Diller plans to transform the 18 television stations he owns or controls from vehicles for Home Shopping Network's shows to outlets for local fare. "We will be edgy, aggressive, and promote the hell out of ourselves to get noticed in the market," says Diller.
It's a novel approach to building a network. But clearly, Diller wants to do something to get more value out of his stations. Shares of HSN Inc., the parent company Diller created in December by merging Silver King, Home Shopping Network, and media company Savoy Pictures, are trading at around 23--near where they started.
Indeed, if Diller's local-programming concept doesn't turn the stations into big moneymakers, regulators may give him other ways to increase their value. The Supreme Court's ruling in March that cable companies must carry local broadcast programming has already upped the price of local stations. Another boost could come as early as this summer if the Federal Communications Commission decides to end the so-called duopoly rule, which bars any company from owning two television stations in one market. If the FCC drops that ban, Diller would be able to sell the stations--in a parcel or in parts. "The real end game [for Diller] is not to create a network," says one institutional investor. "With must-carry and the duopoly decision, you have a home run."
The potential of the HSN stations--not just Diller's programming acumen--helped persuade David Geffen to invest. The media mogul, an old friend of Diller, bought 400,000 HSN shares, he says, because he thinks the stations undervalued. "You're paying for HSN and getting the stations for nothing," he says.
An alternative to selling the stations would be joint ventures with a major network looking for a second local slot. After years of losing viewers, the big players might welcome a second spot on the air. Whatever deals Diller pursues, a new programming format--if successful--can only help increase the value of HSN stations. That's where CitiVision enters the picture. Think alternative newspapers in major cities, says Diller in describing his programming plans. The stations will feature at least three hours of news programming a day, as well as investigative stories, segments on local hot spots, and off-beat features. He plans to test the format in Miami for up to six months, and by the end of 1998, he says he will launch it in 18 markets--12 where HSN owns stations and six where it has controlling interests in stations. Home Shopping will continue as a cable-only service.
Will it work? Hard to say. Diller puts the startup cost for Miami at about $20 million and the total national investment at about $150 million. That should be manageable, since HSN's cash flow will likely come in at $40 million for the first quarter, compared with $26 million a year earlier, according to Edward T. Hatch of UBS Securities.
BIG TAB. But some TV execs think the cost will be much higher. UPN, for instance, has spent about $155 million a year since January 1995. "You have to spend money to create programming that people want to watch," says Michael Garston, a vice-president at media brokerage firm Daniels & Co.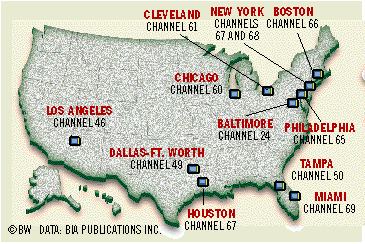 The Miami market will be especially hard to crack, experts say. Tom Buono, president of BIA Cos., a Chantilly (Va.) consultant that appraises TV stations, says Miami is saturated, with eight stations boasting audience shares of 7% or more. "Starting from ground zero in that kind of a market is going to be very difficult," he says.
Even Diller concedes that his plans are in flux. "We may screw up this program concept, or we could be pre-empted by a whole range of things--the FCC, Congress, or something else," he says. "Or someone might throw a gold brick at our door." Plain cash would do.