Carl's Eyes May Be Bigger Than Its Stomach
The new No. 4 in fast food may have trouble digesting Hardee's
Kathleen Morris
When William P. Foley II bought 25% of Carl Karcher Enterprises in late 1993, he intended to be a passive investor. An infrequent patron of the Carl's Jr. hamburger chain, Foley was more focused on building the insurance company he also ran and improving his golf swing. Three years and 30 pounds later, Foley clearly has learned to love Carl's Famous Star with cheese--and the fast-food industry.
Foley is so enamored of the burger biz that he's taking a stab at making the renamed CKE Restaurants Inc. into a national chain. On Apr. 28, he reached an agreement with Canada's Imasco Ltd. to buy the struggling Hardee's chain for $327 million--a deal that instantly vaults Carl's to No.4 in burgers. "Aside from my wedding 57 years ago, yesterday was the happiest day of my life," said 80-year-old Carl N. Karcher, who started Carl's in 1956 with a single hotdog stand.
Can CKE, which has gone from a money-loser to a money-maker since shareholders ousted Karcher in 1993 and installed Foley a year later, digest its latest acquisition? Hardee's, with 3,152 restaurants, is four times the size of Carl's. Analysts who follow the company are bullish on the deal's prospects. But some investors are less enthused. CKE's stock plunged 5%, to $19.50, the day the deal--and a related $100 million secondary stock offering--were announced.
SLOPPY GUYS. Still, Foley has proven he can pull off acquisitions. Since August, CKE has taken over five small chains and bought stakes in Rally's Hamburgers Inc. and Checkers Drive-In Restaurants Inc., expanding from 650 to 928 locations. In the process, Foley, 52, has managed to turn CKE around. When Karcher was ousted, the company had just closed fiscal 1993 with a $3 million loss. Foley came in a year later, ditched discount promotions, and launched an in-your-face ad campaign that emphasized Carl's Jr. as the spot for bigger, juicier burgers. Mendelsohn/Zien Advertising Inc. lined up bad boy Dennis Rodman as a pitchman, and now the hoopster gobbles messily for the camera, showing off Carl's red star logo in his gold hair. "We want the 18- to 35-year-old guy," says Foley. "Their dates can have a barbecued chicken sandwich."
Sure enough, the call to America's sloppy males has driven Carl's earnings skyward, to $22 million on sales of $614 million. Moreover, Carl's restaurant-unit margins have increased to 22%, the highest of any burger chain. Foley says the same performance can be repeated. "Hardee's food, labor, and paper costs are 70% of sales. Ours are 58%. That is an $80 million difference," he says.
For Foley, though, managing the larger Hardee's could prove overwhelming. Hardee's has been falling behind for years in the notoriously cut-throat fast-food business. The chain lost its focus on burgers after buying the Roy Rogers chain, and same-store sales have fallen 15% in the past three years. It lost $18 million in 1996.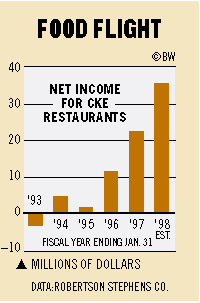 THREE SQUARES. Moreover, Foley has a lot on his plate. In addition to running Carl's, the West Point-educated exec is CEO of Fidelity National Financial Inc., the nation's fourth-largest title insurance company. He oversees both of his Orange County (Calif.)-based companies, as well as his two wineries, from an office two hours away in Santa Barbara. But Foley says doctoring Hardee's will be manageable because it is such a perfect complement to Carl's. Hardee's does all its business on the East Coast and in the Midwest and gets 30% of its revenues from breakfasts, while Carl's mostly California-based outlets do all but 10% of their business at lunch and dinner.Foley'sintendstoreplace Hardee's lunch and dinner offerings with Carl's burgers. "We will soon pass Wendy's to be No.3," says Foley. "We are right in their rearview mirror."
Competitors aren't exactly shaking in their aprons over the Carl's Jr.-Hardee's combo. "They are not even a blip on my screen," says Michael F. DeRosa, president of Burger King's National Franchisee Assn.Customers nationwide may take to Carl's juicy burgers. But some investors are on the lookout for messy stains on the company's income statement.