Brazil: Coming To Grips With A Troubling Trade Gap
Brazil is learning that when the big boys squabble, sometimes the other guys get hurt. Brazil's currency, the real, has been softly linked to the U.S. dollar since 1994, in a successful effort to rein in inflation. So the real has followed the dollar in its two-year appreciation against other currencies. The result is a severe widening of the trade gap, and rising pressure to slow Brazil's economy.
The dollar was a key topic in the Apr. 26-27 meeting of the Group of Seven finance ministers, who said the dollar's runup has gone far enough. But the dollar will not weaken anytime soon, so the real will also stay high. True, Brazil's government has used inflation differentials to devalue the real gradually against the dollar, but Braslia did not expect the dollar to rise as rapidly as it has. In the year ended in March, the real was up 7% against the German mark and 8.1% vs. the Japanese yen.
As a result, cheap imports are flooding into Brazil, while exports are less price-competitive. Brazil's current account deficit widened to $6.8 billion in the first quarter, double its year-ago level, led by the fall in merchandise trade (chart). Goods exports last quarter rose just 3.6% from a year ago, while imports soared by 27.7%. For all of 1997, the current account deficit is expected to widen to $30 billion, from $24.3 billion in 1996.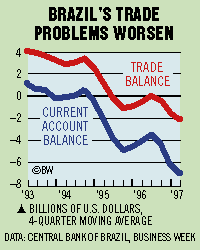 To narrow the gap, the government said on Mar. 25 that it will restrict import financing except for goods from Brazil's trading group, the Mercosur Bloc. In April, the central bank lowered taxes on fixed-income capital inflows and stopped cutting short-term interest rates.
The government hopes these alternative means will stop the trade gap from widening and stem the loss of foreign reserves. Eventually though, the economy, set to grow 3.9% in 1997, will have to be slowed to restrain import growth. That means higher interest rates and other credit restrictions as well as higher joblessness. What's more, a devaluation in the real--considered unlikely a few months ago--now cannot be ruled out.