An Insurer Eyes Foreign Policies
Gary Weiss
Reinsurance companies usually operate in dignified obscurity, and Transatlantic Holdings (TRH) is no exception. The company, based in lower Manhattan, boasts $4 billion in assets and is the sixth-largest U.S. player in the field. The company takes on risk from other insurers--ranging from general liability to car insurance to medical malpractice. Despite Transatlantic's growing earnings and its strong position in lucrative markets abroad, the stock has advanced only 3% this year--lagging behind the Standard & Poor's 500-stock index until very recently.
But the market's lack of enthusiasm may be misplaced. That is the view of insurance-stock guru Kenneth Feinberg, co-manager of the Davis Financial Fund. Feinberg has been buying Transatlantic with the view that the company's Big Board-traded shares are undervalued and that powerful stock price advances lie ahead, particularly if its price-earnings ratio rises.
One reason for Transatlantic's tepid stock performance in recent months has been the lackluster reputation of the whole field. "There has been kind of a cloud over reinsurance stocks," notes Feinberg. "Prices have been depressed. Demand is shrinking. Insurance companies are keeping more of their premiums and paying out less in reinsurance."
As its name implies, Transatlantic is strong overseas, and that's its ace in the hole. Feinberg notes that a growing slice of the company's premiums come from overseas operations, which offer considerably more potential for growth--particularly in Asia and Latin America.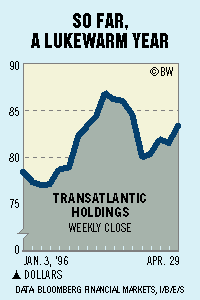 Some 40% of the company's net premiums came from abroad in 1996, up from 31% in 1995. Much of the overseas gain in 1996 came from a newly acquired Swiss company, Trans Re Zurich, and from an office in Paris that opened in late 1995. The company also has a big Latin presence, with an Argentine subsidiary and offices throughout the continent. Nearly 50% of Transatlantic's shares are owned by the powerhouse American International Group, which provides about 18% of revenues.
With foreign operations going full blast, Transatlantic earnings are climbing. The company reported profits of $155 million, or $6.74 a share, in 1996--a 17% increase over 1995's $132 million and $5.75 a share. First-quarter profits advanced 15%--from $1.58 a year ago to $1.81. Feinberg feels that if price-earnings ratios for the company expand even modestly, the stock could climb from its recent 823/4 to as high as 110 over the next year or so.