Want To Buy A House? Get In Line
Across the U.S., homes are moving fast
Tim Smart
Philippe and Linda Bourguet toured 15 houses in a single April weekend as they planned their move to South Florida. They found a two-story, Spanish-style house overlooking the water and made an offer on the spot. In 24 hours, they had a contract to buy it for $445,000 and were headed back to Kansas to pack.
Across the U.S., residential property is moving fast. Strong job growth and low unemployment, together with modest interest rates, helped lift sales of existing houses 9% in February, to an annual level of 4.26 million units, nearing the record set last May. And new houses sold at an annual rate of more than 800,000 in January and February--about 7.5% higher than the average for 1996.
That was before the Federal Reserve raised the federal funds rate a quarter point on Mar. 25. Still, economists expect the March housing numbers, set for release on Apr. 25, to top 4 million again. Pent-up demand remains strong, and mortgage rates are up just a half-point since the Fed move. "I wouldn't be surprised to see March and April and maybe even May remain strong," says PNC Bank Corp. economist Stuart G. Hoffman.
After that, will rising interest rates spoil the party? The same conditions that give buyers the wherewithal to trade up to new houses--a strong job market and rising wages--also could prompt the Fed to boost rates again, perhaps dampening housing demand.
For now, though, home sales are strong across the country. In long-depressed Detroit, prices have posted double-digit growth. Corporate relocations are helping drive Nashville prices 6% to 7% higher than last year, says Jackie W. Charlton of Century 21 Charlton Realty.
TRUE TALES. Nationwide, prices rose 2.6% last year. And a few markets are seeing the double-digit gains that marked the '80s boom. In Seattle, neighbors swap stories about sellers such as Don and Jocelyn Pearl of Bellevue. They got their asking price--$239,000--in 48 hours, for a home they had bought for $198,000 four years ago.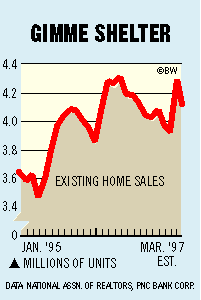 Of course, some markets aren't as vibrant. Overbuilding and government downsizing have left District of Columbia suburbs with an inventory overhang and prices well below those of the early '90s. But even in Los Angeles, lenders are bullish. "Southern Cal has been fantastic," says Ray W. Sims, who heads mortgage origination at Great Western Financial Corp. He says prices are up some 2% since last year--and statewide, existing-home sales rose 19% in 1996.
That's welcome news. Yet the buying frenzy that has gripped Northern California--where more than 100 buyers recently camped out for the opening of a new housing development--should raise a few red flags. For where real estate booms, busts often follow.
Before it's here, it's on the Bloomberg Terminal.
LEARN MORE