Unocal: A Company Without A Country?
The oil and gas company says it won't leave Burma, but it may de-Americanize
by
The U.S. is becoming a distinctly inhospitable place for Unocal Corp. to hang its hat. In March, a federal district court judge in California ruled that the oil and natural-gas company could face trial in the U.S. for human-rights violations in Burma, where it has a $340 million stake in a natural gas project. Then, on Apr. 22, the Clinton Administration imposed sanctions against the rogue state that prohibit further investment by U.S. companies.
Faced with this political pressure
at home and drawn by the lure of growth opportunities abroad, the $5.3 billion company is taking a radical step: It is de-Americanizing. Legally, the company is headquartered in El Segundo, Calif. But in company literature, Unocal says it "no longer considers itself as a U.S. company" but a "global energy company." In practice, it is slowly moving assets, research spending, and management to Asia.
On Apr. 21, Unocal opened what it calls a "`twin corporate headquarters" in Malaysia. President John F. Imle Jr. and several senior executives will be posted there while CEO Roger C. Beach remains in California. This after it sold off its U.S. refining operations and gas stations to Tosco Corp. in March for $2 billion. Analysts say Unocal may decide to spin off its Asia headquarters into an entirely separate company--and in so doing, may be able to bypass U.S. sanctions. "They have structured their operations now so it would be easy for them to pull out of the U.S. if that's what they needed to do," says Jennifer Weinstein, research associate at NatWest Securities Corp.
Unocal says it has no immediate plans to relocate or spin off the international division. Its Burmese operations, the company says, are grandfathered under the sanctions, and 62% of Unocal's revenue is still generated in the U.S., mostly from production in the Gulf of Mexico and Alaska. But two-thirds of its $1.34 billion in capital spending currently goes to Asia--Central Asia, Bangladesh, China, and elsewhere in Southeast Asia--as well as Burma. "Our major focus area for future investment is Asia," Beach wrote in a recent letter to shareholders. In Burma, Unocal owns 28% of a joint venture with France's Total, the Petroleum Authority of Thailand, and Myanma Oil & Gas Enterprise, a state-owned company. The four are investing $1.2 billion to develop a natural-gas field in the Andaman Sea south of Rangoon and a 254-mile pipeline to Thailand set to open in mid-1998. A proposed second pipeline, to Rangoon, could be halted by U.S. sanctions.
Unocal isn't the only U.S. company operating in Burma. Texaco Inc. and Arco Corp. have invested in smaller natural-gas projects. But pressure is mounting against multinationals that deal with the State Law & Order Restoration Council (SLORC), the military junta that has run the country since forcibly taking power in 1988. PepsiCo, Philips Electronics, and Motorola, among other U.S. and European companies, have pulled out of Burma in the last year. That leaves Unocal the biggest U.S. player in the country by far--and, so, a magnet for activists.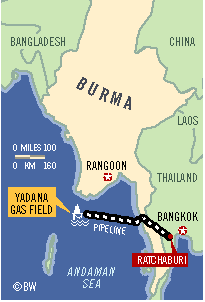 RUNAWAYS. The anti-SLORC campaign may only drive Unocal closer to divorcing itself from the U.S. Overnight, it could join a growing community that includes Hongkong & Shanghai Banking Corp., which moved to Britain in 1993 ahead of China's takeover of Hong Kong, and ABB Asea Brown Boveri Ltd., which now calls itself a "multidomestic corporation."
Other multinationals will be watching. The human-rights case appears tenuous: Total is building and running the Burma operation, while Unocal is just an investor. But if the trial is heard in the U.S., it could have broad implications for other U.S. companies operating abroad. "It should be a warning that companies should be aware of what any of their government partners are doing," says Robert W. Benson, professor of international human-rights law at Loyola Law School in Los Angeles. Or they should start thinking about a new home.
Before it's here, it's on the Bloomberg Terminal.
LEARN MORE