business
U.S.: Looking For Trouble? Take A Look At Trade
The good news: Imports stave off inflation. The bad: Growth will suffer
By
The forecasts found in the tea leaves of most economists have shifted recently from what was expected when the year began. First, domestic demand is showing more strength than projected. Also, instead of promising neither help nor harm, foreign trade now may end up being a drag on 1997 growth.
The first new reading of the oolong is partly responsible for the second. That's because the robust pace of domestic demand is drawing in more imports. Real merchandise imports are growing at a double-digit rate, outpacing exports since late 1996 (chart). The problem for the outlook is that this trend is unlikely to change much until 1997's second half. Domestic demand has yet to show any signs of sustained slowing, and inventories need to be rebuilt.
At the same time, exports will continue their moderately healthy advance of 6% to 8%, after adjusting for inflation. Stronger world growth will boost demand for U.S.-made goods and services. But the dollar's rapid appreciation will offset some of those increases. All this means that net exports--the difference between exports and imports in the gross domestic product--subtracted sharply from first-quarter economic growth, and they will probably continue to deduct from the second quarter, and perhaps the third.
For policymakers at the Federal Reserve, the trade situation holds some benefits. First, because of the dollar's rise, import prices are falling, offsetting increases in domestic-goods prices. Second, global capacity works as a safety valve that guards against U.S. capacity becoming overextended--a precursor to shortages and upward price pressures. But in Washington's more political venues, the overall deterioration of trade, including wider gaps with Japan and China, may increase protectionist sentiment.
THE FEBRUARY TRADE NUMBERS from the Commerce Dept. were good, if somewhat erratic. Commerce first reported that the trade deficit for goods and services had shrunk to $11.6 billion, from January's record $12.7 billion. Later, however, they corrected themselves, saying the true February gap was just $10.4 billion. The problem was an error in oil imports.
Exports managed to bounce back by 4% in the month, to $73.5 billion, after falling for two consecutive months. Imports rose a much smaller 0.7%, but that was the fourth consecutive gain, so imports stood at a record $83.9 billion. The import gains were widespread.
After adjusting for prices, the monthly trade figures suggest a steep widening in net exports last quarter. Of course, net exports usually widen in the first quarter of every year because of problems in Commerce's seasonal-adjustment process. But this year, net exports appear to have lopped some two percentage points off real GDP growth. Moreover, net exports typically do not improve in the second quarter. And that trend will probably be repeated in 1997 because domestic demand shows no signs of slowing.
Further evidence of that comes from a survey of business executives done by the Conference Board. The first-quarter survey shows that execs are more confident about economic activity over the next six months than they were in either the third or fourth quarters. And their optimism for their own industry is the highest in three years. In addition, over 30% of those surveyed plan to hire more workers this year, up from just 10% at the start of 1996. And it is strong job markets that are fueling the robust pace of consumer spending--which in turn lifts import growth.
CONSUMERS WILL CONTINUE to snap up imports because they're getting cheaper, thanks to the dollar. Prices of all imports fell 1.4% in March, the third decline in a row. And while plunging oil prices caused most of the drop, prices of nonoil imports slipped 0.3% and have risen only twice in the past 15 months.
Export prices, however, are also not increasing (chart). That seems an anomaly given that over the past year, the dollar has risen 3.6% against an inflation-adjusted basket of currencies. Part of the explanation may be that exporters have hedged against the dollar's swing or are swallowing the exchange-rate loss. Eventually, though, the dollar's strength will pressure these companies to protect their profits by lifting export prices.
Another reason for the drop is the price cuts for computers and semiconductors, a major export sector. Those products are dropping in price in the U.S., so it's not surprising that their manufacturers are also charging less overseas. The prices of high-tech equipment will continue to fall, and those cuts should keep overall export prices from rising very much.
FALLING PRICES, combined with strong demand by developing nations, are why high-tech exports will maintain their muscle this year. Already, the trade surplus in high-tech equipment has bounced back from its 1995 decline. Exports are up 6.9% from a year ago, when they surged 19.3% (chart). High-tech imports have been flat for about a year, but again, that mostly reflects falling prices rather than declines in volume.
Brighter export prospects aren't confined to the high-tech sector. A pickup in lower-tech exports is also expected in the second half because of the better outlook for global growth. However, these goods will feel the dollar's impact when it comes to pricing.
Even so, stronger economies in Europe and southeast Asia will improve U.S. sales there. And Canada, Mexico, and Latin America will continue to lead export growth. Canada and Mexico have accounted for 78.8% of the export growth so far in 1997 vs. 1996.
One weak spot could be Japan. Economic growth there will still be tentative. Plus, the dollar soared 11.9% against the yen in 1996 and has climbed an additional 7.7% in the first three months of 1997. Already, the U.S. trade gap with Japan--which had narrowed sharply in 1995 and most of 1996--has begun to widen again.
Another unknown for the dollar--and hence exports--is the question of the European Monetary Union. The early parliamentary elections in France, now set for June 1, may turn into a referendum on the EMU. And Britain's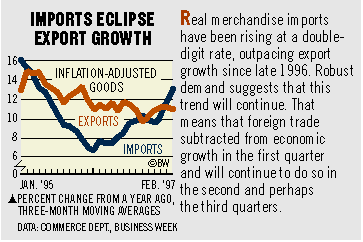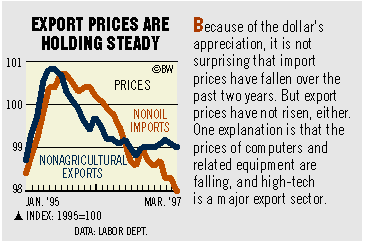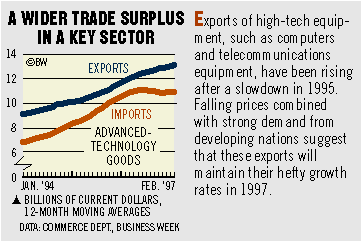 May 1 vote could also shift EMU sentiment there. One risk is that voters may show that they prefer less budget-cutting to more job-creating. That would roil the European financial markets, raising the dollar even more and further lessening the competitiveness of U.S. exports.
For now, though, the bigger danger to the U.S. trade picture is imports. By the end of 1996, imports had captured a record 27.1% of all nonoil merchandise sold in the U.S. The intense pace of domestic demand in 1997 will lift that share even higher, amid only yeomanlike export growth. As a result, a widening deficit and the strong dollar could put trade back in the Washington-policy spotlight this year.
Before it's here, it's on the Bloomberg Terminal.
LEARN MORE