Treasure From The Swamp
by
Worries over the Florida Everglades have focused investors' attention on Aquagenix (AQUX), the nation's largest surface-water and vegetation-management company. The government has earmarked $3.8 billion for water cleanup projects, including wetlands.
"We expect Aquagenix will win the awards for the bulk of the projects to restore the Everglades," says Herb Davidson of Meyers Pollock Robbins. Initially, he expects Aquagenix to get an $80 million assignment. Aquatic management includes controlling weeds, algae, and other plants in lakes, ponds, and canals, using herbicides.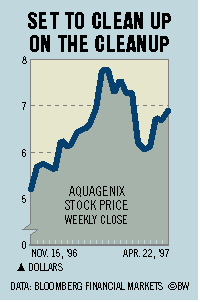 Davidson says that even the Everglades work it loses could come back to Aquagenix: Most other bidders subcontract work to Aquagenix. Business has been booming, notes Davidson. He figures that even without the Everglades, the company will earn 65 cents a share this year on sales of $30 million and $1.15 next year on $50 million.
He thinks the stock, which is trading at 6 3/4, "is an easy double over the next 12 months," based on Aquagenix' huge prospects in the $5 billion field, which includes keeping power lines, pipelines, highways, and railroad right-of-way clear of vegetation. The biggest spenders are electric utilities. One of the primary goals is to minimize outages caused by falling trees.
Chairman Andrew Chelser says that since Southern Co. signed a $30 million contract in March, more utilities are expected to hook up with Aquagenix.
Before it's here, it's on the Bloomberg Terminal.
LEARN MORE