Tiger's Power At The Driving Range
by
When Family Golf Centers (FGCI) posted disappointing fourth-quarter results on Mar. 14, institutional investors were quick to bail out: The stock dived from 27 to 20. The company explained that the poor earnings--4 cents a share vs. the expected 8 cents--were due partly to $500,000 in depreciation and amortization charges at 11 golf centers acquired in September, 1996. Among others, Putnam Management dumped 1 million shares. The stock kept dropping, to 17.
Never mind: All that was before the Tiger Woods triumph in mid-April at the Masters Tournament in Augusta, Ga. Since then, shares in Family Golf, which runs 44 centers in 15 states, have rallied to 21. And institutions have started to buy again.
"Since the Tiger Woods explosion, the driving-range business has been off the charts," says one money manager. He thinks Family Golf will get a huge boost from the fresh interest.
All that has generated rumors about Family Golf as buyout bait. One New York investment banker thinks that American Brands, which makes the Titleist balls and Cobra clubs used by Tiger Woods, is eyeballing Family Golf. Some decision makers at American Brands, where leisure products make up just 7% of revenues, think the sport's growth potential is enormous. American Brands declines to comment.
Family Golf Chairman Dominic Chang says he hasn't been approached. His goal, says Chang, is to take the lead in consolidating and upgrading the driving-range industry and to make the company very profitable.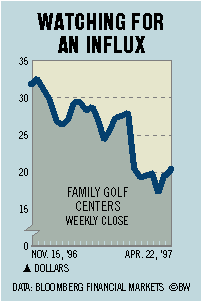 Chang expects Family Golf to have 60 centers by the end of this year, up from last year's 35. "By 1999, we expect to have 100," says Chang. He thinks the company's ideas for making golf accessible to more people are in line with Tiger's vision for the sport.
Jeffrey Berman, managing partner at Hampshire Securities, says that as the industry leader, Family Golf is "very undervalued." Based on its rapid expansion and earnings-growth potential, the stock is worth 40, he says.
The company, which posted 1996 earnings of 51 cents a share, should earn $1.02 this year on estimated revenues of $61.5 million, figures Hampshire Securities' Jonathan Garriss. For 1998, he projects Family Golf will make $1.47 a share on revenues of $96.5 million.
Before it's here, it's on the Bloomberg Terminal.
LEARN MORE