business
The Risks Of Racing The Reproductive Clock
Many women nearing 40 overlook the hazards, says a mom who learned the hard way
By
At age 45, I've been beaten by the harshest deadline I've ever faced in my 20 years of journalism: my own reproductive clock.
Last October, after more than three months of a healthy pregnancy--with the insatiable hunger, nausea, exhaustion, joy, and three normal sonograms--I had my fourth and final miscarriage. A lab report later showed the baby had been a boy with Down's syndrome. My husband, Paul Nadler, and I had seen him on a sonogram just three weeks earlier. He had the oversize head typical of a young fetus, and his tiny feet and hands were waving wildly from his little body. We cautiously fantasized about bringing home a baby as robust as our splendid three-year-old, Elizabeth.
Growing numbers of women like me, in their late 30s and early 40s, are racing to beat the biological odds against having children in middle age. Emboldened by rapid progress in reproductive medicine, we take heart from high-profile stories of hardy babies born to middle-aged celebrities. The number of new moms aged 35 to 39 grew from 18,200 in 1980 to 82,700 in 1995. During the same period, the number of new moms aged 40-44 rose from 2,000 to 13,700. These mothers are disproportionately well-educated and established in their careers, says Stephanie J. Ventura, a demographer with the National Center for Health Statistics in Bethesda, Md. More than half are college-educated, compared with only 38% of new mothers in their late twenties. The increase in older moms helped push sales in the fertility market to $2.6 billion in 1996, up from $1.6 billion in 1993, according to research firm FIND/SVP in New York.
I knew that having a successful pregnancy became more difficult with age, but I was confident I could beat the odds. It was a hope that I fear is shared by many other women my age--that with technology and luck we could have children. Paul and I both would have moved faster had we known then what we know now.
"I can't tell you how many people we've had on our help line crying, saying they had no idea how much fertility drops as you age," says Diane Aronson, executive director of Resolve, a national support network for women and men coping with infertility and loss. Indeed, a woman's chance of getting pregnant in any one month is about 20% for women under 30, but only 5% for women over 40, according to the American Society for Reproductive Medicine.
Certainly there are many women who understand the risks and want to have children, but who don't have a choice--they haven't found the right partner. For many of them, the anxiety over the ticking reproductive clock occurs because they understand all too well the risks they face as the years slip away. Men, too, bear responsibility for delayed childbearing.
Many older moms have precious little time to correct infertility problems, conceive, carry a child to term, and grieve over miscarriages--much less have more children. Some doctors and patients express concern that fertility specialists might not adequately convey the mounting emotional devastation from repeated miscarriages or might not raise the possibility of adoption when the chance of having a healthy baby diminishes. Others worry that aggressive marketing by fertility clinics creates unrealistic hopes about the possibility of success.
VANISHING ACT. Paul and I believed technology was going to help us conquer the odds. At the time I got pregnant, I later found out, I had a 53% chance of miscarriage and a 1-in-26 chance of having a child with chromosomal problems--generally resulting in serious and even fatal birth defects. Then I learned that I faced a further complication. My doctor called with the news that I had tested positive for a relatively rare autoimmune disorder--something called antiphospholipid syndrome, or APS. He also said it was treatable.
A medical vanishing act, APS comes and goes unexpectedly. It can lead to an immune-system attack on the developing placenta nourishing the fetus. A woman can have a healthy pregnancy, as I did with Elizabeth, and never know that antiphospholipids lurk in her system. APS has emerged as the cause of 15% of recurrent miscarriages, according to Dr. Jonathan Scher of Mount Sinai Medical Center in New York. But there is a treatment. Eighty percent of women treated for APS with baby aspirin and twice-daily shots of heparin, a blood thinner, have successful pregnancies.
Paul and I scrambled for a supply of needles and heparin, hacking at red tape for days until our health-maintenance organization agreed to cover the costs. After meeting another "heparin mom" at a backyard party in our New Jersey suburb, her two heparin kids in tow, I grew far more optimistic about a healthy, full-term pregnancy. I began to joke about the bruising on my body that is a side effect of heparin. I lived for the sonograms, counted the weeks, and anticipated the first faint feelings of the baby's kicking. He was due this Apr. 18, the day after my husband's 40th birthday, less than four months shy of my 46th.
We didn't expect to fail. Just three years ago, some of my former classmates from the Columbia University Graduate School of Journalism were calling me a role model for late-blooming motherhood. After a textbook 42-week pregnancy, I delivered 8-pound, 13-ounce Elizabeth just one month before my 42nd birthday. But the statistics are disheartening. A 25-year-old has a 1 in 1,250 chance of having a kid with Down's syndrome. By age 40, the risk rises to 1 in 106. Some 9.5% of women 20-24 are at risk for miscarriage, compared with 17.7% for women in their late 30s and a whopping 53.2% by the time a woman reaches 45, according to the American Society for Reproductive Medicine. Down's syndrome is the result of an abnormality in the chromosomes. Such abnormalities can cause other less common disorders, too, and the risk of those disorders also rises with age. At age 40, the total risk of chromosomal abnormalities is 1 in 66. For men, the risk of creating pregnancies with genetic defects doesn't begin to appear until after age 50, says Dr. Larry Lipshultz, a urologist at Baylor College of Medicine.
I had wanted to be a mother by age 30. But my life as a peripatetic journalist made it difficult to settle down. I didn't meet the right partner until I was 37. Three years later, I was a first-time, 40-year-old bride with a job at The Wall Street Journal covering the madcap over-the-counter stock market. I took my fertility for granted, and I got pregnant after just one month of trying to conceive--without any fertility drugs. Our pictures show a grinning 40-year-old pointing to a positive pregnancy test. Nearly two months later, a sonogram showed I was carrying a dead fetus.
It was mid-June, 1992, and the Democratic convention had come to town. While Clinton & Co. played and replayed the campaign's refrain--"Don't stop thinking about tomorrow"--I waited for my body to abort our first child. Feet up, watching the convention on TV, I cried every time I saw a baby in a commercial or on the convention floor. At 3 a.m. on the morning of June 17 (these moments are indelible), the fetus was expelled. As I struggled to cope with my emotions, I dutifully retrieved it in a baggie for the hospital lab, as advised in What To Expect When You're Expecting, the bible of pregnant boomers. Paul and I called my doctor and waited for what would be the first of three dilation and curettages (D&Cs) to clear any remaining tissue from my womb. A lab report shed no light on why I lost that baby. We later grieved at a private little memorial service at a nearby Quaker cemetery.
DEPRESSION. Miscarriages are awkward. Few know what to say. Cards and flowers are welcome, as with any death, but few arrive. Miscarriages are often trivialized--more so if one occurs early in a pregnancy. "At least you can get pregnant. Try again," well-meaning friends would say. Fathers get even less sympathy and time to grieve. One of Paul's bosses said: "Sorry about your wife's miscarriage. Now, can you work some extra hours and weekends?"
The health-care profession hasn't figured out how to deal with miscarriages either. "Just a minute while I get a doctor," I was told by a sonogram technician. She left me staring at the lifeless image of our genetically flawed son on the screen. I finally turned the monitor away, tears streaming down my cheeks while I waited for an authorized professional to tell me what I already knew.
In a paper published Feb. 5 in the Journal of the American Medical Association, researchers at the New York State Psychiatric Institute in Manhattan pointed out the high risk of depression among the roughly half-million U.S. women who miscarry each year. Such women were 2.5 times more likely to suffer major depression than women who had not been pregnant, the researchers found. Women who are childless or have a history of depression are at the greatest risk. Somewhere between 10% and 20% of pregnant women of all ages miscarry each year.
Dr. Richard Neugebaur, the study's principal author, is urging doctors to monitor miscarrying patients closely for signs of depression. And the women shouldn't blame themselves for their depression, he says. "They should recognize that one out of every ten [miscarrying women] risks having a depressive episode. If childless, it's one out of every six, and if a woman has a history of depression, it's one out of every two."
Like many other women, I tried to shrug off that first miscarriage. I quickly returned to my job and lost myself in work. My obstetrician, whom I liked and trusted, urged us not to delay another try, because of my age. Three months later, in September, 1992, I was pregnant again, after one month on a mild dose of a fertility drug, Clomid, to stimulate the release of eggs from my ovaries. This time, my doctor also prescribed progesterone to help fortify the lining of my uterus and support the growing fetus.
I kept up my pace at work, ate like a horse, and grew huge. Strangers pointed at my wide load and assured me I was having a boy. I was convinced, too. But as I approached week 42, I became a contrarian. Like some stock market watchers, I figured that if everyone expected my pregnancy to go one way, it would likely go the other. I was right. It was a girl--Elizabeth. I was delighted to have a daughter, but most of all, I was grateful to have a kid so healthy that our pediatrician declared her "very assertive" at her four-day-old checkup.
DIFFERENT OUTCOME? Inspired by Elizabeth, we planned to have another child. But when Paul's mother became terminally ill, we began to neglect that steadily ticking reproductive clock. We waited until after her death, when Elizabeth was 16 months old, before trying to conceive again. If Paul's mother hadn't died, things might have unfolded differently. We would not have not been absorbed by her illness, and we would have been blessed with a grandmother nearby.
By the time we began to think again about children, I had left my full-time job in search of part-time work and more time with the family. I was 43. With a heavier dose of Clomid, it took me five months to get pregnant. Two months later, a sonogram again delivered sad news: The fetus was lifeless. The next morning, I walked into the operating room for my second D&C.
Afterward, my doctor suggested that I seek treatment from a fertility specialist. After a brief rest, I began more intense fertility treatments with Pergonal, a stronger drug than Clomid. Paul took on the chore of injecting the drug into my arm. Once again, I got pregnant in the first month. Once again, I miscarried--this time after only six weeks.
While lining up an adoption attorney, I learned I was pregnant again--after testing positive for antiphospholipids. My doctor warned me that my risk of miscarriage from Down's syndrome was greater than the risk from APS. Somewhere along the way, as we raised a kid, juggled jobs, and dealt with health crises of aging parents, we hadn't realized the consequences of that ticking reproductive clock: My chances of having a kid with complications had doubled since Elizabeth was born.
Now, I tell anyone who has a choice not to delay childbearing until the late 30s. I try to explain what happens to the odds. "The message needs to get out from the gynecologists" that "reproduction is more difficult with age," says Aronson of Resolve. To that end, Resolve has mailed brochures about infertility to 35,000 gynecologists. Women might not change their plans, she says, but at least they will have the information they need to make a smart decision.
Dr. Zev Rosenwaks, director of the Center for Reproductive Medicine and Infertility at New York Hospital-Cornell Medical Center, agrees: "If you can try to become pregnant at a younger age, you should. You're likely to get pregnant more often and earlier. You're likely to have a healthier pregnancy because you're less likely to have a miscarriage and less likely to have a chromosomal abnormality. You're likely to have as many children as you want." The average age of patients at his center is between 37 and 39, he says.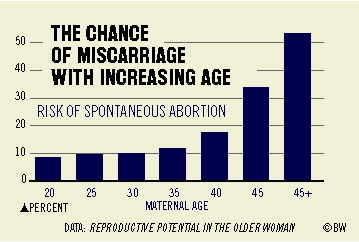 Until it becomes easier for women to have children and work, their choices will remain difficult. "The phenomenon of delayed childbearing isn't likely to subside," says Anjani Chandra, a demographer with the National Center for Health Statistics. "Family-friendly workplaces and schools may not be enough to generate a large-scale shift to earlier marriages and childbearing," Chandra says. Both men and women need to recognize the risks of delay for them to reap the most from their childbearing years.
I wouldn't trade the partner I married at 40 and the daughter I delivered at nearly 42. I continue to work part-time at BUSINESS WEEK so I can spend more time with them. I hope Elizabeth can have the family and career she wants without the pain we've been through. Five years ago, at that Quaker cemetery, we symbolically buried one child. We couldn't bear to bury three more. Yet one day, we must confront the reality of those three deaths--and the end of my reproductive life. Some deadlines don't change.
Before it's here, it's on the Bloomberg Terminal.
LEARN MORE