business
Prime Time For Prime Service
By
What do you do when stock you bought at 23 a share in an initial public offering goes up to 30, then drops to 17 in a free fall? If you believe in the company and how it does business, you buy more shares.
That's what several biggies are doing with Prime Service (PRS), the nation's No.2 equipment-rental company, whose stock tumbled after the momentum players bailed out. Each year, it rents out about 40,000 forklifts, earth-moving tractors, and other gear.
"We think the recent swoon gives investors an attractive entry point," says Clifford Ransom II, an analyst at NatWest Securities. "We want to soak up the current trading supply [of shares]," he adds. He figures that a reasonable near-term target price for Prime, which operates 114 rental outlets in 14 states, is 30 a share. Ransom thinks the prospects of 20%-to-25% earnings growth will lift the stock to that level again by the beginning of next year.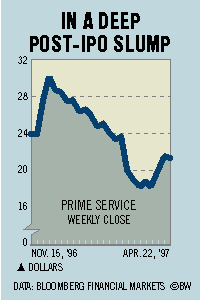 Tom McGuire of Safeco Asset Management agrees, so he's holding on to the 200,000 shares he bought at the IPO on Oct. 31, 1996. "It's a pure play in the trend toward outsourcing," he explains. Prime has close ties with its big customers, which include the major oil outfits, he notes.
The company was a unit of W.R. Grace until 1989, when a French company acquired it. Then in 1993, Artemis bought it--and in 1994 Bahrain's Investcorp purchased Prime. In the 1996 IPO, Investcorp sold 25% of the company. But guess what? When the stock dived, Investcorp itself started snapping up shares. Says Christopher O'Brien, an Investcorp partner: "The stock was dirt cheap, and we couldn't resist buying."
Before it's here, it's on the Bloomberg Terminal.
LEARN MORE