In Search Of Michael Bloomberg
Leah Nathans Spiro
BLOOMBERG BY BLOOMBERG
By Michael Bloomberg with Matthew Winkler
Wiley 261pp $24.95
In the worlds of finance and financial journalism, Michael Bloomberg is a phenomenon. He was the first one to package a vast amount of raw financial data, analysis of that data, and financial news--and make it all available on a computer terminal in an easy-to-use format. It is no exaggeration to say that many money managers, corporate treasurers, and journalists are hooked on Bloomberg's boxes: They need Bloomberg's information to do their jobs.
Bloomberg built from scratch a $1 billion information-and-media empire that employs thousands of workers around the world. His larger, better-capitalized, well-entrenched competitors were hit squarely between the eyes. Now, Bloomberg has succumbed to the publishing industry's demand for memoirs, telling his life story in Bloomberg by Bloomberg, which he wrote with Matthew Winkler, a former Wall Street Journal reporter and now editor-in-chief at Bloomberg News. Organized loosely as a chronology, the book is well-written and lively. But readers must slog through continual self-promotion and pontification to get glimpses of Bloomberg's savviest moves.
Bloomberg only indirectly answers the question that 99% of his readers undoubtedly want answered: How did he achieve his success? A close reading of the book provides one answer: Merrill Lynch & Co. Of course, Bloomberg is a bulldog who had the talent to build and administer the complex system. But the backing of titan Merrill Lynch was key.
The book explains how a down-but-not-out Bloomberg came to Merrill Lynch in 1981 after being fired from Salomon Brothers Inc.--a result, he says, of political back-stabbing. He persuaded Merrill to back his plan to build a system that supplied data and analysis of that data. Two Merrill traders even helped him figure out what to put on the system. Once he delivered, the firm put up a critical $30 million for a 30% stake. Later, Merrill Chief Executive Daniel P. Tully graciously waived Bloomberg's exclusive contract with Merrill so he could market his service to others.
The other explanation of Bloomberg's success was his insight--as a former insider--into what data Wall Street firms needed: At Salomon Brothers, he had been the head of information technology. He knew what his clients required better than any other outside data vendor or any staff techie. And he took high technology on Wall Street seriously before most others did, catching the wave perfectly.
His is a classic tale of a nimble, customer-focused, entrepreneurial David outsmarting bureaucratic, ossified, corporate Goliaths. His competitors, Dow Jones & Co. and Reuters, were asleep at the switch, a tale that Bloomberg relishes recounting. He gloats over the Journal's flattering 1988 page one story that praised the Bloomberg service and disparaged Dow Jones's Telerate. The writer of the Journal article? Co-author Winkler, who later went on to build Bloomberg Business News, which is now a serious competitor to Dow Jones's and Reuters' wire services.
Anecdotes about breaking into the news business in Washington and Tokyo make good reading. Bloomberg also relates gripping stories about two near-crashes in aircraft he was piloting, one a helicopter and another a small plane. He tells how he saved a friend's life in an avalanche on the ski slopes: He argued with skeptics and obstinately refused to leave the spot where his friend turned out to be buried.
Otherwise, Bloomberg on Bloomberg is an infomercial. Anyone who has managed to make his name part of the vernacular, in the fashion of, say, Henry Ford, can hardly be lacking in self-esteem. He relentlessly honks his own horn: "I believe my design instinct, sales savvy, and management skills are the best around." Bloomberg even takes partial credit for Merrill Lynch's success. "By 1987, Merrill was poised to become the world's top underwriter of stocks and bonds....We helped Merrill get there."
Bloomberg says he wrote the book because he was too "pigheaded" to take his friends' advice not to. He says he shares the "desire to see one's name in print," because "receiving even insincere adulation is a kick." And he wanted to "say something" that helped young people.
But his life story, or the semi-sanitized version we get in the book, isn't too interesting. The book tells us Bloomberg came from a working-class home and went to Johns Hopkins University and Harvard business school. Fair enough, but do we need to see his baby pictures? Indeed, Bloomberg is reputed to be a far more interesting man--one who has a hot temper, loves profanity, and is a ruthless competitor.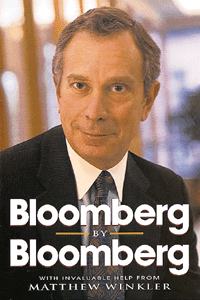 That temper emerges a bit, as Bloomberg uses the book to settle old scores. "Truth never got in [his] way," he says of one adversary in a long-ago battle. "If the facts didn't fit, he just made them up." And Bloomberg frequently clambers up onto his soapbox to offer advice that, while indisputably true, is heavy-handed and trite. He speaks in imperatives: This is what I do, you should do it too. He spends pages describing his generous contributions and admonishes readers to "give most of your wealth to charity!"
Bloomberg comes across as a doer, an activist--but not as a man who is self-observant, ironic, humorous, analytical, or subtle enough to pen a good autobiography. His legacy will surely be his business, not his book.
Before it's here, it's on the Bloomberg Terminal.
LEARN MORE