Eds Is Learning The Price Of Freedom
Independent of GM, it plans what may be a painful revamping
Wendy Zellner
Computer-services giant Electronic Data Systems Corp. is about to get a dose of its own medicine. With slimmer profits from its biggest customer, former parent General Motors Corp., and growing competition, EDS is about to start reengineering itself to gain greater efficiency.
Jolted by lower sales and earnings late last year and a plunging stock price, EDS has turned to A.T. Kearney Inc., the management consulting company it bought in 1995, for help. Kearney is studying the $14.4 billion parent's cost structure and organization. The first wave of what the company says will be big changes were due to be announced on Apr. 24, when the company's top 200 managers are set to meet at the Plano (Tex.) headquarters. EDS says that job cuts in its workforce of 100,000 are likely but that rumors of mass layoffs--10,000 to 20,000 positions--are way off. There is likely to be consolidation of EDS's 45 "strategic business units." Says a rival: "It's now so Byzantine, you don't know who's doing what."
"HUNGRIER." EDS Vice-Chairman Gary J. Fernandes promises there will be a business "transformation." The company already cut expenses after being spun off from GM last June, chopping about 4,000 jobs, consolidating data centers, and taking a charge of $850 million. But those efforts, Fernandes concedes, didn't go "far enough, fast enough." With tougher competition and more demanding customers, he says, "doing what we've always done the way we've always done it isn't good enough."
One change that rivals have already noticed is EDS's willingness to compete on price. "EDS concerns me more now than last year--because they're hungrier," says a competitor. Instead of forcing every deal to meet set profit targets, EDS says it will measure the profitability of its "portfolio" of businesses. Stephen T. McClellan, an analyst at Merrill Lynch & Co., figures EDS could take some deals with 8%-to-10% margins, instead of 12%.
EDS has little choice. Last year, the company saw new orders sag, partly because of the distractions of the spin-off. In all of 1996, it failed to win a single contract valued at more than $1 billion, while rival IBM snared two--and Computer Sciences Corp. had three. With the stock at 43, down from a 1997 high of 49 1/8, investors "are sitting on their hands waiting for EDS to win big contracts," says McClellan.
The outlook is already improving, with first-quarter contract signings expected to hit nearly $3 billion, triple the year-ago level. EDS and its partner Andersen Consulting are favored to win a $1.5 billion software development deal for BellSouth Corp. Patrick M. Burton, an analyst at Lehman Brothers Inc., figures EDS will snag $13 billion in new contracts this year, up from $8.4 billion in 1996. In contrast, he says, IBM's services unit should have $20 billion in new contracts in 1997, down from $27 billion in 1996. Burton figures that EDS will finish the year with a 16% jump in earnings, to $1.2 billion, on revenue of $16.2 billion.
BRANCHING OUT. Meanwhile, EDS is trying to expand in higher-margin areas, such as electronic commerce and business-process outsourcing, where it takes over such functions as telemarketing for a customer. Even Fernandes says that when EDS lands such work now, "it's almost by accident." And in Internet-related work, IBM is well ahead of EDS.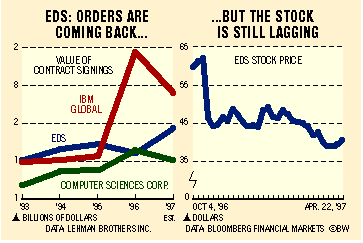 The biggest challenge involves dealings with the biggest customer. GM, responsible for more than $4 billion of EDS's annual revenue, is pushing for lower prices. Under the spin-off agreement, most of that business is covered by an EDS commitment to slash rates. To keep the pressure on, GM is allowed to seek competitive bids on as much as 25% of EDS's work by 2005.
That has EDS racing to land non-GM business and to cut costs. While EDS will probably be able to sustain revenue gains of 12% to 13% a year, Richard X. Bove, an analyst at Raymond James & Associates, questions whether it can hit the rates of 15% to 17% that he believes would push the stock price back to 60. "The market's betting heavily against them," he says. That's one thing EDS didn't bet on when it pushed to be free of GM.