business
Car Trouble
Auto megadealers are hitting speed bumps. And the Street is worried
By and
On Apr. 16, H. Wayne Huizenga and Steven R. Berrard, co-CEOs of Republic Industries Inc., took time out during a trip to Japan for an hour-long conference call with Wall Street analysts and investors. Although Republic, through a bold investment and acquisition strategy, had come from nowhere to become the nation's largest auto retailer in just six months, its stock was sagging. Toyota Motor Corp. was balking at awarding new dealerships to Republic, possibly complicating expansion. Huizenga and Berrard assured analysts that all was on track for Republic's new-car dealers and its used-car chains, AutoNation and Valu Stop.
Internal AutoNation documents obtained by BUSINESS WEEK, though, indicate that sales at AutoNation and Valu Stop have fallen short of at least some internal targets. January sales were well below budget for both chains, the documents say. AutoNation's best-performing store, in Chandler, Ariz., reached 77% of its target. Its flagship store in Coconut Creek, Fla., sold 254 used cars and trucks, compared with a plan for 373. Sales at the worst-performing dealerships, in Lewisville, Tex., and the Valu Stop store in Pompano Beach, Fla., sold slightly less than half their targets. Sales improved in February for all stores, but only three reached the January budget figures.
INTERNAL GOALS. While not disputing the numbers, Berrard plays down their significance, saying they were merely internal goals for AutoNation employees, not actual budget targets. He and Huizenga say it will take 12 to 15 months before the superstore concept reaches its full potential, but they insist that AutoNation will carry out its growth plan. "We're on track. I wouldn't be telling people we're on track if we're not," Berrard says. "We always ask our people to reach a little bit more than what our own internal projections are."
Still, these are white-knuckle times for the newly public superdealers and their investors. Two days after Berrard and Huizenga phoned home to assuage analysts, Marshall Cogan of United Auto Group Inc., a new-car megadealer, met with investors in Boston to discuss why UAG's first-quarter earnings will come in below expectations. The meeting followed the abrupt resignation in March of UAG's former chairman, Carl Spielvogel, one week after a conference call with analysts to announce the shortfall. Spielvogel, who remains a UAG consultant, says he wasn't forced out, but participants in the call blame his inadequate explanation of the first-quarter shortfall for the selloff in the stock, which slid $11.38 over the next two days. Shares of CarMax and Cross- Continent Auto Retailers, and other auto retail stocks, are also lagging. Even strong first-quarter results for CarMax failed to move that stock.
The climate began to chill for the new auto retailers this past winter as industry data began to emerge showing used-car prices and sales declining. Prior to those setbacks, investors were bullish about the prospects for revamping the fragmented and woefully inefficient auto-retailing business. Now Wall Street realizes that a revolution in the $6 billion business won't come so easily.
Investors are also focusing on what will happen to the retailers when the car market cools. Detroit's Big Three already warn that new-car sales will slow from the torrid 15.5 million annual pace the industry hit in the first quarter. If the auto retailers' first-quarter earnings are not robust, investors will dump the dealer stocks, analysts say.
Republic is the one with the most to lose. Its far-reaching strategy includes rental cars and new cars as well as its used-car superstores. Republic will post $9.3 billion in revenues this year, estimates analyst William Genco of Merrill Lynch & Co., and $13.5 billion next year. The AutoNation used-car operation, he figures, will generate about $1 billion in revenue this year and $3 billion in 1998, with a nominal contribution to profits that year.
But an AutoNation executive points to some troubling glitches. Some used cars have to be sent back for additional reconditioning, and AutoNation's sales approach is so low-key some customers complain of being ignored, the executive says. AutoNation also prices used cars higher than other dealers--as much as $1,000 higher, the executive and competing local dealers say. Berrard says that when comparable features are included, AutoNation's prices are about $200 higher. "We're going to try to command some premium for the value added," he says, noting AutoNation's generous warranty and return policies.
AutoNation's below-target sales don't bother analysts as much as above-average overhead. If profits are squeezed at AutoNation, Republic's overall earnings could be depressed and weaken the stock that Huizenga and Berrard have been using to fund their acquisition binge. AutoNation outlets feature amenities such as play centers for kids and snack bars, items that industry sources say push the breakeven point at a store such as the Coconut Creek (Fla.) unit to 550 cars per month--well above what AutoNation hit in January or February. Berrard says breakeven is 350 but concedes that the formula needs fine-tuning. "We put together a model with a tolerance level for a certain number of mistakes and we're well within that tolerance level," he adds.
For AutoNation and other dealers, the next several months will be crucial. The outlook for interest rates--an important barometer for car sales--should become clearer. And thanks to continuing expansion, the new chains will start to compete directly. CarMax and AutoNation will go head-to-head in Dallas, Houston, and South Florida, and consumers will be able to compare CarMax's low-price strategy to AutoNation's focus on service. CarMax CEO Richard L. Sharp is confident. "Consumers want the benefit of selection, of guarantees and service, but they don't want to pay more for it," he says.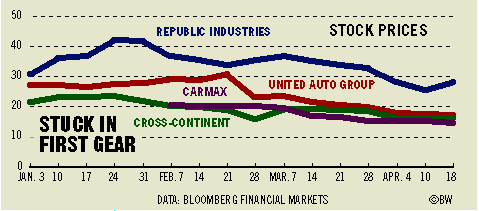 EXTRA SERVICE. In the end, though, it's consumers who will decide the retailers' future. And the signs are encouraging. After Estes J. Bailey left AutoNation without buying because he couldn't afford the model he wanted, a salesperson called him with another idea. He ended up buying a 1993 Toyota Corolla for $7,000. The extra service sold him. He says he'll buy his next car there and would recommend it to others.
Wall Street still needs some convincing, though. Bill Gilliland, chairman of Cross-Continent, is set to issue the company's first annual report this week, with a headline that reads: "Driven by the bottom line." That's a motto all megadealers will have to live up to.
Before it's here, it's on the Bloomberg Terminal.
LEARN MORE