Can This Cable Hero Rescue Tci?
The new president struggles to stop the flight of subscribers
by
Pain is nothing new to Leo J. Hindery Jr. The 49-year-old president of cable giant Tele-Communications Inc. fractured a vertebra in his neck last year while driving one of his stock cars. When he showed up in February for his first day at the Englewood (Colo.) cable company, his right hand was in a cast--the souvenir from a spill on an overpolished office floor.
Just the right guy, perhaps, to bungee-jump into the tortured finances at TCI, arguably the sickest company in the cable business. After six months of cost-cutting, including broad layoffs and firings of several senior managers, TCI is expected to announce at least a 10% jump in cash flow, to $675 million, for the first quarter. But subscriber growth, the engine that makes cable companies run, has been absent for nearly a year, contributing to the company's $813 million loss in 1996. In this year's first quarter, the cable giant lost 50,000 of its 14 million customers, many to satellite service, figures analyst Jessica Reif-Cohen of Merrill Lynch & Co.
Hindery arrived from privately held InterMedia Partners (TCI owns a minority stake), where he had boosted subscriptions 4.7% and cash flow by 12% in the last year. But his resume hasn't done anything for TCI's stock which, at around $11, is off 22% from the day he arrived. That's not great for Hindery, who says his entire net worth is in company stock. Investors remain skeptical that the company will deliver on promises of digital-quality pictures, more channels, and data transmission. "We have all been here before," says Melissa T. Cook, an analyst with Prudential Securities Inc. who gives the company a "hold" rating. "We'd like to see some results first."
PROMISES, PROMISES. So would Hindery. "I agree with them," he says. "We've promised too much in the past." His promise now: to stop subscribers from fleeing. The first step is to slow down TCI's rate hikes, which averaged 10% last year. He's made progress in cutting programming costs through tough negotiating, a campaign Chairman John S. Malone began last year after rates charged by some channels zoomed 20%. In early April, for instance, Hindery inked a 10-year deal with the Disney Channel and Walt Disney Co.'s 80%-owned ESPN that he says will keep price increases closer to the rate of inflation.
But TCI can't simply cut to win. With satellite services competing for customers, it needs to improve service, long a weak point. One step: Hindery plans to split the company into as many as 12 operating units of 1 million to 3 million subscribers apiece, sending programming authority and other responsibilities back to the local areas. "Subscribers don't care if their cable company is Hindery Cable Company or TCI," Hindery says. "They want their cable installed on time, their questions answered, and value for the money that they pay." Hindery is negotiating with smaller cable operators, including Falcon TV and Jones Intercable Inc., to jointly operate some of the dozen baby TCI systems.
Another place TCI can't skimp too much is in rolling out new digital services. It is two years behind schedule--and this year it will cut capital spending on new fiber-optic wiring in half, to $750 million. Malone, who has a PhD in engineering, says he has found a way of delivering digital services over lower-frequency cable than rivals by using a compression technique developed by San Francisco-based I Media Corp.
But that's a huge gamble for TCI. An estimated 40% of its systems are in ru-ral areas, with systems so old that they are limited to 40 channels compared with satellite's 175-channel packages. If its partial upgrades don't work, subscribers could leave in droves. Still, Hindery says the work is going so well that TCI may be offering the service to as many as 15 million homes later this year.
Can Hindery pull it off? The job won't be made easier by Malone's financial dealings and asset shuffling. Take, for example, the Apr. 21 announcement that TCI will issue 53 million additional Class A shares to acquire the Kearns-Tribune Corp. for about $630 million. Separately, Malone has arranged to swap Class A shares he owns for Class B shares held by Kearns-Tribune without paying a premium for the Class B shares. Since such shares have 10 times the voting rights of Class A shares, the deal gives Malone more control over TCI, at no cost.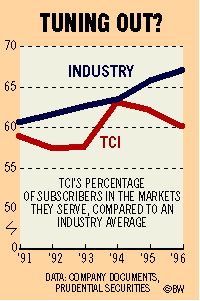 But the deal doesn't do much for TCI's balance sheet--or shareholders. It's dilutive, and TCI's depressed stock is a sorely undervalued currency for the purchase of a newspaper publishing company TCI doesn't need to own. "It's a troubling transaction," says corporate-governance expert Nell Minow of the LENS Fund. "It's as though he bought equity at below-market prices." TCI says the shares were fairly valued, and the transaction is only slightly dilutive.
Hindery's fans remain upbeat about his prospects. "The place needs a lot of work, but Leo works harder than anyone I know," says a longtime friend, Falcon Chairman Marc B. Nathanson. He also has a history of pratfalls: He's "a bit of a klutz," laughs Nathanson. Hindery may yet feel more pain before his work at TCI is done.
Before it's here, it's on the Bloomberg Terminal.
LEARN MORE