Bp: A Well Oiled Machine
It's back in shape and looking to boost production
Stanley Reed
He seems the antithesis of a wildcatter. He collects pre-Columbian art and is an opera buff. Yet the soft-spoken John Browne, chief executive of British Petroleum, is a pioneer. In his search for oil, he has sent his workers into some of the world's most lawless places, such as strife-torn Algeria and Colombia, where guerrillas fire on BP helicopters. And he has used cutting-edge technologies to beat rivals into frontiers such as the treacherous waters off the Shetland Islands.
Browne's derring-do is paying off. In the past five years, he has helped turn BP from a crisis-ridden behemoth into the world's most profitable oil company (chart). Profits grew by 31% in 1996, to $4.1 billion. With 1.5 million barrels per day in production, BP is now No.5 among the world's oil majors, behind the much-larger Shell and Exxon and in the same league with Mobil and Chevron. Long overdependent on declining North Sea and Alaskan production, the company is now well-positioned in places such as Venezuela, the Gulf of Mexico, and the Caspian Sea--fields likely to slake the world's oil thirst in the 21st century. BP's stock has soared by 33% since January, 1996, to around $12.
In fact, after an arduous period of cost-cutting that began in 1992, the 49-year-old Browne thinks BP is finally in shape to get aggressive. He wants to boost output by two-thirds, to 2.5 million barrels per day, over the next decade--while maintaining profitability. That would make BP a global oil power rather than a producer based mainly in the U.S. and Britain. In the process, Browne must fend off attacks by environmentalists who object to BP's forays into fragile ecosystems. And he must manage tricky political situations at some of BP's most promising sites.
DREAM FIELDS. In exploration, Browne's approach virtually ensures that BP will encounter controversy. "You cannot win in exploration unless you find big fields," he said recently. Smaller fields, says Browne, who headed BP's exploration for six years before taking over as CEO in 1995, are usually not worth the cost of exploration and development. But with the world already well-surveyed, mammoth fields are most likely to be in found areas that have been off-limits for either political or technical reasons. That makes them major concerns for activist interest groups. Having charged up BP's exploration arm, Browne is concentrating on its downstream operations. Last year, BP entered into a $5 billion joint venture with Mobil Oil Corp. that will meld the companies' European refining and marketing operations. As part of the deal, all 3,300 Mobil filling stations in European countries from Gibraltar to Ukraine will be reflagged as BP stations and operated by the British giant. BP says the venture, in which it has a two-thirds stake, will result in 2,300 job cuts and $500 million in annual gains. The deal propels BP from a distant third to a near tie for No.2 with Exxon, just behind Royal Dutch/Shell, in sales of gasoline and other refined products in Europe. There are rumors that the venture may be the first step to a merger between BP and Mobil.
Closer to home, in the so-called Atlantic frontier west of the Shetland Islands, BP is using advanced technology to extract oil where it was commercially unfeasible before. In its Foinaven field, a 90-minute helicopter ride from Aberdeen, a hulking orange ship converted into a floating production platform is anchored to the ocean floor 500 meters below. Undersea robots hook up wellheads to the pipes that will bring oil up to the ship and shoot gas and water down into reservoirs. The project is expected to come onstream soon.
BP will reap big rewards for getting the oil out of the seabed. Foinaven and two adjacent fields now being drilled are likely to add 125,000 barrels a day to its production. That could mean more than $200 million a year in profits. But the project comes with risks. Puffins, guillemots, gannets, and other prized seabirds feed in the nearby waters, and environmentalists have attacked the project.
The militant Greenpeace organization has already served warning on BP. The night before the company's Apr. 10 annual meeting, Greenpeace activists scaled BP headquarters in Aberdeen and placed solar panels made by BP's solar-energy arm on the roof. The message: The company should be developing its solar-energy interests, not fossil fuels--especially in sensitive areas.
Browne has other public-relations worries. In Colombia, where BP has spent $2 billion to develop two huge finds that could produce 500,000 barrels per day, its installations have been attacked by guerrillas hoping to drum up protection money. So BP has funded army troops to guard its sites and personnel--which in turn are criticized for being linked to human-rights abuses. The company is also said to have caused environmental damage. Browne, who recently went to Colombia to look into the complaints, says the human-rights charges are "groundless" but admits to environmental "mistakes," which he says are now fixed. Browne has large bets in other risky places. BP is a big player in the Caspian region, with two projects in Azerbaijan. It is also negotiating for exploration rights in Kazakhstan. No one disputes that these countries have plenty of oil, but it is still unclear how much of it the Russians and the Chechens, who could block pipelines, will allow out. BP is also developing natural-gas reserves in Algeria, which continues to be rocked by political violence. Browne thinks the risks are worth taking because BP is smaller than its rivals in gas, a fast-growing component of the energy business. If Algeria pans out, BP would become a major exporter to Southern Europe.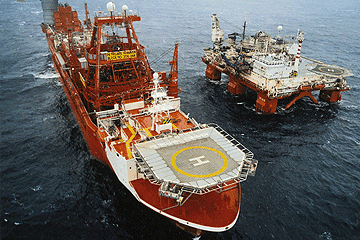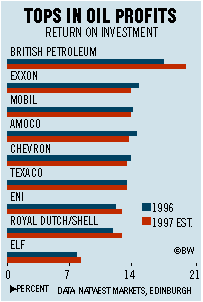 ERRATIC. Browne has not taken his eye off costs, even though the restructuring he helped oversee has made BP's cost per barrel produced, at $2.64, the lowest of large private oil companies. One recent innovation: giving subcontractors a stake in projects through cost-saving incentives. For example, BP recently struck a deal with British contracting giant Bovis Construction Group to build 1,000 service stations in Europe. Much of the contractor's payment is likely to come from the 30% savings BP is expected to achieve by using Bovis rather than building the stations itself.
Yet to a degree, BP's future depends on luck. The company has a history of erratic performance and could get in trouble again. A big spill in a sensitive place such as the Shetlands could damage BP's reputation, much as the 1989 Exxon Valdez spill hurt Exxon. In politically unstable areas, some of Browne's gambles may not pay off. For now, though, he seems bent on pushing the envelope in the oil business.
Before it's here, it's on the Bloomberg Terminal.
LEARN MORE