A Worker Shortage Pinches Penang...So It's Time For A Skills Upgrade
Pete Engardio
Nestled among the glistening megaplants of Seagate Technology, Intel, and Motorola, the enormous new factory of Dell Computer seems another paragon of prosperity in the Bayan Lepas Industrial Zone near George Town, capital of the Malaysian province of Penang. Across the grounds, dozens of young female workers dressed in floral dresses and Muslim shawls stream into the plant. But the more you understand about the challenges facing Penang, the more daunting appear the tasks that Dell took on last year when it chose this tropical electronics hotbed for a $20 million facility that will be its PC manufacturing, telemarketing, and servicing base for all of Asia.
Little more than a decade after it took off as a cheap production base for the world's electronics giants, this province of 2.5 million faces an acute shortage of skilled workers, forcing big companies to recruit from Indonesia and Bangladesh. Costs are rising 10% to 15% annually, twice as fast as productivity. And because small companies are especially hurt by the labor crunch, the area lacks the base of component suppliers to fully support Dell's brand of just-in-time assembly. Dell is working hard to nurture more such suppliers.
Yet despite the obstacles, Penang continues to snag big-ticket investments. Electronics exports are bouncing back faster from last year's steep slowdown than in neighboring East Asian countries. And by recruiting in Penang and abroad, Dell had little difficulty hiring 400 Malaysian staff and managers, including telemarketers who handle sales in Mandarin, Bahasa Indonesia, Cantonese, and English. Says Dell Asia Pacific General Manager Wong Siew Hai: "It would have been hard to do this so quickly anywhere else."
How is Penang retaining its edge? Some of the region's most generous tax breaks and the low land costs inside its industrial parks obviously help. After bagging Dell, Penang's first major PC assembly plant, officials used a 10-year tax holiday to lure a $28 million, 1,000-worker Packard Bell NEC Inc. complex that plans to make 1 million units annually by 2000.
RESPONSIVE. But the other key to Penang's success is its ability to get the most out of its limited labor force. To maintain room for high-tech plants, officials urge factories needing low-skill, labor-intensive work to look elsewhere. And productivity improvement is essential to keeping such prize tenants as hard-drive maker Seagate, which has hired 10,000 Malaysian workers for seven plants in the last four years. By investing heavily in automation and training, it was able to boost output by 20% last year without adding staff--and it just announced a big expansion.
Iomega Corp. also learned how responsive Penang is. Two months after buying a 500-worker plant from Quantum Technologies last summer, the U.S. company was in mass production of its fast-moving "zip" drive. "Penang exceeded all our expectations," says Chief Financial Officer Len Purkis. "It has been a fabulous experience."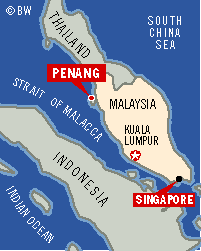 Still, Penang officials are aware that with rising costs and rivals like China, Vietnam, the Philippines, and India, its future as a cheap production base is in jeopardy. "Industry has no loyalty to one country," says Boonler Somchit, managing director of the Penang Skills Development Center. So the Penang government is looking ahead. The skills center, a gleaming facility funded by Malaysian and foreign companies such as Grundig, Hitachi, and Microsoft, is expanding classes in areas such as computer-aided design and machine-tool operation. It has even spent
Before it's here, it's on the Bloomberg Terminal.
LEARN MORE