A Mexico Like Morass In South Korea?
Rising foreign debt and other woes may trigger a meltdown
James Lim
Signs of an economic austerity campaign are virtually everywhere in Seoul these days. Government-backed consumer groups are urging South Koreans to steer clear of luxury imports such as whiskey, furs, and BMWs, while tax authorities hint of spot audits for those who don't. Retail sales are taking a beating. Labor unions are offering voluntary wage freezes, unheard of in the past. At Hyundai Heavy Industries Co., managers are donning combat fatigues and engaging in mock military drills at training grounds to rekindle competitive spirits. "If we don't do something drastic, the future of our company will be at risk," says Hyundai manager Chung Jae Hun.
It's all a sign of South Koreans' growing anxiety over their economic situation. Little wonder. A deteriorating trade balance, mounting foreign debt, dwindling foreign-currency reserves, and a spate of big corporate bankruptcies have left the economy increasingly fragile. Some South Korean companies and banks are even starting to have trouble raising foreign money. The fear is that "South Korea is following in Mexico's footsteps," says Hyundai Group economist Cheon Il Young, referring to that nation's financial meltdown in 1994.
TIME BOMB? A growing problem is the reliance of the chaebol, or industrial conglomerates, on offshore loans. The foreign debt taken on by the chaebol and banks at home or via affiliates abroad has jumped 78.4%, to $104.6 billion (table). That's 22% of gross domestic product, and more than half the borrowings are loans due in less than a year. If foreign lenders get the jitters, the chaebol could find themselves in a debt squeeze. Also unnerving is the steady slide of the won, which will make paying off foreign loans more difficult.
Of course, Korea has strengths Mexico lacks. It has a record of exporting high-value, sophisticated goods, and the economy is growing at better than 5%. Korea's savings rate is high, and it has a disciplined, educated workforce.
Koreans are counting on those advantages to help ramp up their powerful export machine in coming months to halt the economic slide. But for the moment, export growth is stalling. A weaker yen makes rival Japan's products more competitive while the global market for semiconductor chips, a mainstay of such chaebol as Samsung, is soft. The current-account deficit, which tripled to $24 billion last year, is still widening. It has already hit $5.5 billion during the first two months of this year, compared with $3.7 billion a year ago.
Meanwhile, domestic politics are gridlocked. President Kim Young Sam's government is scrambling to control the damage from the bankruptcies of key units of two big chaebol, Hanbo and Sammi. At the same time, Korean lenders are coping with $11 billion in troubled real estate and chaebol loans on their books. Some banks are close to the edge in terms of meeting their capital adequacy ratios, says Hannuri Salomon Securities. The foul mood has hit Korean stocks, which are down 32% from their high in October, 1995.
JINRO DEFAULT. More shocks may be in store. On Apr. 16, Jinro Group said it planned to sell off $1.3 billion in real estate and other unprofitable units to stave off collapse under the weight of $4.1 billion in liabilities. Then on Apr. 22, its distilling unit, Jinro Ltd., defaulted on debt payments. "Korean companies are paying the price for their reckless expansion," says Kevin Ohn, head of research at KEB Smith Barney.
Seoul is hoping the austerity drive, matched by an export rebound later this year, will get the trade numbers back into line and ease the need for foreign financing. Imports have fallen, thanks to the pressure from nationalistic consumer groups. "Customers are now forced to think twice before they come into our showrooms," says Lee Ki Choon, a General Motors Corp. dealer in Seoul. "These frugality campaigns are no joke."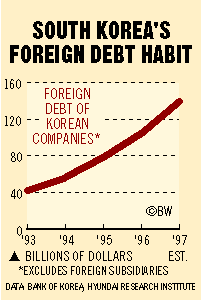 Cutting imports may be good for morale, but its impact on the overall problem is unclear. Consumer goods are only 11% of imports. And a big exports rebound isn't in the offing, though chips and steel should come back somewhat.
But to give the economy a real lift, a shakeup is needed. Kim's government needs to deregulate Korea's hidebound economy both to spur smaller businesses and to curb pervasive chaebol control. If South Korea wants to avoid a debt crunch and embarrassing parallels with Mexico, it will have to do more than flail at imports and turn executives into weekend warriors.