Will The Ge Magic Work At Stanley?
The tough new CEO will cut costs first, then expand
Susan Jackson
It was Jan. 14, and Stanley Works had spent $1 million preparing a site just outside Denver for a new $10 million factory. An official groundbreaking ceremony was only a day away. But none of that mattered to new Chief Executive John M. Trani, who thought the proposed facility added unnecessary capacity. Not yet three weeks into his job, Trani decided the plant had to go. "I told them if they had dug a hole, to put the dirt back in," he says.
Tough? Stanley execs are just getting an early dose of the medicine favored by the 52-year-old former General Electric Co. fast-tracker. Trani made his name transforming GE's once sluggish medical-equipment unit into one of the brightest stars in John F. Welch Jr.'s corporate universe. Immediately after taking over the GE unit, Trani cut $80 million in costs and over the next decade boosted sales from $1.2 billion to $4 billion. Now, he's planning an overhaul at Stanley.
Trani has his work cut out for him. As the world's leading toolmaker, Stanley Works in New Britain, Conn., is an old-line company in a mature industry. Close to three-quarters of revenues and 81% of operating earnings last year came from tools--everything from screwdrivers to industrial tools used in auto plants and elsewhere. Although it remains the leader--with 20% of the $12 billion global hand-tool market--it has been buffeted since 1990 on all fronts. Low-cost imports have snatched nearly 25% of the U.S. market, aggressive power-tool makers such as Black & Decker Corp. have grabbed customers, and retailers such as Home Depot Inc. have squeezed margins.
Under longtime CEO Richard H. Ayers, Stanley struggled to counter these problems. Even an extensive restructuring launched in 1995 had little impact. Sales were virtually flat, at $2.67 billion for 1996, while operating profits settled, after several rocky years, at $251 million. The culprit, says one money manager who has followed the company for years: a genteel, country-club atmosphere at the 154-year-old company. Adds analyst Richard A. Henderson of Pershing Investment Research: "Stanley was not a mismanaged company. It just wasn't managed as effectively as it could be."
Indeed, after a downturn in 1995--a year of record demand, intense competition, and high raw-materials prices--Stanley's board cut Ayers' compensation by 12%. The then-53-year-old executive soon announced plans to retire early. "I think he knew he could not take the company the next step," says Salomon Brothers Inc. analyst Ivy Schneider.
OPTIONS. Although Trani was often cited as a possible successor to Welch, now 61, GE insiders say he was out of the running by late 1996. To Stanley, Trani seemed perfect: an executive with global expertise who had already done one turnaround. "We want to do better, and he is the man to lead us," says Edgar R. Fiedler, a Stanley director since 1976.
Wall Street appears to agree. Despite a hefty price tag--Trani received a minimum salary of $1.5 million, a signing bonus worth $10 million at current stock prices, and a big options package--investors have jumped on Stanley's stock. After languishing for most of the '90s, its shares have risen some 41%, to roughly 38, since he arrived.
Now Trani must work his magic. With plans straight out of the GE playbook, it's no surprise that cost-cutting is his top priority. Although Ayers closed 13 factories, mostly in the U.S., and cut the payroll 5%, to 19,000, Trani says more closings and layoffs are in store. His aim: to turn Stanley not only into the market leader in each product category but also the low-cost producer. "We're not playing the game to be in the middle of the pack," he says.
To get to the top, however, Trani has surprised some on Wall Street with plans to focus on the U.S. Stanley extolled his global experience when it hired him, but Trani downplays foreign expansion. "You need to win locally before you can play globally," he says.
Trani plans to play hardball with rivals in a fragmented domestic market that consists of a few heavy hitters, such as Snap-On Tool Corp. and Cooper Tools, as well as a host of smaller manufacturers here and abroad. "Our job is to make life difficult for those guys," he says. Translation: Observers expect Trani to "force consolidation upon the industry," says Merrill Lynch & Co. analyst Jonathan Goldfarb. Trani also plans to promote the Stanley name far more actively. A more sophisticated merchandising strategy will also bring more innovative packaging and pricing combinations of complementary tools. "There are no mature markets," says Trani. "Only mature minds."
It won't be easy--but he does start with a big advantage. "The Stanley yellow is a very strong brand," says John J. Ruf, a partner at New England Consulting Group in Westport, Conn. Still, Trani also starts with one big handicap. Stanley's prices are often higher than those of lesser-known rivals, or retailers' own brands. The suggested retail price for a Stanley 25-foot tape measure is $9.99, for example, 25% more than a similar Ace Hardware model; at $19.99, Stanley's premium-grade hammer tops the Ace version by 33%. While professional builders might fork over the extra dollars, weekend home warriors may not. "Their prices are outrageous," says Ari Kambouris, a 34-year-old do-it-yourselfer on a recent trip to Home Depot in Secaucus, N.J. "Stanley's quality and durability aren't that much better."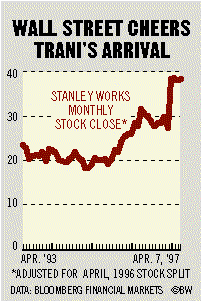 ACHILLES' HEEL. Even if cost-cutting helps lower prices, Trani must find new ways to grow. "New-product development has always been Stanley's Achilles' heel," says J. Scott Jeffords, manager of more than a million Stanley shares held by Capital Management Group at First Union Corp. For years, Stanley has resisted a move into power tools because of weak margins, and Trani agrees. Elsewhere, however, options are limited--and so far, Trani has offered few specifics. Using a technique he employed at GE, he wants to move into handling such service needs as tool-inventory management for industrial customers. And eventually, Trani will attack the global market--which brought 28% of 1996 sales--through joint ventures and acquisitions.
Will it be enough? Wall Street doesn't hold out much, if any, hope Trani can hit the $4 billion revenue mark that Ayers set for the year 2000. Instead, investors are counting on a rise in profitability as Trani's cuts take hold. He may be Stanley's fixer-upper, but the market is still banking on that old GE magic.
Before it's here, it's on the Bloomberg Terminal.
LEARN MORE