U.S.: No Slowdown Until The Labor Market Cools Off
Rising pay and demand for workers are heating up the whole economy
by
If among his wedding gifts Federal Reserve Chairman Alan Greenspan hoped to find a token gesture of weakness from the labor markets, he was surely disappointed. Instead of offering a sign that the economy is slowing and the Fed's work is done, the job markets are showing continued strength--an indication that the economy's momentum is unabated.
That's because employment is increasing at a time when already-tight labor supplies are pushing up wages. More income is fueling the surge in consumer spending, especially for housing and cars. That demand, in turn, is paring down inventories and lifting production, creating even more jobs (chart).
The current state of the labor markets is a far cry from what it was earlier in this expansion, when pay was falling behind inflation and downsizing fueled job insecurity. Back then, consumer-spending spurts were propped up by temporary supports such as mortgage refinancings and credit-card use. Now, the combination of job growth and wage gains has built a more concrete foundation under demand, suggesting that the economy will not slow until labor markets loosen.
With each new set of job data, it becomes increasingly clear that an ever-tighter labor market--and its already-evident upward push on wage growth--is the key force working against low inflation, especially now that wage gains are outstripping productivity growth. Unit labor costs appear to have risen sharply in the first quarter. To be sure, it would be politically difficult to justify further interest-rate hikes aimed at curbing hiring or pay gains, but those are the main sources of the "persisting strength in demand" that the Fed gave as a reason for its Mar. 25 rate hike.
THE FED MIGHT GET SOME HELP from an unwinding of the stock and bond markets. Higher bond yields would raise the borrowing costs of business investments and housing, while falling stock prices may rattle consumer confidence and also lift the cost of raising corporate funds. If Wall Street's bears really start to growl, they could sour the rest of the economy.
Right now, though, there are no signs that the economy is slowing--or that job markets are loosening. On the contrary, job growth is accelerating, as are real wages, and a record percentage of adults are in the labor force.
Nonfarm payrolls grew by 175,000 slots in March. And even though February jobs were revised down by 46,000, first-quarter gains averaged 242,000 a month, up from 224,000 in the fourth quarter and 171,000 in the third. The March rise was held back by a 27,000 drop in construction jobs, which had surged by 108,000 in February, when the weather was unusually mild.
The real strength in the March employment report was in hours worked. The nonfarm workweek fell to 34.8 hours, but that occurred after a 42-minute jump in February, to 34.9 hours, the highest level in a decade. Total hours worked in the first quarter grew at an annual rate of 3.5%, suggesting that last quarter's growth in real gross domestic product was in the vicinity of 3% or better.
The Labor Dept. also reported that the average hourly wage for production workers rose a large 0.4%, to $12.15. Wages have grown 4% from their level of a year ago, a pace not seen in seven years. After adjusting for inflation, as measured by the chain-weighted price index used for consumer spending, real wages last quarter grew 1.4% from a year ago, the best yearly pace in two decades (chart).
THE RECOVERY IN REAL PAY reflects the growing shortage of skilled workers. The unemployment rate fell back to 5.2% in March, and it is likely to slip lower in coming months, pushing real wages even higher. That's because a record 67.3% of adults are in the workforce, and the labor force is growing faster than the total adult population. Part of that may be due to welfare recipients' jumping into the labor pool before they are pushed. But at some point, gains in the workforce have to slow down to reflect the underlying trend in population growth. That's when the jobless rate will dip.
In fact, there's a good chance that the jobless rate will slip below 5% by summer, because the demand for labor looks solid. The Conference Board's index of help-wanted ads jumped to 90 in February, up from 87 in January. The last time the index was that high was in December, 1994, and the economy went on to generate 1.2 million new jobs over the next six months.
Some of the new jobs are sure to be in the factory sector, where payrolls are finally rising. Manufacturing jobs increased by 16,000 in March, the sixth consecutive gain. The workweek edged up to 42.1 hours, from 41.9 hours, propelled by a record 4.9 hours of overtime.
LONGER OVERTIME suggests that industrial output increased solidly in March, and future gains are likely, since inventories in relation to sales look pretty sparse. Of course, the ratio of business inventories to sales has been falling for more than a decade. So it is important to separate the drawdown in inventories that is structural--the result of just-in-time inventory decisions, for example--from the decline that is cyclical--caused by business underestimating demand.
That distinction suggests that although the factory inventory-sales ratio is at a record low, manufacturing stock levels are about where they should be, given JIT strategies. But wholesale and retail-trade inventories are well below acceptable levels. Consequently, those businesses will need to restock their shelves, and their orders will propel manufacturing forward.
Retailers and distributors will be more likely to place new orders if they expect their customers to keep coming back. And consumers are still spending.
Sales of motor vehicles shot up in March. Purchases of cars and light trucks increased 3.3%, to an annual rate of 15.7 million. For the first quarter, vehicle sales are running 4.8% above their fourth-quarter rate (chart). Overall retail sales seemed to have done well in March, thanks to tax refunds and an early Easter. Altogether, real consumer spending last quarter seems to have grown at an annual rate of 5% or more.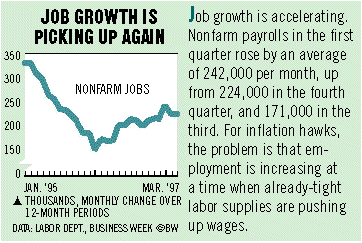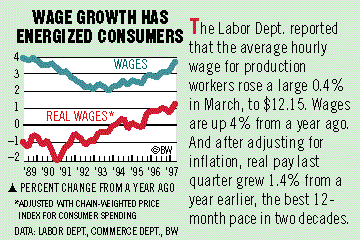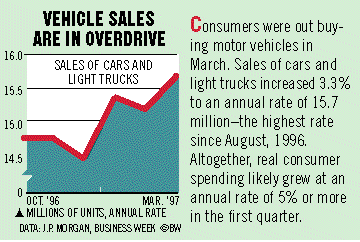 April could bring a pause in the shopping frenzy. Mutual-fund investors will have to pay taxes on last year's market gains. And with Easter in March, apparel sales may drop off. In fact, weekly retailing reports show that sales fell in the first week of April.
But those drags are temporary. The more important supports under demand--jobs and income--will reassert themselves in May. For those hoping to see signs of a slower economy that will ease potential inflation pressures, the first clues will be in the job data. But as long as the labor markets continue to supply consumers with employment opportunities and rising pay, demand in this economy will not taper off, and the Fed will have more work to do.
Before it's here, it's on the Bloomberg Terminal.
LEARN MORE