Time To Talk Down The Dollar?
The incredible shrinking yen could reignite trade wars
by
The speaker was Treasury Secretary Robert E. Rubin, whose words influence the dollar's value more than anyone's. Rubin spoke on Apr. 4 in Tokyo, where many currency traders were betting he would call for a weaker dollar and a stronger yen. Instead, Rubin mildly criticized the Japanese, who are using a sliding yen to power exports upward: "I don't believe a nation's currency should be used as an instrument of trade policy." Since then the dollar has surged 4%, to almost 127 yen.
Rubin could come to regret his refusal to throw down the gauntlet. Instead of engineering a gradual realignment, he and his Japanese counterparts may have to deal with a scary scenario: The dollar stays too strong, the Japanese trade surplus keeps surging (chart), and a strong political backlash in the U.S. develops over trade, just as the economy weakens. Then investors, fearing the outbreak of a trade war, overreact, forcing a precipitous slide in the dollar. The too-sudden drop forces interest rates up in the U.S. and kills Japan's export-led recovery.
Such a development would also undo the benefits of Rubin's brilliant diplomacy. Starting in mid-1995, the Federal Reserve and Bank of Japan reined in a super yen that was pushing the Japanese economy to the brink. Japan returned the favor by recycling more of its surplus yen into Treasuries, which helped keep U.S. interest rates stable. The Japanese also pledged to open up their economy to spur domestic growth.
But now, the full impact of the yen's 36% depreciation is showing up in the trade figures, with Japanese products such as Toyota Camry sedans gaining market share at the expense of U.S. rivals. In February, Japan's trade surplus with the U.S. rose 12%, to $3.2 billion, its fifth straight month of increase.
Trade hawks argue that Japan is falling back into its old pattern of relying on export-led growth while making token gestures to bust open its heavily regulated markets. A soon-to-be released U.S. report is expected to conclude that Tokyo hasn't lived up to its side of the U.S.-Japan accord that Clinton, back in 1995, trumpeted as a breakthrough deal. Even Rubin is known to harbor doubts that Japanese Prime Minister Ryutaro Hashimoto can pull off his promised deregulation of Japan's financial sector.
Add it all up, figures C. Fred Bergsten, director of Washington's Institute for International Economics, and "the U.S. is setting itself up for a big trade deficit, protectionist pressures, and a renewed bout of financial instability." Even some Japanese executives are uneasy. Shoichiro Toyoda, Toyota chairman and head of the Keidanren, Japan's industry association, worries about the impact of Japan's surplus. "Exchange rates should reflect economic fundamentals, which shouldn't change in a day or two," he says. "In light of that, the dollar [has risen] to an excessively high level." Any weakening of the U.S. economy could turn the trade deficit into a hot issue. Count, too, on Presidential wannabes like House Minority Leader Richard A. Gephardt attacking the Clinton Administration's record on trade.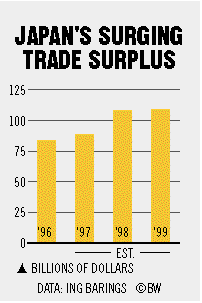 FINESSE. Rubin needs to engineer a gradual decline in the dollar, because a sudden weakening would boost prices Americans pay for imports and add inflationary pressure to the overheated U.S. economy. Nor does the U.S. want to trip up Japan at a time when its long-running banking crisis is entering a delicate phase. Major restructuring efforts are under way at Nippon Credit Bank Ltd., saddled with $10 billion in dud loans, and at some regional banks. "Rubin doesn't want to push Japan over the edge by introducing any external shocks," says Schroders PLC's Japan economist Andrew Shipley.
Talking down the dollar and pushing the yen back up will take all the diplomatic skills of Rubin and Deputy Secretary Lawrence H. Summers. It will also take faster action on domestic reform from Tokyo. But the task of recalibrating the yen and the dollar must be tackled. Both countries have too much to lose from a trade relationship gone sour.
Before it's here, it's on the Bloomberg Terminal.
LEARN MORE