The Lure Of An `Eroding' Asset
by
When Danielson Holdings (DHC) announced in early March that a deal to sell the company had fallen through, its stock dived from 13 to 8 in one day. Money manager Terry Diamond believes the stock, now at 7, has become an irresistible bargain.
What's the appeal of Danielson, a holding company with modest insurance operations, chiefly workers' compensation? It has a $1.4 billion tax-loss carryforward, or net operating loss (NOL), that will start "eroding" next year and expire by 2010.
"The sharks have obviously smelled blood, and suitors have come rushing in to get the benefit of the huge NOL incentive," says Diamond, chairman of Talon Asset Management, who has been snapping up Danielson shares. He suspects that they're in talks for a fast deal.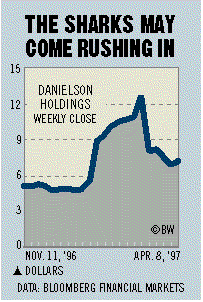 Analyst Ernest Jacob of the New York investment bank Furman Selz says that Danielson's NOL "is a wasting asset." He says the aborted deal was with Progressive, a large insurance company that had agreed to acquire a 42% stake in Danielson, at $6 a share. The deal would have let Progressive acquire the rest of Danielson by 2000 for 27 a share. Jacob explains that in order to use the tax write-off, there can be no change in control in the company for three years. At that point, says Jacob, there would be about $1.1 billion of NOL remaining. That's why the deal was structured for Progressive to buy the rest of Danielson in the year 2000. Progressive didn't explain why it backed off the deal.
Diamond thinks the would-be buyer of Danielson will work out a deal similar to the one Progressive turned down, leaving the stock nowhere to go but up.
Before it's here, it's on the Bloomberg Terminal.
LEARN MORE