Latin Bulls Don't Scare
by
Rising interest rates have Wall Street on edge, but on stock markets south of the border, traders are feeling anything but downtrodden. The region's major bolsas have climbed steeply: Brazil's by 40% from the beginning of the year to Apr. 8, Mexico's 13%, Argentina's 12%. And the upturn will continue, fund managers expect--by contrast with past years, when minor setbacks on Wall Street often plunged Latin markets into disarray. The reason: Bullish economic fundamentals. Latin America still has "tremendous growth potential," says Leila Heckman, chief global asset allocator for Smith Barney Inc. in New York.
Increases of around 4% in gross domestic product are expected by Brazil, Mexico, and Argentina this year (charts), along with stable inflation and falling domestic interest rates. In 1997, net investment inflows into Latin equities from the U.S. will total $6 billion, Morgan Stanley & Co. forecasts, second only to 1993's peak of nearly $10 billion. While a crisis in any major Latin country would still spook investors, economies in the region are less dependent than they were in the early 1990s on inflows of hot money, which rapidly flowed out again after Mexico's 1994 peso crash.
There's also a risk that the region could be sideswiped by a major hike in U.S. interest rates, which would drive money into U.S. fixed-income assets. But analysts believe Latin markets could absorb a modest rate increase: After the Federal Reserve's quarter-point hike on Mar. 25, they rebounded quickly. "People are starting to say, `Hey, there are reasons"' for this buoyant performance, says Robert J. Pelosky Jr., Morgan Stanley's Latin American equity strategist. "I think the fundamentals both on the micro and macro level support it."
BARGAINS. The darling of fund managers is Brazil, where So Paulo's market has soared 75% in dollar terms over the past year. Among star performers are shares of state-run utilities. Holding company Telebrs "is the cheapest telecom stock in Latin America, if not the world," says Gabriel Wallach, Latin American analyst at Fiduciary Trust Co. International in New York. It is selling at less than 10 times earnings despite expected profits of $4 billion this year. Brazilian retailers and consumer-goods producers are also attracting cash. Andrew Shores, equity strategist at So Paulo investment bank Garantia, likes textile manufacturer Coteminas, which he calls "competitive by any standard around the world."
In Mexico, investors are upbeat despite some wariness over nationwide mid-term elections in July. Among the good omens: falling inflation, continued export growth, and signs of revived consumer spending. Many analysts are recommending stocks tied closely to the domestic economy. Telefonos de Mexico is a favorite, along with leading banks Banamex and Bancomer, and cement makers Apasco and Cemex.
Argentina's projected GDP growth of 5% to 6% this year is winning over some fund managers, although the peso's ironclad tie to the dollar makes Buenos Aires the Latin market most susceptible to rate shocks from the U.S. At an average trailing p-e ratio of 39, Argentine stocks are expensive, but there are buying opportunities. Banco de Galicia, Argentina's biggest private bank, is selling at a p-e ratio of 12, despite an expected 25% earnings rise this year.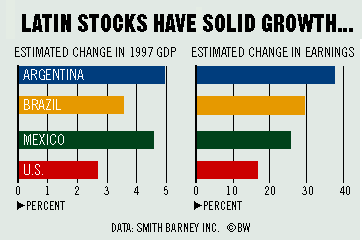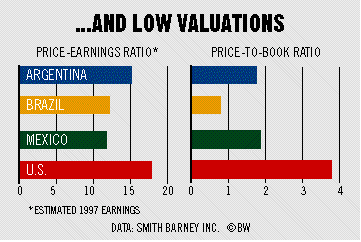 For smaller Latin markets, the outlook is more mixed. Lawrence Krohn, Latin American equity strategist for UBS Securities in New York, is unenthusiastic about Colombia, where President Ernesto Samper Pizano's political troubles have caused economic uncertainty. He also counsels shunning Venezuela, where the slow pace of structural reforms has left its economy "in the dark ages."
Heckman tells her clients to diversify, because emerging markets "can go up 60% or down 60%." But Wall Street's downturn may send more investors in search of alternatives. And that could keep the Latin fiesta going for a while.
Before it's here, it's on the Bloomberg Terminal.
LEARN MORE