France: Despite High Exports, Low Expectations
By
Finance Minister Jean Arthuis is being more careful this time. Last year, Arthuis projected 1996 economic growth of 2.6%, only to end up with half that. This year, in an update of its official 1997 forecast, the Finance Ministry has decided to stick to its earlier projection of 2.3%, even though Arthuis believes that growth will be better than that. Last year's shortfall was poorly received in the financial markets, and the government doesn't want to jeopardize the credibility of its 1997 deficit projection so crucial to France's qualification for a single-currency Europe.
Private economists think the growth target is achievable. Right now, the economy is firing on only one cylinder--foreign trade--but a broader upturn should be under way later this year. Buoyant foreign demand and a 10% drop in the franc vs. the dollar over the past six months will fuel further export gains. France's trade surplus hit a record 120 billion francs ($21 billion) in 1996, and this year's surplus will top that (chart). Strong exports are reducing excess inventories, clearing the way for production to pick up in coming months.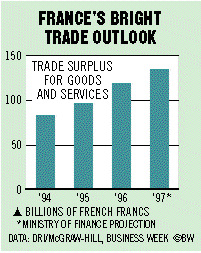 However, a broader recovery depends on stronger domestic demand, but that will have to wait until the second half. Recent data on consumer spending, housing starts, and industrial output do not look encouraging, especially with joblessness at 12.8%. Still, the Bank of France's 3.1% intervention rate, the money-market floor, is the lowest since 1973. Low interest rates are lifting prospects for housing and durable goods, with new-car registrations up strongly in March. Low rates and better growth prospects also will encourage capital spending.
Even if the numbers brighten up in the second half, low operating rates and high joblessness suggest that the economy has plenty of room for noninflationary growth. Inflation is expected to stay in the 1%-to-1.5% range in the second half, eventually giving the Bank of France leeway for a further slight cut in official interest rates that will bring them into parity with German rates.
Before it's here, it's on the Bloomberg Terminal.
LEARN MORE