Enamelon: The Smell Of Decay?
by
One company that went public at 7 a share six months ago, Enamelon (ENML), has seen its stock soar to 24. Its product is a new anticavity toothpaste. Some investors buy the idea. But one New York money manager thinks the stock is way too expensive--at its current value of $160 million--for a company that has yet to post revenues. So he's shorting it.
The last stock this pro shorted was CNS (reported in this column on Aug. 19, 1996). CNS has since fallen from 20 to 10.
This money manager says Enamelon, whose product is still being market-tested, must ring up sales of $150 million and earn $1 a share to justify its current market price. He doubts that this will come to pass.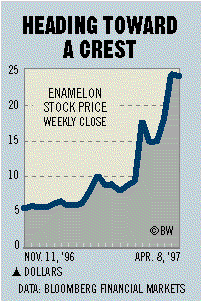 Robert Natale, editor of Standard & Poor's Emerging & Special Situations newsletter, cites Enamelon as one of the recent IPOs that reflect a general decline in the quality of new issues. Enamelon faces fierce toothpaste competitors such as Colgate-Palmolive and Procter & Gamble, notes Natale.
Analyst Anthony Viscoglios of Rodman & Renshaw, the lead underwriter for Enamelon's IPO, remains upbeat. He expects the company to roll out its toothpaste next year. The company says its product provides sodium fluoride, calcium, and phosphate to enhance remineralization of tooth enamel.
Before it's here, it's on the Bloomberg Terminal.
LEARN MORE