Commentary: Beyond Nafta: Why Washington Mustn't Stop Now
Paul Magnusson
Caterpillar Inc. sells nearly $100 million worth of its distinctive yellow bulldozers, excavators, and off-road trucks each year to Chile's mining industry. Most of the heavy machinery is made in the U.S. But because of a growing free-trade movement within Latin America, Caterpillar may shift production--and thousands of jobs--to a plant in Brazil. The reason: Brazil's open-market agreement with Chile means that a Cat tractor built in Brazil comes into Chile duty-free. One from the U.S. is subject to a 11% tariff. And Cat isn't the only U.S. outfit in this situation. General Electric, Coca-Cola, and Eastman Kodak are just a few of the companies that also are being forced to choose between exporting jobs or losing markets.
The blame lies squarely with Washington, which has yet to produce legislation that would authorize new "fast-track" trade talks. The U.S. shepherded the world through the Uruguay Round of trade liberalizations, signed a free-trade pact with Mexico, and promised in 1994 to turn the Western Hemisphere into a tariff-free zone by 2005. But lately, the Clinton Administration and Congress have taken a breather, mainly because of domestic political considerations.
LOST SALES. Meanwhile, Asian, European, and Latin American nations have moved ahead, fashioning free-trade zones among themselves. Chile, for example, has reached zero-tariff deals with Canada, Mexico, and the Mercosur trade bloc that includes Brazil, Argentina, Paraguay, and Uruguay. One result: A Chilean telephone company recently passed over three U.S.-based manufacturers rather than pay an 11% tariff on U.S. telecom goods. Overall, says the U.S. Chamber of Commerce, the loss of U.S. exports to Chile is $480 million a year and growing.
The White House is belatedly acknowledging that U.S. exporters are missing out. On Apr. 7, Commerce Secretary William M. Daley announced that his first trade mission will take him to Brazil, Argentina, and Chile. It's a good start, but Daley will be flying in the jet exhaust of delegations from Canada, France, Germany, Britain, Japan, and South Korea. Meanwhile, the European Union has broached the idea of an EU-Mercosur free-trade zone.
Why has the Administration been so slow to move? It can't decide how to handle issues of labor rights and the environment in fast-track trade legislation--longtime Democratic concerns. Well, it should simply negotiate side deals on such issues. That's the method Clinton used in negotiating the 1993 North American Free Trade Agreement.
There's also pressure from critics who point out that trade deficits with Mexico and Canada have ballooned since NAFTA. But multilateral agreements with Latin American nations are not likely to produce such a surge. U.S. tariffs now average around 3%, while South American tariffs are still about 12%. The U.S. can't lose by equalizing those rates.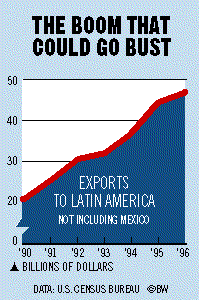 NO CONTEST. Meanwhile, U.S. exporters are losing sales because of tariffs on U.S. goods. Take Quaker Fabric in Fall River, Mass. Its exports of textiles to Canada and Mexico have taken off since NAFTA passed. But Quaker can't compete with Brazilian manufacturers selling duty-free to Chile and Argentina. Then there's TRC Cos. in Windsor, Conn., which sees a huge market in Chile for its environmental technology. It has engineered a $25 million state-of-the-art landfill there. But TRC is hobbled by Chilean tariffs and laws that require 20% withholding on its fees.
Simply extending NAFTA to Chile would add U.S. jobs. For example, IBM de Chile imports $35 million in PCs, duty-free, from Mexico annually. If it weren't for the 11% tariff, the company would bring them in from the U.S., says an IBM de Chile official.
As the world's largest exporter, the U.S. can't afford to sit on the sidelines in the free-trade game. And if Washington can't pass trade legislation in the sixth year of a recovery with low unemployment, when can it? The Clinton Administration should wait no longer to introduce a fast-track bill.
Before it's here, it's on the Bloomberg Terminal.
LEARN MORE