Altoids' Curiously Strong Ad Campaign
How Leo Burnett turned an obscure breath mint into a fad
Pat Wechsler
Seattle, the city that gave us overpriced coffee, cyberbars, and grunge, is now ground zero in a miniboom for a 200-year-old breath mint called Altoids. "If someone's doing a mint, it's going to be an Altoid," says 29-year-old Eddie Lloyd, an online graphic designer at Seattle's CapitolHill Internet Cafe.
Of course, fads are only born in Seattle. They are nurtured into full-fledged phenomena with careful marketing devised elsewhere--in the case of Altoids, the Chicago offices of ad agency Leo Burnett Co. Burnett's quirky ads for the "curiously strong" peppermints in the hinged tin box have propelled the brand from a market share too small to detect to just under 10% in two years. Helped by its unusual ads, Altoids has made the risky leap from underground local favorite to national brand while keeping its marketing machinery well hidden. The funky packaging says "Made in Great Britain" but includes no mention of megamarketer Kraft Foods Inc., which owns the brand, or Kraft parent Philip Morris Cos.
"CYNICAL, SMART." The white, thumbnail-size mints, which originated in Britain as a cure for upset stomach, built a devoted word-of-mouth following among the heavy-smoking, coffee-guzzling Seattle club set in the 1980s. Still, despite impressive sales gains in the Northwest, Altoids were barely known in the rest of the country, and few retailers were willing to give the old-fashioned boxes shelf space.
Then in 1993, the British confectioner Callard & Bowser, which makes Altoids, was bought by Kraft. Although the obscure mints were barely a blip on the Kraft radar screen, marketing manager Mark Sugden, who had been in charge of Altoids before the merger, was sure the brand could grow. After all, he had read the gushing three-, four-, and five-page fan letters from Altoids lovers.
In 1994, he persuaded Kraft to hire Burnett for a modest campaign. Realizing that a big part of Altoids' cachet was the product's low profile--and limited by a $1 million budget--the team rejected the conventional TV commercials used by bigger brands such as Tic Tac and Certs. Their ads had to publicize Altoids without making them seem too mainstream. "We didn't want to betray those who already were committed," says Sugden. "The key was to remain consistent with everything it stood for."
Burnett came up with a series of distinctive posters that ran in bus shelters, subways, and alternative weeklies in just a handful of cities in 1995. The award-winning series included a dominatrix clad in leopard print above the tag line "Pleasure in Pain" and a figure in a silver spacesuit holding an Altoids tin. "We were talking to a cynical, smart, cutting-edge audience, and nothing mediocre was going to sell," says Burnett Creative Director Steffan Postaer. Last year, the budget was bumped up to more than $7 million, and the campaign reached most urban markets. One exception: Seattle, where marketers feared even their ironic, retro ads would alienate Altoids' original counterculture customers.
Kraft declines to break out sales, but in the $237 million breath-freshener category, Altoids has been the star performer, according to market researchers Information Resources Inc. in Chicago. IRI, which tracks sales in big chains and drugstores, figures Altoids rocketed ahead by almost a third last year, to $23.2 million. Adding in other channels such as convenience stores could bring the total to more than $40 million.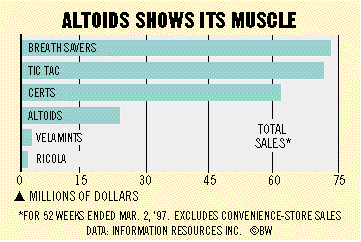 Altoids' success has brought on a slew of copycat competitors. At least five new extra-strength mints have been unleashed on the market in the past year. The newcomers readily acknowledge their debt to the pioneer. "With the success of Altoids," says Gerrit J. Verburg, distributor of German-made Fresch, "we can get the shelf space we couldn't get before."
Kraft isn't resting on its laurels. It plans to introduce a new wintergreen flavor in June and with it a new ad campaign. How big can Altoids get and still be cool? No one knows. For Kraft, the company behind such brand giants as Velveeta and Jell-O, finding out may be the biggest challenge.
Before it's here, it's on the Bloomberg Terminal.
LEARN MORE