A Fitness Farm For The Stout Of Heart
Linda Himelstein
I should have known I was in for a life-altering experience when the Franklin Quest Institute of Fitness (FQIF) suggested that I bring sterilized needles for popping blisters and moleskins for dressing them. This unsettling bit of advice for my weeklong stay came on top of unsavory stories I had heard about FQIF being mistaken by locals for an insane asylum rather than a fitness camp. Then there was the tale of former guests who were driven to petty crime by the institute's strict dietary rules: They were arrested for shoplifting chocolate.
The first day did nothing to alleviate my jitters or those of my husband, Michael. After arriving at FQIF, near St. George, at the edge of Southern Utah's beautiful Snow Canyon State Park, we discovered our guide to the campus was a nurse. I wondered: Does everyone at FQIF have medical training, just in case? She showed us the guest rooms, two indoor pools, a state-of-the-art weight room, and the fitness center. To my relief, our last stop was a place for massages, facials, and other pampering.
NO NONSENSE. The tour ended just in time for dinner, served cafeteria-style to all guests in a central room. "Vegan or low-fat?" we were asked. After getting a look at the barley loaf behind the counter, we opted for low-fat--a wise choice, it turned out: During our stay, Michael and I got to eat such treats as stir-fried chicken instead of zucchini stuffed with garbanzo beans. Still, much of the food at FQIF leaves a lot to be desired. For those still hungry after meals, which included an endless supply of salad, fruit, and grains, FQIF had cold baked potatoes--minus salt and butter, of course--stashed all over the campus. Oh boy.
Enough griping--for the moment, anyway. After all, we had come to FQIF voluntarily. Founded as the National Institute for Fitness in 1974, it was bought in 1994 by Franklin Quest Co., maker of those ubiquitous schedulers and a producer of time-management seminars. We figured any place good enough for such past guests as the clean-living Osmond family must be good enough for us. Besides, in the exploding fitness-resort industry, FQIF stood out for its reputation as a no-frills, no-nonsense retreat. FQIF is no place for wimps, although it's ideal for the cost-conscious. At $958 a person per week, it's a bargain compared to the $1,800 or so charged by many rivals.
Founder Marc Sorenson, who has a doctorate in education from Brigham Young University, is a reformed overeater. He believes vigorous exercise and a strict diet can reduce or eliminate symptoms associated with everything from sinusitis to asthma, diabetes, and heart disease. His methods may seem extreme, if not, well, peculiar. For instance, he preaches the "mother" rule-of-thumb for eating: Any food that has or even comes from something with a mother, including milk, is poison. (We were served potato milk at the institute. It is not as dreadful as it sounds. But it's no threat to the dairy industry, either.) He claims his formula has worked miracles on dozens of sickly and overweight guests. "I don't think moderation in all things is always right," says the 53-year-old Sorenson.
His operation focuses more on total health than on relaxation or weight loss. It's also run more like a boot camp than a resort--hence the walks and aerobic classes at 6 a.m., which I'm ashamed to admit we never made. No demerits for the omission, because all activities are optional--a policy we appreciated, but one that hardcore visitors thought too lenient. We did hit the trail every morning for brisk 10-mile power hikes. Guides set the pace, adapted to each group's fitness level. Those few in tip-top shape and in search of adventure get assigned to the revered C Group, while guests just getting started on a workout plan join the A Group. We, like most, stuck with the Bs, which was just as well: We gasped for air, while our 70-year-old guide barely broke a sweat.
After the hikes came two- or three-mile jogs, followed by weight training. Then came movie time. We're not talking Tom Cruise in Jerry Maguire; this was calcified arteries in a flick about heart disease. As you can imagine, these things can be inspirational. Guests also attend lectures on subjects ranging from the effects of nutrition and fitness on cancer to strategies for dining out. One tip: When at Burger King, order a Whopper. Ask for extra onions and tomatoes but tell them to hold the meat, cheese, and mayo. My personal favorite: Groceries 101 with Dr. Ralph. Did you know that Hidden Valley Light Ranch Dressing still gets 59% of its calories from fat?
What was left of the afternoons was spent juggling an array of fitness options, including swimming, mountain biking, tennis, and step aerobics. We did as many as possible because the institute awards points for every activity completed. If you get enough, you can win--a sweatshirt. Hey, anything can seem motivating. No points for participating in evening activities such as country line dancing, however.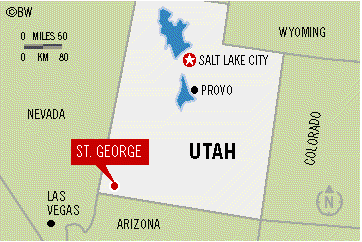 JEANS TEST. FQIF's program isn't just for health nuts. During our stay, the 60-some guests from all over the world included doctors, a nuclear physicist, business consultants, a biker (the motorcycle kind), housewives, and academics. Their ages ranged from 20s to 70s. Most of FQIF's 7,500 guests annually, like us, wanted to shed a few pounds and get back into abandoned exercise routines. Some, who stayed for months, were fighting various ailments or obesity.
Despite my trepidations, I found that FQIF provided a relaxing and exhilarating vacation. I may not have lost much weight--a measly two pounds, vs. the seven my already-thin husband lost. But like famous fitness addicts elsewhere, such as Tommy Lasorda and Oprah, I've become much more conscientious about how I treat my body. I can also fit into a pair of old jeans. Now, if only my friends would stop saying I've been institutionalized.
Before it's here, it's on the Bloomberg Terminal.
LEARN MORE