U.S.: Why A Hot Economy Could Burn Profits
Margins may be starting to get squeezed from all sides
by
Don't fight the Fed. The financial markets seem to be taking the old adage to heart. But Wall Street is starting to worry about more than just the Federal Reserve and interest rates. Another growing concern is the outlook for profits, which have been the real power behind the bull market of the '90s.
Given the strength in first-quarter demand, corporate earnings last quarter appear to have done fairly well, although the stronger dollar probably hammered earnings at many U.S. multinational operations. But deeper into 1997, profits will face two challenges. First, margins may already be under pressure, based on the government's latest profit data (chart). And with costs rising amid weak pricing power, that pattern is likely to continue. Second, and most important, the Fed has served notice that it wants to slow the growth of demand, meaning that later this year, many companies may find it difficult to meet their sales projections.
Right now, though, business is booming. The latest data show that consumers are flush with cash and are spending briskly. Builders are taking advantage of buoyant demand and the mild winter. And the industrial sector's combination of strong orders and thin inventories means the economy's momentum is carrying over into the second quarter, as robust first-quarter demand fuels production this quarter. All this strongly suggests that the Fed's work is not yet finished.
UNDERNEATH THIS UPBEAT CLIMATE, however, is evidence of a cost squeeze that could pressure profit margins and put 1997 earnings at risk.
At one level, it's an old story. As business expansions wear on, productivity gains are harder to achieve, and with less of a productivity offset, faster wage growth raises unit labor costs. But in this expansion, the tale has a key difference: Pricing power remains weak, unlike in past expansions, when businesses could maintain margins by lifting prices when tight labor markets started to boost costs.
The Commerce Dept.'s data on fourth-quarter profits show that the profit margin for nonfinancial corporations fell. This margin is measured by earnings per unit of inflation-adjusted output. The drop is noteworthy because it occurred in a strong economy. The last time it declined significantly was in the first half of 1995, when economic growth fell to 0.6%.
Margin erosion likely will continue in 1997. First-quarter data are still sketchy, but what is available does not paint a favorable picture, even for the nonfinancial sector, where productivity data are more reliable. Given that both real gross domestic product and overall hours worked probably rose at about the same pace of 3% or so, first-quarter productivity looks flat. And since wages and benefits continued to accelerate, first-quarter unit labor costs appear to have risen faster than prices. Result: a squeeze on the cost side.
MOREOVER, THE NEWEST WRINKLE in the profits outlook is the Fed's commitment to keep pricing power under heel even as costs are rising. More rate hikes may well be necessary to achieve that, and such moves would lift business costs even more, as companies find it more expensive to raise new capital.
Further rate hikes seem especially likely given the economy's unrelenting signs of strength. In particular, the National Association of Purchasing Management's index of industrial activity rose considerably in March, to 55% from 53.1% in February. The reading was the highest in two years, and the gain was led by orders, employment, and slower delivery times (chart).
The latter is a sign that the production and distribution system is starting to strain under a quicker pace of demand. Fed Chairman Alan Greenspan is a fan of the indicator, because pressure on production capacity can fuel price increases. But even as the NAPM report joined a long line of recent data that suggest further rate hikes, the NAPM's index of prices paid actually fell, showing little in the way of pricing power.
That's the way the Fed would like to keep it, but in an economy with this much momentum, a quarter-point hike in interest rates seems mighty small. The production side of the economy is gaining steam, because the same strong labor markets that are putting companies in a cost squeeze are also generating greater buying power for households.
The government's report on personal income and spending for February confirms what the January and February retail sales data had suggested: that real consumer spending in the first quarter rose at an annual rate of 5% or greater, the strongest quarterly increase in five years. More than that, real aftertax income of households increased at an annual rate of 6% or more, the biggest gain in nearly three years (chart).
STEADY INCOME GAINS also are powering the housing market. Sales of existing homes soared 9% in February, to an annual rate of 4.26 million, close to a record high. New-home sales slipped 0.7% in February, but the rate of 811,000 was well above the fourth-quarter average.
Solid housing demand coupled with a mild February boosted construction activity. Building outlays jumped 2.3% in February, with residential, commercial, and public-works projects all rising. The strong increases in construction this winter may well have stolen from spring building. But the need to furnish the new homes and equip the new offices and factories should keep demand for manufactured goods rolling along.
In fact, factory orders rose 0.8% in February, even with a huge drop in aircraft orders. The gain followed a large 2.5% jump in January bookings. The backlog of unfilled orders also rose, and the ratio of inventories to shipments fell further, suggesting some stock rebuilding in coming months. As a result, the economy could post three quarters of growth in the 3% to 4% range. That pace would be well above the noninflationary speed limit of 2 1/4% or so, at a time when the economy's resources are already stretched thin.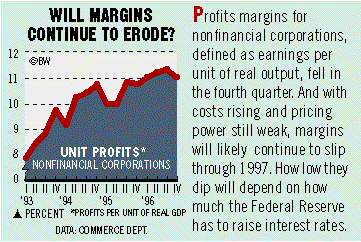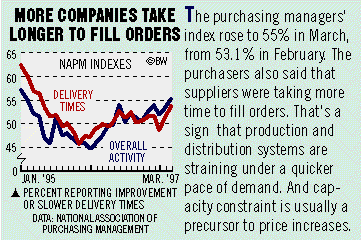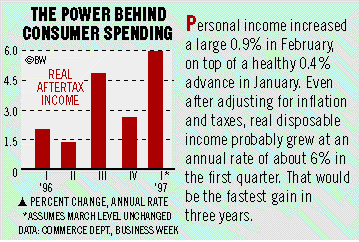 The stock market is caught squarely in the middle of all this. Fed interest rate hikes unleash the two great fears of equity investors: that higher rates will slow the economy, hurting profits; and that higher bond yields will make stocks comparatively less attractive. That's why the stock market will continue to swoon as long as economic indicators point to an overly strong economy.
Is there an easy way out of this box? Not really. Profit growth in 1997 is going to slow, mainly for cyclical reasons. How much they slow, however, will depend on how much the Fed has to tighten policy. The damage to profits and the stock market will be contained as soon as the economy cools down, preferably back to its Goldilocks pace of 1995-96. But the way the data look right now, this economy is way too hot for the Fed.
Before it's here, it's on the Bloomberg Terminal.
LEARN MORE