Things Go Better With Cosmos
The company's dirt-cheap cola is giving Coke and Pepsi fits
Hugh Filman
It's a classic moment in global marketing, with U.S. companies battling for consumers in an emerging market. The scene: a Manila sari-sari store, one of the thousands of convenience stores in the Philippines. The product: soda pop. The consumer: Ramon Boado, 37, a maintenance man at the corner barbershop. After a hard day's work, Boado walks past all the posters for Coke and Pepsi, goes to the counter, and asks for his favorite brand--a frosty Pop Cola, a cheaper brand made by local Cosmos Bottling Corp.
Wait a minute. The marketing pundits all say Coca-Cola Co. and PepsiCo Inc. have the global soda market wrapped up. Local brands are supposed to be the losers, unable to compete with these powerhouses. But nobody has told that to consumers such as Boado, or to Cosmos Bottling, which has emerged as a major local player. By selling cheap, Cosmos has risen from niche status to a contender with Pepsi for the No.2 spot. Pepsi vows to remedy that situation. But for now, Cosmos offers a heartening story to local marketers trying to beat giant U.S. brands.
Behind Cosmos' success is President and CEO Jose A. Concepcion III. A Manila-educated member of the Philippine economic elite, he took over his father's RFM food conglomerate at age 28 when the elder Concepcion assumed a Cabinet position in 1987. In 10 years, Concepcion has aggressively expanded the businesses of his local brands, including Selecta ice cream, Carol-Ann's potato chips, dairy goods, packaged meats, baked goods, and juices, increasing sales to $518 million. To branch out into beverages, RFM acquired control of Cosmos in 1989.
At first, Concepcion stumbled. He took the Cosmos brand, Pop Cola, and tried to beef up sales by spending big on advertising. But he soon discovered the power of Coke's marketing machine. "You cannot outspend Coke," says Concepcion. "It would be suicide." Concepcion also confused consumers by tinkering with Pop Cola's formula. Cosmos bled money.
Then, in 1993, Concepcion came up with a new, no-frills strategy. He cut the price from 19 cents to 11 cents, 30% lower than Coke or Pepsi, and positioned Pop Cola as a cheap, strong-flavored cola for working-class Filipinos. Concepcion spent $150 million to double production capacity and acquire another cola maker, Jaz Cola, whose plant will eventually make Pop Cola. Cosmos took off, rising from less than 6% of market share and sales of $22 million in 1993 to 17% of market share and sales of $65 million by the end of 1996. Profits this year are estimated at $18.3 million, up from less than $700,000 in 1993, and sales are forecast at $137 million as a result of production increases. "Cosmos has been running out of supply for many years," says Concepcion.
"CHALLENGED." Pepsi's bottler concedes it fell behind Cosmos' 17% market share late last year but says it has nudged back up. Concepcion isn't concerned. Cosmos stock, separately traded from RFM, has gone from under 15 cents a share in August to more than 30 cents recently. In March, France's Paribas bought a substantial stake.
Pepsi and Coke have gone on the offensive, halving their prices to as low as 15 cents for an eight-ounce bottle. Pop Cola sells for 13 cents. "Cosmos assumed [its prices] would be out of reach of Coke and Pepsi, but obviously now it's seriously challenged," says Eric B. Manalang, executive vice-president of Guoco Industries, which owns a majority stake in Pepsi's local bottler.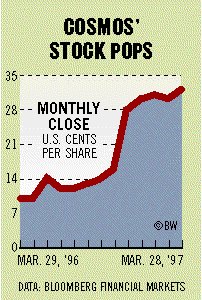 Despite the threat, Concepcion says Cosmos will still control the low end of the market. Bach J. Sebastian, Cosmos' vice-president and head of corporate planning, says the company's costs are much lower than those of either of the other bottlers. Cosmos offers fewer sizes of bottles than Coke or Pepsi, for example, which makes it cheaper to run the plants. Cosmos doesn't pay royalties for concentrate, unlike the other two bottlers, and it spends little on advertising.
Analysts also point out that most sari-sari stores are not passing on Coke and Pepsi's price cuts, preferring to keep charging up to 30 cents a bottle. "[Coke and Pepsi] have got to go around to 60,000 or so sari-sari stores to try and get these prices moved down," says Tien Doe of Deutsche Morgan Grenfell Securities Philippines. "It's going to take a long time." Meanwhile, Cosmos will reap its profits--and keep Coke and Pepsi on their toes.
Before it's here, it's on the Bloomberg Terminal.
LEARN MORE