Man On A Tightrope In Sao Paulo...Shouldering The Hopes Of The Poor
by
Sao Paulo's new mayor, Celso Pitta, has his hands full. About 2 million people in the city are homeless or live in poor housing. Crime is scaring residents and business away from downtown. Traffic jams reach dozens of kilometers. As a result, companies have been bypassing South America's business capital.
Pitta, who took office in January, is trying to change that--but he has to walk a political tightrope. Elected under the banner of the center-right Progressive Party, he must satisfy his natural corporate constituency. "We have to make the advantages of doing business here outweigh the disadvantages," he says. But Pitta, 50, the first black mayor of Sao Paulo, also won election by garnering the votes of many poor residents. Whether he can come up with policies to satisfy both is an open question, especially since he is plagued by scandal.
Sao Paulo has long taken a beating in the country's "fiscal war," in which Brazilian cities compete to offer multinationals long-term tax exemptions and free land. Until now, the city had proudly refused to take part. But Pitta is recognizing reality: He plans to offer tax reductions to entice nonpolluting companies to the run-down eastern part of Sao Paulo. "The city has to play the incentives game whether it likes it or not," says Roberto Faldini, economic director of the Sao Paulo State Federation of Industries.
Another top priority is the traffic mess. With 18 million residents, Sao Paulo is the world's second-largest metropolitan area, and its subway system is sadly inadequate. Pitta intends to work with the state government to expand the metro, though with budget constraints and bureaucracy in the way, expanding the system will take years.
Pitta has offered up a raft of social initiatives that may have a small impact on poverty. He has moved 800 families out of favelas, or slums, into public housing. He has begun a program to give thousands of homeless people municipal jobs such as street-cleaning and has pledged to put laid-off city bus employees on the local police force. He also wants to designate "free-trade areas" to keep street vendors out of the main business districts.
Of course, all these efforts may come to naught if Pitta is swallowed by scandal. In February, a Brazilian Senate inquiry revealed the fraudulent sale of municipal bonds while Pitta was the city's finance secretary from 1993 to 1996. Pitta, who denies wrongdoing, has fired four officials. Meanwhile, the federal tax agency is investigating Pitta's returns amid media reports that he spent more on cars and luxuries than his and his wife's combined $63,000 income should have allowed.
Many executives are skeptical that Pitta's ambitious programs would work even in a friendly political climate. His bid to attract companies is "not nearly enough compared to what other cities are offering," says American Zeke Wimert, president of software company Unitools do Brasil. Others note that the cost of labor in Sao Paulo is twice as high as in other areas of the state--which alone provides a powerful incentive for companies to shun the city.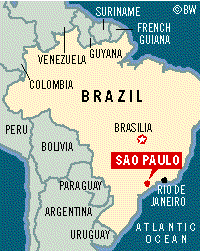 Despite his problems, Pitta is an inspiration in a city where, he says, "you don't see many blacks wearing suits." At least half of Paulistanos, as city residents are called, are black or of mixed-race background. Although racial tension is far less prevalent in Brazil than in the U.S., dark-skinned Brazilians are often the victims of economic discrimination and rarely rise to positions of political or corporate power. "By breaking that barrier, he has a huge positive impact on black youths," says Sueli Carneiro, head of a group that fights discrimination in Sao Paulo.
Pitta downplays any prejudice he faced growing up. His father, a car salesman, was white. His mother, a retired teacher, came from a family that included doctors, lawyers, and a prominent historian. After earning an MA in transport economics from the University of Leeds in England and spending a year at Harvard business school, Pitta returned home with an appreciation for discipline. Today, he says he tries to combine "the creativity of Brazilians with the formality of the Anglo-Saxons." To get Sao Paulo into shape, he'll need the best of both worlds.
Before it's here, it's on the Bloomberg Terminal.
LEARN MORE