`Hi, Mom. I Can See You On C Phone'
by
Early birds in C-Phone (CFON) have had quite a roller-coaster ride: After trading at 2 to 4 for most of last year, the shares blasted off after New Year's, zoomed to 16, and are now at 11. What's next for this maker of PC-based desktop videoconferencing systems?
Whispers are that an investor group has just taken a 16% stake in C-Phone, which needed funds for its picture phones--C-Phone Home Video System. The investors have put in an initial $5 million, according to one banker.
C-Phone's picture phone is a TV set-top box that lets caller and callee see each other on C-Phone-equipped TVs, connected over standard phone lines. C-Phone has signed a pact with MCI Communications to provide phone lines and other services for the home-video system. C-Phone's revenues will come from a fee of $9 to $20 a month, plus a charge of 30 cents to 38 cents a minute.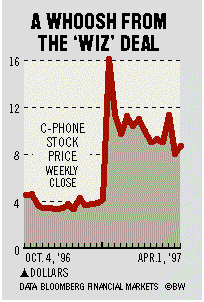 "If C-Phone's plans take off, the company will have the problem of keeping larger companies, such as MCI, from buying out C-Phone," says one money manager, who is buying shares.
A spectacular leap in C-Phone's stock--from 6 3/4 on Mar. 20 to 11 3/8 on Mar. 21--resulted from the announcement that electronics chain Nobody Beats The Wiz will begin marketing C-Phone's system in time for Mother's Day, May 11. The C-Phone will sell for $350.
One C-Phone insider says that if C-Phone sells just 25,000 units in fiscal 1998 (ending on Feb. 28), the company should produce revenues of $10 million, vs. an estimated $2 million for fiscal 1997. And this source says C-Phone should be in the black by then.
Before it's here, it's on the Bloomberg Terminal.
LEARN MORE