Help For The Old Folks At Home
by
Get used to "assisted living," one of the fastest-growing segments in long-term care. It's an option for senior citizens who don't require round-the-clock medical attention but need some daily help with housekeeping, bathing, and dressing--in a residential setting. One company that some see emerging as a leading assisted-living provider is CareMatrix (CMD).
CareMatrix targets the upper-income market. It's "a rare high-growth, nontechnology company," says Andrew St. Pierre, a money manager at DFS Advisors in Boston. He notes that Abraham Gosman, CareMatrix chairman and a major stockholder, knows the health-care business and has a record of making money for shareholders.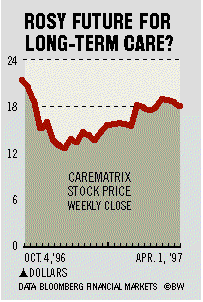 Gosman founded Mediplex, another health-care outfit, and took it public in 1983. He sold it to Revlon a couple of years later at four times the initial public offering price of 6 a share. Gosman bought back Mediplex in 1990, at just 6 a share, and then took it public again in August, 1991, at 19. In 1994, he sold to Sun Healthcare in the mid-20s.
St. Pierre expects that Gosman and his son Andrew, vice-chairman of CareMatrix, have a similar goal for the company: eventually selling it off. But right now, Andrew says, he and his father will pursue a growth strategy for CareMatrix, which operates 23 facilities in the Northeast, including special services for people suffering from Alzheimer's disease.
Sheryl Skolnick of San Francisco investment bank Robertson, Stephens expects solid CareMatrix earnings--30 cents a share in 1997 and 94 cents in 1998, compared with a loss of 36 cents last year.
Before it's here, it's on the Bloomberg Terminal.
LEARN MORE