Britain's Boom
On the eve of national elections, Britain is on a roll. Will it last?
Stanley Reed and Julia Flynn
On a corner in the London village of Belsize Park stands the shell of a former church known as Lyndhurst Hall. Built in 1884 at the height of the British Empire, it once housed a missionary school linked to the legendary explorer Dr. David Livingstone. But as its congregation shrank, the massive structure fell into disrepair and was abandoned. Then, a group led by Beatles producer George Martin and backed by Japan's Pioneer Electronic Corp. spent $25 million to transform the relic into Air Studios, a world-class temple of sound at the center of Britain's $4 billion music industry.
The old church, where groups from the London Philharmonic to rock stars Oasis record their music, is a fitting symbol for Britain's resurgence from economic decline. After almost two decades of painful restructuring, Britain is back. Its 3%-plus annual gross domestic product growth and 2.5% inflation are the envy of its neighbors across the Channel. Its thriving financial sector accounts for 19% of GDP, and the service economy has become a job-creation machine, pushing unemployment down to 6.2%, half that of France and a third less than Germany's. "If you compare [Britain] against Europe, it is doing well in all measures--growth, competitiveness, and unemployment," says Bruce Kasman at J.P. Morgan & Co. in London.
Such is the economic legacy of 18 years of Conservative Party rule. If his roughly 20-point lead in the polls is to be believed, Labor Party leader Tony Blair will inherit Britain's boom as his party sweeps to victory in general elections on May 1. Oddly, the Tories have been unable to capitalize on the economic recovery. Blair is ahead because there is a widespread sense that, after their long tenure, the ruling Conservatives have grown tired, increasingly ideological, and somewhat sleazy. Hardly a week passes without a Tory member of Parliament's being accused of sexual or financial peccadilloes. "The Tories lack direction and purpose," said Rupert Murdoch's Sun newspaper, endorsing Blair on Mar. 18. "The country is sick and tired of them." The backing from the paper often credited with Prime Minister John Major's upset victory over Labor's Neil Kinnock in 1992 was a body blow for the incumbent.
FINESSE. The big question is whether Blair will reverse the Conservatives' reforms. A Tory campaign poster warns: "Britain is booming. Don't let Labor blow it." But although Blair is carefully finessing his agenda to hang on to his supporters, the likelihood is that he won't tamper much with his predecessors' economic policies. He has worked too hard to get where he is now.
Already, the 43-year-old has proved himself a skilled leader. He has done a masterful job at making Labor, long unelectable, an acceptable centrist alternative. He has largely uncoupled the party from the unions, themselves far less threatening than they were a decade or two ago. Blair and Shadow Chancellor Gordon Brown are bending over backwards to reassure business. Labor won't roll back privatizations, increase income taxes, or let government spending get out of control, Blair vows. He is determined to avoid the boom-and-bust cycles that led to recession in the early 1990s and undermined business confidence in the Tories. "The more cautious you can be, the better," says a Blair adviser. "If economic policy becomes boring, you are getting it right."
Blair's vision for Britain is much like Bill Clinton's for America. He wants Britain to be a global leader in the high-tech age. He talks a good game about partnerships with business, the need for lifelong training, and for making sure the have-nots have access to information technology. He is pledging money to improve primary schools and will probably offer tax incentives for investment.
Beyond that, Blair is careful about making commitments. He is determined not to make promises he can't keep. He wants to avoid being tarred as a tax-and-spender--because that could cost him the election. Sound economic management would also give Blair more freedom to carry out dream projects in a second term.
On the other hand, Blair is sure to soften some of Thatcherism's jagged edges. His most controversial proposal is a windfall-profits tax of up to $8 billion on privatized utilities. The money would fund a jobs program to get 250,000 people off welfare. Labor would also end Britain's isolation as one of the few industrialized countries without a minimum wage. And Blair is making business nervous by pledging to strengthen the hand of the unions at the bargaining table with employers.
"PRUDENCE." Still, there is no question of going back to the bad old days. In a recent speech to the leftist faithful at the London School of Economics, Blair used as mantras such phrases as "fiscal prudence." Blair sees his challenge as building on, rather than dismantling, the revolution launched by former Prime Minister Margaret Thatcher, whom he admires. In that sense, Blair could help lock in Labor backing for Tory free-market gains, much as Bill Clinton has sold the virtues of shrinking government to U.S. Democrats.
Blair could also make the British experiment more palatable on the Continent, where policymakers have been turned off by high job losses, growing social inequality, and other negative features of Thatcherism. Says Zygmunt Tyskiewicz, secretary general of the European Employers' Confederations in Brussels: "If we get a government led by Tony Blair--who has more or less the same political program as the Conservatives but is himself a socialist--maybe the British voice will be listened to again." Blair is well aware that if he can establish himself as a sound economic manager in Britain, the credibility of beleaguered social democrats on the Continent would get a boost.
How does Blair's image play with business leaders at home? Most senior executives are staying on the fence between Labor and the Tories. But behind the scenes, Labor officials have been meeting with many corporate chiefs. One big payoff came this winter, when a blue-ribbon economic study group including Principal George Bain of the London Business School, Chief Executive George Simpson of Britain's General Electric Co., and Chairman Robert P. Bauman of British Aerospace, endorsed such Labor policies as the minimum wage.
Indeed, business seems generally relaxed about the elections. Whoever wins, says Adair Turner of the Confederation of British Industry, there should be "a few [more] years of 2% to 3% growth with low inflation. This is an environment that business likes."
In fact, if Labor wins on May 1, Blair may have to pour cold water on the economy, which could overheat thanks to the Tories' loose monetary and fiscal policies. Champagne sales have hit a six-year high, housing prices are soaring, and tables at fashionable restaurants are booked solid as the Tories have tried to create a "feel-good" factor to improve their election chances. Blair may have to ratchet up interest rates, while hikes in taxes other than those on personal income are also a distinct possibility, no matter who wins. That could cool off Britain's stock market and hold growth down to 2.5% in 1998.
Even if Blair has to brake the economy a bit, he will need to be careful lest he damage the thriving health of Britain's corporate sector. Its large companies now rank as world-beaters in key growth industries such as finance, air travel, telecommunications, and pharmaceuticals. They are moving aggressively into overseas markets and attracting key management talent from the U.S., Asia, and the Continent. Investment has poured in from abroad, too, boosting overall productivity (charts, page 18).
Although critics charge that Britain's economic success is due mostly to its low wage rates, the fact is the corporate sector is in fighting trim after the massive shakeups and management overhauls that led to 2 million job losses under the Tories. Britain has 19 of Europe's 50 biggest corporations and the biggest corps of global companies after the U.S. and Japan. The market capitalization of companies on the London Stock Exchange is $1.7 trillion. Only the U.S. and Japan have larger market caps. Blair doesn't want to do anything to slow Britain's global giants down.
SHAPED UP. There's no better example than British Telecommunications PLC, the former state-owned phone monopoly that was privatized in stages starting in 1984. Long criticized for its poor service and high prices, BT has slashed phone bills by more than 50% in real terms since privatization began. Chief Executive Peter Bonfield has become one of the most powerful figures in the telecom industry through his $20 billion bid to buy MCI Communications Corp. and by striking alliances throughout Europe and Asia.
Just as important, competition has forced Britain's managers to shape up. These days, the top echelons of executives are world-class movers and shakers. For example, Robert Ayling, chief executive of British Airways PLC, is a premier figure in the global airline industry. He is taking flak from rivals who want to stop his alliance with American Airlines Inc., which would make them the dominant transatlantic carrier.
Faced with such powerful players, Blair will have to resist old Labor tendencies to rein them in through new regulation. Blair's own instinct, say those who know him, is to be laissez-faire. But he could be vulnerable to left-wing holdovers among Labor members of Parliament--especially if he wins only a narrow majority. "At the very moment the public is rejecting Thatcherism, new Labor is embracing it," complains old-style Labor stalwart Tony Benn, expressing the view of many of his fellow left-wing MPs.
One key testing ground could be the City of London. Finance and business services account for a crucial 19.1% of Britain's GDP, and the City has helped spur industrial streamlining through a wave of mergers and acquisitions. Last year alone, London investment banks brought in a record $1.8 billion in M&A fees. And the pace is continuing.
A few months ago, Labor threatened to slap the City with a tangle of new regulations, including restrictions on takeovers. But recently the party has backed off. Labor has reassured the financial community that "it doesn't want to kill the goose that lays the golden egg," says a senior banker.
Media is another potentially controversial area. Some pro-Labor commentators argue for shoring up the state-owned British Broadcasting Corp. and keeping wraps on commercial television. But the Tories have shown that the opposite strategy produces more programming and choice, if not quality, and Blair tends to agree, party officials say. So Labor is likely to preside over a TV industry that increasingly resembles America's dog-eat-dog competition and commercialism.
What is emerging in Britain is a three-tiered economy: accelerating highfliers, decently paying global manufacturers, and marginal, low-paying companies. The hottest growth is coming from strong, homegrown industries such as finance, media, and pharmaceuticals, where giants such as Glaxo Wellcome, SmithKline Beecham, and Zeneca Group spend billions each year on research and development. But these industries don't offer enough jobs to keep everyone employed. So Britain must continue to attract foreign capital to put people to work--especially in traditional manufacturing regions such as the area around Newcastle in the Northeast and Lancashire in the Northwest. Blair is likely to make this a priority.
Consider Nissan Motor Co.'s cavernous plant in Sunderland in northeastern England. Starting from scratch at an abandoned airfield in 1986, Nissan has poured in some $2 billion in investment to turn Sunderland into one of Europe's three top-performing auto factories. The plant expects to turn out 250,000 Primeras and Micras in 1997, a 6% jump from the year before. The plant got a big boost recently when Nissan chose it to produce the successor to the small Almera family model in 2000.
No worker-management hostility or sloppy British quality is evident here. Nissan is even exporting Primera hatchbacks from Sunderland to Japan and making a big deal of their British origins. The plant exports 80% of its production, 70% to the Continent.
IN FOREIGN HANDS. Nissan jobs are hot in a region that has been hit hard by the demise of its traditional industries: shipbuilding, heavy manufacturing, and coal mining. Nissan's 4,100 assembly-line workers earn $30,000 per year and get private health insurance, a rare benefit in Britain. A network of suppliers provides jobs for a further 3,000 people. "A lot of people would want to work here if they could get in," says Nigel J. Fiddes, 26, who puts the final touches on cars at the end of the line. He says he might have wound up in jail with some of his friends if he had stayed in his hometown of Easington in the old coal-mining region to the south.
The downside is that nearly all auto mass production has passed into foreign hands. "I don't talk about the British car industry," says Tony Woodley, chief auto negotiator for Britain's Transport & General Workers' Union. "I talk about the car industry in Britain."
Still, foreign investment has ensured there will be carmakers in Britain's future. Much the same can be said for electronics. Scotland's so-called Silicon Glen, between Glasgow and Edinburgh, has attracted a star-studded cast of international blue chips including IBM, Compaq Computer, Hewlett-Packard, and Sun Microsystems. Some 46,000 electronics jobs have been created in the region since the 1970s. The biggest project to date: Hyundai's $3.8 billion semiconductor plant in Fife, which broke ground on Mar. 19 and will create 2,000 jobs.
Another big investor in British electronics is Germany's Siemens, which likes Britain's labor flexibility. Its first $1.09 billion phase of a new semiconductor plant is now coming on line on Tyneside. Eventually, the $1.82 billion project is expected to employ 1,500 people.
Scotland's attraction for the electronics companies lies in its relatively low wages and declining union influence. These low-paying jobs have spurred some Labor politicians to talk about shifting away from industries "that compete with the Philippines and Malaysia" into higher-value indigenous businesses.
Perhaps Labor's toughest challenge will be spreading the new prosperity. Recent studies have shown that along with its corporate standouts, Britain also has more than its share of poorly run businesses. Most analysts agree that, to broaden its high-technology base, Britain will have to improve its schools. While the school system still turns out a well-educated Oxbridge elite, Britain trails many of its Asian and European competitors in preparing the average student. "The main challenge here is getting the intellectual knowledge of workers up to par," says London auto consultant Karl Ludvigsen. "We don't come up to Continental standards."
Britain also needs to shore up its science base, which seems to be declining. The Tories' zeal for budget-cutting can sometimes be destructive. For instance, they have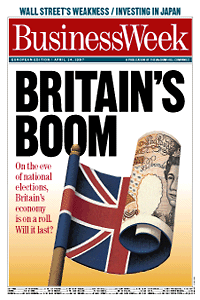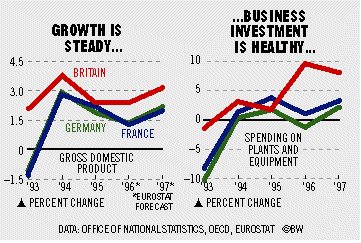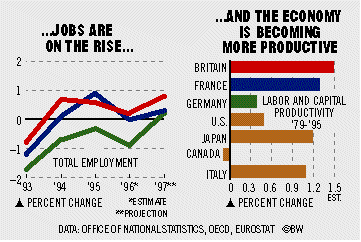 cut nondefense R&D spending in real terms by 10%, to $5 billion over the last decade. Even the Roslin Institute in Scotland found its funding cut off--not long after it unveiled Dolly, the world famous biotech ewe. The drug industry, notably Glaxo, has spent billions on R&D centers in Britain. But those facilities could be threatened by a dearth of strong research talent. "Increasingly, we will look to the Asian Tigers, with their commitment to investing in their educational infrastructure," warns George Poste, R&D head for SmithKline Beecham.
Still, not a few European leaders would long to be in the shoes of the next British Prime Minister. Britain's political leaders have already paid the price for economic change that their Continental counterparts are still resisting. Despite the cyclical ups and downs that are sure to come, Britain's economic outlook is more hopeful than it has been in 30 years.
Before it's here, it's on the Bloomberg Terminal.
LEARN MORE