Australia: Reaping The Rewards Of Modest Growth
by
Australia appears to have dodged the policy bullet shot by the Federal Reserve. But an interest-rate hike can be avoided only if the economy stays on its modest-growth, low-inflation path.
The consensus forecast is that Australia's real gross domestic product will grow by 3.3% this year, slightly faster than the 3.1% gain of 1996. But unlike in 1996, growth in 1997 will be more evenly split between domestic demand and exports. Exports surged 11% last year, but they will likely grow by only half that much in 1997 because of the Australian dollar's 3.8% rise over the past year.
And as long as the Reserve Bank of Australia can avoid following the Fed, lower interest rates will lift domestic demand. The RBA has some breathing room because Australia's inflation outlook is even tamer than that of the U.S. Consumer prices are expected to rise just 1.3% in 1997, about half the rate in 1996.
The economy is off to a good start in 1997. A survey by the Australian Bureau of Statistics reports that companies say that sales rose a solid 2.9% last quarter and will grow 1.6% in the second. The demand pickup may stem the recent erosion in the labor markets, where the jobless rate--which had fallen as low as 8.1% in late 1995--is on the rise again (chart). A turnaround could keep consumers spending.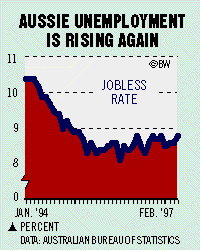 The downside to strong domestic demand is faster import growth, which means the trade deficit will hinder GDP growth. And fiscal restraint also will slow the economy in 1997 and 1998.
In addition, one risk to the outlook for low inflation and steady monetary policy is the prospect for wages. Pay raises edged up 1.4% in 1996, but the Australian Council of Trade Unions is seeking an 8.75% hike for 1997. The Industrial Relations Commission is expected to decide on the ACTU demand soon, but the RBA and government have warned that such a pay hike risks higher inflation and interest rates. So the move could penalize those still seeking work, because economic growth would slow by late this year.
Before it's here, it's on the Bloomberg Terminal.
LEARN MORE