A Technology Grows In Brooklyn
LMDS offers wireless cable TV--plus Net and phone service
Catherine Arnst
The cutting edge in wireless technology can be found not in Silicon Valley but in Brooklyn's Brighton Beach. This Old World enclave of Hasidic Jews and Russian immigrants is home to the world's only very-high-frequency wireless cable-TV system. CellularVision USA Inc. is beaming 49 channels of TV programming to 12,500 customers for a monthly rate that's about 30% less than traditional cable.
Brooklyn residents might wonder what's new. The technology, called local multipoint distribution service (LMDS), looks a lot like an older form of wireless cable TV that has been tried by Pacific Telesis, Nynex, and Bell Atlantic. That system, called MMDS (for "multichannel"), has met with limited success, in part because the lower-frequency signals often collide with wireless phone transmissions in a similar range. Brooklyn viewers might also wonder how LMDS differs from another existing system--Direct Broadcast Satellite television (DBS), with 150 channels.
RADIO DAYS. The difference is, this is more than just TV. Unlike DBS or the older multichannel systems, this new technology allows two-way communications. Operating in a huge swath of radio spectrum at a frequency of 28 gigahertz (Ghz)--nowhere near other radio signals--it can provide Internet access, videoconferencing, and, most significantly, phone service. "People think of [LMDS] as wireless cable delivery, as it is used in Brooklyn," says Yankee Group Inc. analyst John Aronsohn. "But it is more versatile."
So far, LMDS is little more than a blip on the radar screen of the telecom industry. But a recent Federal Communications Commission decision will change that. The agency said that it will auction off 1,000 licenses for LMDS in about three months. The licenses will cover more spectrum than all of the FCC's other radio-wave auctions combined. Licensees will have access to the same transmission capacity as fiber-optic cable, allowing them to deliver 200 video channels and a full slate of interactive voice and data services--and at a lower cost per subscriber than DBS. Local phone monopolies and cable operators will not be allowed to purchase LMDS licenses within their operating regions for three years, so they won't be able to block competition. "As the largest two-way wireless service ever sanctioned for nationwide deployment, LMDS will leapfrog [existing] networks," says David J. Mallof, president of WebCel Communications Inc., a Washington-based startup that is planning to bid on the licenses.
The FCC auctions are sweet relief for CellularVision, which has been developing the technology for 11 years. CellularVision Chairman and CEO Shant S. Hovnanian and his father, Vahak, a CellularVision director, were in the homebuilding and cable-wire installation business in 1986 when a friend introduced them to Bernard B. Bossard, a microwave engineer. Bossard had invented a way to pack the unused 28-Ghz region of the radio spectrum with more high-quality voice, video, and data than other types of wireless transmission. Unlike satellite broadcasts, radio waves would not require a direct line of sight, but the signal at this high frequency usually breaks up or fades out in bad weather. Bossard figured he could overcome this problem by repeating the signal over and over in very small regions, or cells.
The Hovnanians originally formed CellularVision with their own money and in 1993 sold 4% stakes to Bell Atlantic and J.P. Morgan and 2% to Philips Electronics. CellularVision sold 18% of its stock to the public in February, 1996, at $15 per share; delays in rolling out the system have caused the stock to drop to around $10.
Bossard, now chief technology officer, spent two years putting on the final touches before applying for an FCC license in 1988. His method: Use devices called repeaters to pick up, amplify, and retransmit the 28-Ghz signals within a cell with a three-mile radius. The repeaters bounce the signals off buildings so that all the nooks inside urban canyons can be reached. The antenna, a six-inch square panel, can be placed inside a window and is easily adjusted.
The low cost of the system is particularly attractive to developing nations. To tap this market, CellularVision formed a private holding company, CellularVision Technology & Telecommunications LP, to license the technology outside the U.S. Nineteen countries have signed up so far, including Russia, Thailand, and the Philippines.
CLEAR PICTURE. In the U.S., however, cable TV is the immediate target. In its digital form, LMDS offers image quality superior to what most cable-TV subscribers receive over standard coaxial cable. The technology also delivers faster Internet connections than the new and much hyped cable modems. With a standard $200 modem card inserted into a PC, LMDS companies say subscribers will be able to cruise the Internet at speeds as high as 54 megabits per second--twice as fast as the latest cable modems. CellularVision just started offering high-speed Internet access, along with 14 channels of business news, to corporate subscribers in Manhattan.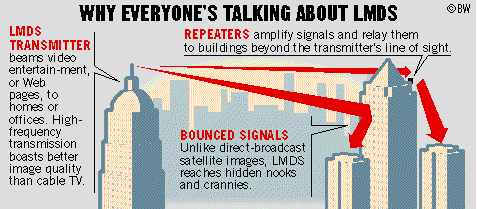 Cable companies can't be counted out yet. Time Warner Inc. and Tele-Communications Inc. have been slow to launch commercial cable-modem service, in part because of a lack of equipment standards. But the cable-TV industry finally agreed on specifications. "We'll see the cost of cable modems come way down," predicts Henry T. Nicholas, president of Broadcom Corp. in Irvine, Calif., a maker of modem chips.
The LMDS pioneers have their eyes on more than the Internet. Hovnanian says his Brooklyn system should be offering wireless phone service and two-way data within six to nine months--the company is currently negotiating interconnection agreements with Nynex Corp. CellularVision is also holding talks with two major telecom companies about forming a partnership for bidding in the LMDS auctions. "We're not wireless cable," boasts Hovnanian. "We're a brand new industry." As they might say in Brooklyn, who knew?
Before it's here, it's on the Bloomberg Terminal.
LEARN MORE