Will Keycorp Be Shark Bait?
The bank turns to fancy marketing to stay independent
Peter Galuszka
Fifty-five stories above downtown Cleveland, in his office with a zebra-skin on the floor, KeyCorp marketing maven Stephen A. Cone clicks on a VCR. Up flashes an ad with the bank's new pitchman, actor Anthony Edwards, who stars as the much-loved Dr. Greene on NBC's ER hospital drama. "Anthony is sensitive, competent, and caring. Those are the virtues we want to project," says the bearded, tieless Cone, who is trying to remake the bank's fuzzy image.
Dr. Greene's marketing medicine had better work for KeyCorp. The $67 billion bank has been scrambling since it stumbled in its March, 1994, merger with Society Corp. Unless a comeback strategy works this year, KeyCorp is almost certain to be taken over. Says Thomas K. Brown, an analyst at Donaldson, Lufkin & Jenrette: "It's going to be a fun year. They've got to perform, or they won't be independent."
SLICK ADS. As Robert W. Gillespie, Key's affable chairman and CEO, sees it, the core of the bank's new strategy is aggressive marketing. While slick ads raise the company's profile, Key will use data banks to target customers by income, age, and taste. The goal is to hit the baby-boomer market hard by giving Key a fresh and distinctly modern brand identity. Gillespie, 53, who had been Society's CEO, says his plans are not just viable but visionary. "We are now seen as a kind of leader in this new breed of national bank-based services," he says.
But Gillespie may be running out of time. Demographics-driven marketing is hard to execute, and Gillespie's got a lot of competition. Having a TV doctor hawking a real-life bank may be too gimmicky. Thomas H. Hanley, an analyst at UBS Securities, says: "It's too early to judge if the plan will work. It will take a year, but a least they have a plan." The CEO of a rival bank is less kind: "They have no strategy that makes any sense to me."
Gillespie is paying big bucks to make his plan succeed. He nearly doubled Key's marketing spending, to $100 million, in 1996 and will spend the same in 1997. Since 1995, he has plowed $500 million into technology upgrades to monitor markets and expedite credit checks and loans. He aims to push earnings per share growth up to 12% in each of the next three years from last year's 7%.
The need for dramatic action dawned on Gillespie in mid-1994 as the merger began floundering. The two banks' fit had been iffy from the start: KeyCorp, based in Albany, N.Y., focused on smaller, northern U.S. towns, while Cleveland-based Society was a citified corporate and trust bank. The merger created a broad yet disparate new market stretching from Maine to Alaska. Says Gillespie: "I began to question the wisdom of consolidating Key and Society on a 1950s bank model," a time when bank managements could afford to be more relaxed.
RESCUE PLAN. Key's bottom line quickly suffered. Profits fell from $853 million in 1994 to $789 million in 1995 and $783 million in 1996. Concurrently, other banks' earnings grew briskly, thanks partly to low interest rates. Key's stock rose 74% from 1994 to 1997, well below the 132% shown by the Standard & Poor's bank-stock index.
Worried Key executives spent nine months devising a rescue plan, which was announced in March, 1995. Five months later, Gillespie replaced Victor J. Riley Jr., who had also led the old Key, as CEO. That signaled that the new bank would look a lot more urban. Last November, Gillespie announced plans to sell 140 rural branches and shutter 140 more--about one fifth of the total. Instead, Key will expand in cities.
Gillespie also wants to develop other product lines. Key has a toehold in investment banking, and he is scouting for a life insurance company. Subprime auto lending still looks good despite some recent credit debacles. Says A. Jay Meyerson, who is head of KeyCorp's consumer-finance group: "The spreads for these loans are very attractive."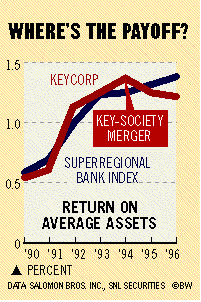 But the major open question is Cone's razzle-dazzle marketing schemes. Since joining Key nearly three years ago, Cone has come up with unusual ideas, such as making an automatic teller machine at Cleveland's Rock & Roll Hall of Fame resemble a 1950s jukebox. He recruited Edwards, launching his ads during the 1996 Super Bowl. "Brand awareness has gone up dramatically, to 50% over all groups," says Cone.
Right now, it looks like KeyCorp. is out of the ER. But unless the marketing blitz really lures lots of new customers, not even the good Dr. Greene will be able to save Key's independence.
Before it's here, it's on the Bloomberg Terminal.
LEARN MORE