U.S.: The Question Now: What's The Fed's Next Move?
Strong demand threatens to keep the inflation barometer rising
By
Ah, to be a fly on the wall in the room with the big oval table. The meeting place of the Federal Reserve's policymaking committee was undoubtedly the site of some tense discussion on Mar. 25, amid heavy anticipation of the first interest-rate hike in two years. Six weeks will pass before the Fed releases the sanitized version of its decision to lift the target rate for overnight lending between banks, to 5.5%. So for now, analysts can only speculate about what went on, what happens next, and what it all means for the outlook.
The Fed's official statement said that "persisting strength in demand" was raising the risk of inflationary imbalances. The rationale closely mimicked a paragraph in Fed Chairman Alan Greenspan's Mar. 20 Congressional testimony, and the Fed's action suggests that he is skeptical that productivity growth will offset those possible imbalances. That speech had convinced many Fed watchers and the financial markets that the central bank was ready to move.
So far, indicators that show when demand is starting to outstrip the economy's ability to satisfy it are not yet flashing red. However, the Fed's preemptive move seems to be a bet that such measures, including rising commodity prices, high capacity utilization rates, and stretched-out delivery times, will look more troubling in coming months.
That's because the latest data from the first quarter continue to point to a vibrant economy fueled by domestic demand. Upbeat consumers are leading the charge, and order books of durable goods producers continue to swell (chart). Growth in real gross domestic product will understate this vigor, however, but that's only because the huge widening in the January trade gap was exaggerated by temporary factors.
SO WHAT'S NEXT? With momentum in the economy still strong, further rate hikes seem likely, as the Fed acts to assure that overly robust demand does not strain labor markets and plant capacity beyond the point where price pressures typically begin to grow. Tighter policy means that the economy will slow from its current rambunctious pace, and that slowdown should become evident late this year and into 1998.
For now, though, demand shows no sign of letting up, and manufacturers are responding. Orders for durable goods rose 1.5% in February following a 4.1% surge in January, which pushed first-quarter bookings far ahead of their fourth-quarter level. Moreover, unfilled orders posted another solid advance in February. And amid very low inventories, the rising backlog implies further gains in output this spring.
A key topic at the policy meeting was surely the surprising strength of consumers. Just minutes after the confab began, the Conference Board reported that its index of consumer confidence remained unusually high in March. The index dipped to 118.5 from 118.9 in February, but the February level was the highest in almost eight years. Households' assessments of both present conditions and expectations for the future edged lower, but the reading on the current economic climate held close to a 27-year high.
The report also played into one of Greenspan's often-stated concerns about future inflation: The era of job insecurity, which had restrained wage growth, is ending. The Board said households were increasingly upbeat about job prospects, with 33.1% saying that jobs are "easy to get," the highest rate since 1989 (chart).
That appraisal fits with the recent pattern of initial unemployment claims. The four-week average of new claims stood at 312,000 through mid-March, near the lowest level in this expansion. That reading suggests that the unemployment rate, currently at 5.3%, will continue to decline. The rate is already below nearly all estimates of "full employment," and job-market tightness will accelerate wage growth, a primary fuel for the current round of consumer-led demand.
BEFORE REACHING THEIR DECISION, the central bankers likely discussed the foreign sector as well. And they were probably interested in both sides of the trade ledger: Exports can provide strength to economic growth, while imports can act as a safety valve for overtaxed U.S. capacity. And recently, cheaper imports have helped to keep goods inflation under wraps.
Trade promises to have been a big negative for real GDP growth in the first quarter. The January trade deficit soared to $12.7 billion from December's $10.5 billion. Exports fell 0.6%, the second consecutive decline. And imports increased 2.2%, to a record $83.5 billion. Imports, however, were boosted by an extra $1 billion of Canadian-made vehicles and parts. That reflected a catch-up in shipments after December's auto strike, and it should not be repeated in February.
Real net exports, the GDP measure of the trade gap, appear to have started the first quarter some 50% worse off than the fourth-quarter average. The final tally of net exports won't look that dismal, but trade stole a sizable chunk of GDP growth. Part of the explanation seems to be faulty seasonal factors, because the Commerce Dept.'s seasonally adjusted data for exports have their own seasonal pattern. Commerce's adjusted exports typically strengthen in the fourth quarter, only to weaken in the first quarter.
BETTER TRADE NEWS is on tap for later in the year, however. Although the rising dollar will constrain exports, stronger economies overseas will lift foreign demand for U.S. goods, especially capital equipment and consumer goods. Imports, however, will rise as long as domestic demand increases--which is why for all of 1997, foreign trade will be neutral for GDP growth.
The Fed realizes that in the short run, cheaper imported goods will provide an offset to home-grown inflation. Merchandise import prices, excluding oil, have been falling steadily since late 1995 (chart), a result of the stronger dollar. In the 12 months ended in February, nonoil prices were down 1.9%. The big reason has been the dollar which, when compared to a basket of currencies from the major U.S. trading partners, has risen nearly 19% since hitting a low in April, 1995.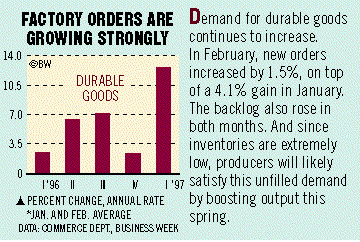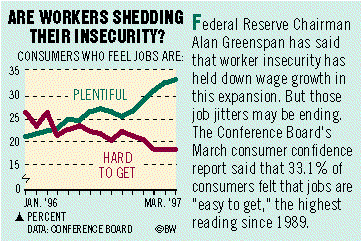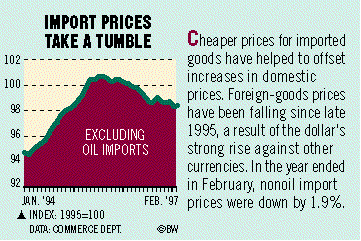 However, import prices are unlikely to repeat their 1996 performance. Although the trade-weighted dollar has soared more than 5% in the first quarter, further gains will be harder to come by. The Bundesbank has already started to voice concerns that the dollar is too strong against the German mark. And Greenspan himself cautioned in his Mar. 20 testimony that "although nonoil import prices should remain subdued in 1997...their dampening effects on U.S. inflation probably will not be as great as in 1996."
While foreign trade and the dollar matter to the Fed, Greenspan knows that the ultimate dampening of inflationary pressures must come from slower domestic demand. That's why the Fed tightened, and that's why it is likely to tighten some more.
Before it's here, it's on the Bloomberg Terminal.
LEARN MORE