The Queen Of Spices, A Tough Mistress...Isn't Smiling On Indian Growers
Amy Louise Kazmin
It's auction day in Vandanmettu, a tiny market town tucked in the tropical evergreen forest of southern India's Western Ghat mountains. What's for sale is cardamom, the fragrant "Queen of Spices" that grows under the filtered sunlight of the forest canopy and is used in Indian cooking, Middle Eastern coffee, and Western bakery products. Job Philip, a farmer with a scarred, mournful face, watches the bidding on the small dried green pods. Philip grows cardamom on 3.24 hectares of land leased from the government. He recently harvested 300 kilograms, which he wants to bring to market. But the average price to growers these days is just over $10 per kg--not enough to cover his costs, which average $12. Each week, he attends the auction to watch the prices. "The trend is not good," he laments.
It hasn't been for a while. Back in the 1970s, Indian growers earned profits of up to 400% as cash-rich OPEC nations demanded increasing quantities of the rare spice for their potent cardamom-coffee mixture. "Cardamom growers were like kings," says 23-year-old, London-educated S.B. Prabhakar, who has inherited what was once the world's largest cardamom plantation, near Vandanmettu. "Nobody anticipated a rainy day. You made a good profit, so you sat back and relaxed."
But that complacency--reflected in lack of investment--has borne its bitter harvest. Over the past two decades, India has lost its dominance of the world's $280 million cardamom market to upstart growers in Guatemala, where plantations yield nearly twice as much spice per hectare. In the world market, Guatemalan cardamom sells for just $10 to $12 per kg, compared with nearly $20 for Indian varieties. As a result, Indian exports have plummeted from a peak of 3,272 metric tons in 1985-86 to just 257 in 1994-95. So far this fiscal year, which is nearly over, India has exported just 150 tons out of the more than 7,900 grown.
India itself remains the largest single market for cardamom, and a ban on imports has helped prop up domestic prices. But market forces are pounding at the door. Charles Kithu, deputy director of the government's Spices Board, says "antisocial elements" have smuggled 2,500 to 3,000 tons of Guatemalan cardamom into the country this year, pushing prices down. Indian processors are also pressing to legally import Guatemalan cardamom for their spice-oil extraction businesses. "The only way we can remain in the race is to get the cardamom imported," says George Paul, director of family-owned Synthite Industrial Chemicals Ltd., which sold $22 million worth of spice and floral extracts last year. Paul, who also serves as chairman of the All India Spices Exporters Forum, says he is losing his 25% share of the world's $2.5 million cardamom oil market.
URGENT DEMANDS. But frenzied growers are unsympathetic. They're demanding a crackdown on the flow of contraband spice and a continued ban on imports. "We the planters need the domestic market reserved for domestic production," says K.K. Devasia, the weathered executive secretary of the Cardamom Growers Assn. "We have no alternative."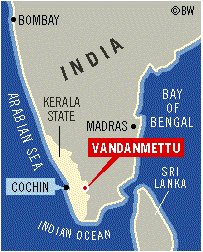 Cardamom growers insist their poor productivity is due to the vagaries of nature. But human folly is also to blame. Agricultural experts say Indian growers could boost their yields if they invested more in irrigation systems, soil-conservation measures, better seeds, and replacing old bushes. Such investment has been scarce, however, partly thanks to complicated patterns of land ownership. Nearly half of India's cardamom land is owned by the government and cultivated by small growers, like Job Philip, who lease parcels of property for 20-year periods. "People don't want to invest because it's not their land," says Kithu. And even if they want to, it's almost impossible to get bank credit for improvements without property as collateral.
So painful days lie ahead. "Indian growers were not exposed to healthy competition," says Prabhakar. "Now they will have to learn." Government agricultural extension officers have helped double productivity over the last five years, but growers still have a long way to go. And with middle-class Indian consumers pushing for more spice at a lower price, many growers may find they've done too little, too late.
Before it's here, it's on the Bloomberg Terminal.
LEARN MORE