Rate Hikes: Once Might Be Enough This Time
If the economy cools, Greenspan may hold off on another increase
Dean Foust
At L.L. Bean Inc., apparel sales are exceeding expectations. "Spring has gotten off to a wonderful start," says a spokeswoman for the Freeport (Me.) catalog retailer. In San Francisco, AirTouch Communications says demand for cellular-phone service is ahead of last year, when the carrier enjoyed a 45% surge in new customers. Continental Airlines Inc. filled 67% of its seats in February, giving the carrier its best February ever. "Traffic has never been better," says Chief Operating Officer Gregory D. Brenneman.
Flush with stock-market profits and higher incomes, consumers are suddenly spending with abandon on everything from new clothes to new houses. Domestic demand for all goods and services in the first quarter is surging at a 4.5% clip, estimates St. Louis economic consultant Joel Prakken.
All the signals were there for a classic anti-inflationary rate hike by the Federal Reserve. Sure enough, on Mar. 25, the Fed nudged up the federal funds rate that banks charge each other for overnight loans from 5.25% to 5.5%. Other rates rose in tandem.
But this may not be the classic scenario. For one thing, Fed Chairman Alan Greenspan had gone to great lengths--in congressional testimony and other speeches--to telegraph the coming hike. When it came, in fact, the move was so heavily discounted that by Mar. 26 the markets seemed to have shrugged it off.
More important, this hike may not signal the beginning of a series of hikes. Traditionally, such a move after two years of stable or declining rates would be the first of many. And some economists expect that now. "The history of monetary policy is that once is never enough," argues Stuart Hoffman of PNC Bank Corp.
But those who study Greenspan closely believe the Fed chief might break precedent by halting after one increase. Why? He's betting on an imminent slowdown; he voted for the Mar. 25 hike as a cheap insurance policy in case he's wrong. Indeed, for nine months the chief had fended off calls by hawkish colleagues to raise rates, since he was convinced a slowdown was coming. And even though consumer confidence in February soared to an eight-year high and orders for durable goods have remained robust, there have been few signs of price surges (charts).
What's more, worker anxiety--one of Greenspan's pet indicators--remains high by some measures. Greenspan also expects a surging dollar to help cool the economy by crimping export growth. And with Japan still in a funk and Europe struggling to salvage an ill-planned merger of its currencies, the Fed sees the dollar climbing higher.
Still, with the economy expected to record its second straight quarter of 3%-plus annual growth, Greenspan could not hold out against at least a minor rate boost. Among those prodding him was Robert T. Parry, president of the Federal Reserve Bank of San Francisco, who recently expressed concern that "very much more than 2% [growth] would be undesirable." Greenspan seemed to agree when he told Congress on Mar. 20 that despite a lack of inflationary pressure, the Fed's biggest mistakes in the past occurred when "we were too late in moving."
SPRING FEVER. Now that it has moved, will the Fed retreat to the sidelines? Economists believe the first-quarter spending binge has been fueled partly by $8 billion in early income-tax refunds and unusually warm weather that boosted spring apparel sales. Prakken notes that a forecasting model he built with former partner Laurence H. Meyer--now a Fed governor--shows that the full-point tightening favored by Wall Street inflation vigilantes would snuff out the expansion by next year. "Anything more than the most modest of nudges risks pushing growth to zero," he says.
Some business leaders protested the nudge. But others, such as Chrysler Chairman and CEO Robert J. Eaton, support a preemptive move. "I don't think a quarter of a point is going to have any effect [on auto sales]," Eaton says. "We won't recognize it in the spring selling season."
At Wal-Mart Stores Inc., the outlook is cautious. Sales rose 6.7% in February at stores open a year or more. But most of the gains came from sales of basics such as lawn and household supplies rather than electronics and other pricey items that indicate consumers are shooting the works. This trend doesn't "lead us to believe the consumer is overly confident," says Senior Vice-President of Finance J.J. Fitzsimmons.
What's more, few businesses are finding that they can pass through price hikes--another sign that consumers aren't buying with reckless abandon. "There's excess capacity in the world for everything, so nobody gets [full] price," says John M. Trani, chief executive of Stanley Works, the New Britain (Conn.)-based manufacturer of tools.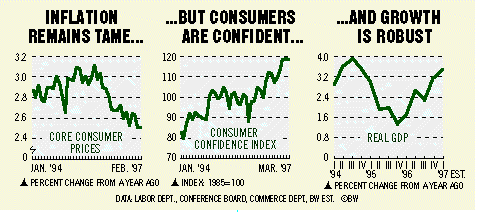 As a result, executives say they're still under pressure to lower costs. "There's still a feeling you have to get stronger or be swallowed," notes Joel Weinberg, CEO of American Tack & Hardware. Home Depot Inc., he says, has been angling for 30% price cuts from American Tack and other suppliers as the price for keeping its accounts. "There's going to be a concentration of accounts and consolidation in the hardware business," laments Weinberg, whose company derives one-fifth of its sales from Home Depot.
These trends are evidence of what some call the "new economy." Global competition, the rise of highly productive information industries, and unrelenting corporate downsizing promote faster growth and lower unemployment without triggering inflation. Greenspan isn't so sure the rules have changed permanently, but for now, he's not ready to jam on the brakes.
Before it's here, it's on the Bloomberg Terminal.
LEARN MORE