One Armed Bandits May Get A Leg Up
by
Investors in Jackpot Enterprises (J) have yet to, well, hit the jackpot. Now trading at 10, the stock has languished between 9 and 13 in the past year, reflecting the lackluster performance of the Las Vegas slot-machine operator. But lately, some money pros have been accumulating shares.
Why? Bolero Investment Group in Newport Beach, Calif., has bought 2% of the gambling operator and plans to buy more. Bolero has a record of taking stakes in companies that it ultimately forces to adopt measures to boost shareholder value. Ken Pavia, a Bolero general partner, says his group wants to wake up the management.
The stock is in a funk, notes Pavia, because "investors have lost confidence in management, which has been unable, in more than two years, to use the company's cash hoard of $5 a share to bolster Jackpot's bottom line." As a result, he adds, the stock remains grossly undervalued. Another big Jackpot stakeholder is Mario Gabelli.
Pavia's goal is to amass more than 5% in Jackpot. That would allow him to exercise some control over the company's affairs. For starters, he thinks it should be on the trail of acquisitions that could improve sales and net income. Jackpot now operates 4,211 slot machines in high-volume retail chain stores, bars, and restaurants.
Failing that, Pavia says, management should seek to sell the company. Or, if it is determined to hold on, it should launch a leveraged buyout. In a takeover, Jackpot may be worth 15 to 18 a share, figures investment adviser Leo Rishty, editor of the market letter Unique Situations in Fort Lauderdale, Fla. He notes that the company, which has little debt, has eliminated the dividend in order to increase cash reserves.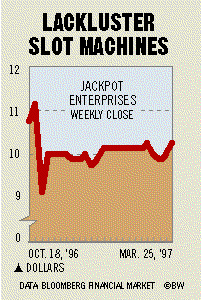 In the meantime, Jackpot's sales have been sluggish: Revenue is expected to drop to $90 million in the year ending June 30, 1997--down from $91.1 million last year and $96 million in 1995. And the earnings picture isn't much brighter: Value Line analyst Ben Sharav expects Jackpot to make 75 cents a share this fiscal year, vs. 1996's 63 cents and 1995's 72 cents.
Bolero's Pavia thinks that Jackpot CEO Don Kornstein should understand the concerns of shareholders because he used to be top gun at Bear Stearns's mergers-and-acquisitions unit before he took the helm nearly three years ago. If Kornstein doesn't respond, says Pavia, "I am ready to step in and make something happen." Korn-stein is on vacation and couldn't be reached for comment.
Before it's here, it's on the Bloomberg Terminal.
LEARN MORE