Michael Dell: Whirlwind On The Web
Computer maker Dell is showing the world how to run a business in the Cyber Age
Gary Mcwilliams
Michael S. Dell eases his Mercedes 500SL down the driveway of his $10 million mountain-top estate. Bundled against the cold in a sweater and ski parka, he guns the car as he pulls onto State Highway 1. He's in a rush, weaving the silver two-seater in and out of the early morning commuters as he heads for his office, a gleaming complex jutting up from the prairie lands of Round Rock, Tex., just north of Austin.
Fifteen minutes later, Dell reaches the center of his fast-rising computer empire. Today's first stop: the team responsible for making Dell Computer Corp. an Internet phenom, selling $1 million worth of computers a day on its Web site. Dell tosses off his parka and plows into a discussion on how to pump up sales even more. He wants Web pages tailored for corporate customers to order online. And he's impatient for a new feature that dashes a digital confirmation to customers within five minutes of placing an order--his way of reassuring buyers. Says Dell: "The Internet is one of the things I'm most excited about in our business."
For good reason. In just six months, Dell has gone from nowhere in cyberspace to being the No.1 PC retailer on the Web--with sales growing 20% each month. For the Texas computer maker, electronic commerce is the perfect extension of the company's direct-sales business. Corporations and techno-savvy customers that were willing to buy over the phone are the first ones dialing in to purchase on the Web. "The Internet," says Dell, "is the ultimate direct model."
Suddenly, Dell looks like the right company at the right time. After years of skeptics predicting that the direct-sales approach, like mail-order clothing, would never amount to more than 15% of the market, Dell is cashing in on an altogether different scenario. Direct buyers now account for nearly a third of the PC business, up from 15% six years ago. Throw in an increasingly wired population that is just a mouse click away from buying over the Net, and direct marketers--Dell, Gateway 2000, and Micron Electronics--are sitting pretty.
HOT STOCK. But none are as well-positioned as Dell. In the past three years, it has been on a jihad to make its manufacturing and assembly process as fast and fine-tuned as Dell's Mercedes. Today, a custom order placed at 9 a.m. on a Monday can be on a delivery truck by 9 p.m. Tuesday. What's more, this speed has allowed Dell to slash inventories and keep parts costs down so low it can underprice its rivals by 10% to 15%.
The result: Dell is now one of high-tech's best growth engines. Last year, unit sales in the U.S. jumped 71%--more than five times the industry's 13.6% growth rate. That pushed revenues up 47%, to $7.8 billion, and, combined with Dell's low-cost style of doing business, sent profits skyrocketing 91%, to $518 million. The surge is expected to continue this year with sales hitting $10.2 billion. That could catapult Dell, which took root in a Texas college dorm room in 1984, from the No.5 PC maker to No.3, ahead of Packard Bell NEC, and Apple Computer.
For investors, owning Dell shares has been like putting helium in their portfolios. The stock nearly quadrupled in 1996 and ran as high as $76 in February. With the selloff in high tech, Dell now trades at $67.50, up 27% this year--a greater rise than IBM, Compaq, Hewlett-Packard, Cisco Systems, even Intel and Microsoft. Dell's 23% return on equity last quarter was nearly triple that of PC king Compaq (at 7.9%).
What's Dell's secret? How has the computer maker managed to defy the naysayers and turn a classically low-margin mail-order operation into a high-profit, high-service business that's the envy of the industry? In a word: speed. Dell has long been a model of just-in-time manufacturing, but now it has upped the ante by applying the same brutal time standard to its supply chain--insisting, for example, that the bulk of its components be warehoused within 15 minutes of a Dell factory. Dell also has seized on the ultimate in low-cost, fast-paced business--electronic commerce. The combination puts Dell in the vanguard of manufacturers in any industry. "If you're good at both, you get a multiplier effect," says Robert E. MacAvoy, president of Easton Consultants, a Stamford, Conn. management consulting firm. "That is Dell."
The company calls it "velocity," squeezing time out of every step in the process--from the moment an order is taken to collecting the cash. Especially the cash. Dell converts the average sale to cash in less than 24 hours, by tapping credit cards and electronic payment. By contrast, industry giant Compaq Computer Corp., which sells primarily through dealers, takes 35 days, and even mail-order rival Gateway 2000 takes 16.4 days. "Speed is everything in this business," says Dell, whose 15% stake in the company is now worth $1.8 billion. "We're setting the pace for the industry." Think of it as Dell-ocity, a pace so fast that even whirlwind Silicon Valley has taken notice. "I have bruises on my back from Mr. Michael [Dell] when we can't keep up with them," says Intel CEO Andrew S. Grove.
That has rivals itching to do the same. PC makers, such as IBM, Compaq, and Hewlett-Packard are trying to imitate Dell with their own schemes to slash production time and boost service. IBM, for example, no longer assembles PCs for most of its corporate customers. Instead, computer dealers, such as MicroAge Inc., do the work. And in June, Compaq will begin rolling out its own Internet connection, allowing customers to manage everything from ordering a machine to scheduling software updates online. "If copying is the sincerest form of flattery, Dell's getting a lot of flattery right now," says Robertson, Stephens & Co. PC analyst Dan Niles.
Still, competitors have a ways to go to beat Dell at its own game. Take computer production. While machines from Compaq and IBM can languish on dealer shelves for two months, Dell doesn't start ordering components and assembling computers until an order is booked. That may sound like no biggie, but the price of PC parts can fall rapidly in just a few months. By ordering right before assembly, Dell figures his parts, on average, are 60 days newer than those in an IBM or Compaq machine sold at the same time. That can translate into a 6% profit advantage in components alone.
Dell doesn't stop there. It has also found a way to get most suppliers to keep components warehoused just minutes from Dell's factories in Austin, Limerick, Ireland, and Penang, Malaysia. In part, Dell has done this by reducing its number of suppliers to those that will cooperate with its warehousing plan. Dell now buys its components from just 47 companies, down from 204 companies in 1992.
MEXICAN PIPELINE. Keeping the flow of parts running smoothly requires precise coordination. For this, Dell has turned to outside help. In the U.S., for example, Caliber Logistics Inc., a specialist in setting up efficient supply chains, manages a warehouse 15 minutes from Dell's Austin assembly plant. Suppliers restock the warehouse and manage their own inventories, while Caliber whisks the parts to Dell as needed. The best part: Dell doesn't get billed for the components until they leave the warehouse.
So far, the system is a time killer. STB Systems Inc., a maker of video graphics cards, stocks three weeks worth of its products in warehouses near Dell plants. The Richardson (Tex.) company also supplies PC makers such as IBM, Compaq, and Gateway, but none are as streamlined as Dell. Were Compaq to suddenly need a rush supply, it could take 12 to 18 hours. IBM and Gateway, he says, could take two days. "Dell is different in that their inventory is minutes away--not hours or days," says STB procurement director Rick Spencer.
For high-cost items, such as the main circuit board--the heart of a computer--Dell has cut more time by switching to regional suppliers. Dell used to order in bulk from one supplier as a way to get discounts. No more. Last year, it went to three regional subcontractors instead of a single manufacturer for all. What it lost in discounts, it more than made up for in time. Now, Dell's Austin plant gets circuit boards trucked in from Mexico in 15 hours, instead of 22 days by boat from its previous Indian supplier.
And then there's monitors. This year, Dell stopped accepting deliveries of video displays for its PCs. Instead, when a machine is ready to be shipped from any of its factories, Dell sends an E-mail message to a shipper, such as United Parcel Service. The shipper pulls a computer monitor from supplier stocks and schedules it to arrive with the PC. By no longer shipping monitors first to Dell and then on to buyers, Dell saves some $30 per display in freight costs.
Such rethinking of operations lets Dell operate more efficiently than any other computer company. Its total inventories amount to 13 days of sales, vs. 25 days for Compaq. If this sounds like much ado about nothing, consider this: For every new dollar of capital investment last quarter, Dell shareholders got $1.54 back in profits, compared with 59 cents for Compaq and 47 cents for IBM.
BOLD PROMISE. One of Dell's tricks for managing inventories is shaping demand. In telephone sales, it can daily alter its suggested configurations to guide customers to PCs with widely available parts. As many as two-thirds of the telephone buyers accept the recommended configuration. And for big corporate buyers, who account for nearly 60% of sales, it holds annual "technology briefings" in which Dell offers its view of what key technologies are coming--and picks customers' brains on their needs, too.
It's paying off. At Eastman Chemical Co., Dell snared a contract for 10,000 PCs by guaranteeing all its machines would have the same parts and software regardless of when and where in the world they're needed--something the previous supplier, IBM, had failed to do several times. This helped Eastman slash its annual PC costs by $5 million a year, and made Dell its exclusive PC supplier. "Dell has done some wonderful things in customizing these machines," says Eastman's director of computing services, Charlie Oliver.
Today, the Dell machine is firing on all cylinders. In addition to being a PC juggernaut, Dell is moving fast into the $10 billion network server business. Dell's server business, while contributing just 6% of its total revenues, soared 300% last quarter. In notebook PCs, Dell has become the sixth-largest seller in the $40 billion market.
Now, Dell is working on ways to combine its PC knowhow with better networking service. Through a partnership with network equipment maker 3Com Corp., Dell is trying to slash the 60 to 90 days required to test computer and networking configurations to just two weeks. Instead of each running independent tests of the same gear, Dell will deliver to 3Com each new computer so that 3Com can test compatibility with its networking devices. "There's a big advantage to getting product quickly to market with Dell," says 3Com CEO Eric H. Benhamou. "They know more directly what the customer wants."
Rivals are simply impressed. "At one time, we said only so many customers are willing to buy direct," says Larry Chang, controller for HP's PC business. "But it's increasing. Dell has proven us wrong," In an effort to catch Dell, HP started building business PCs to a customer's specification.
GRIM DAYS. It wasn't that long ago that the PC cognoscenti were predicting Michael Dell and his mail order model would hit the wall. It certainly came close. In the first six months of 1993, Dell had a $65 million loss from inventory write-downs and an industrywide price war started by Compaq.
But the close call was transformed into a lesson on the dangers of growth at all costs. Dell wised up and recruited operations-savvy managers from Motorola, Sun Microsystems, and Western Digital. Financial teams fanned out to talk with employees about new metrics for running the business--minimizing inventories and increasing return on capital. Today, the financial nitty-gritty is deeply ingrained in Dell's 10,350 employees. The marketing department calculates the return on investment for each mailing; purchasing managers figure the cost of unsold inventory each day. "We spent 15 months educating people about return on invested capital, convincing them they could impact our future," says Chief Financial Officer Thomas J. Meredith.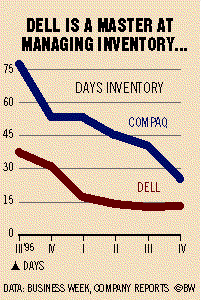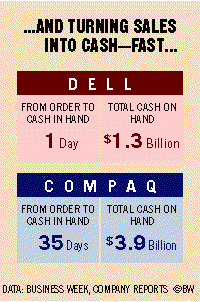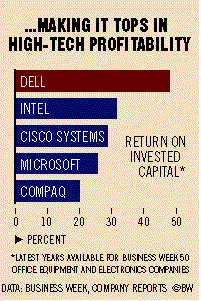 One way to get more bang for the buck: selling PCs over the Web, where Dell has a crew of only 30 people in contrast to the 700 reps that take orders over the phone. In coming months, Dell plans to make this even more attractive by creating custom home pages for its biggest buyers, including Eastman Chemical, Monsanto, and Wells Fargo. By midyear, Dell plans to deliver E-commerce set-ups to 75 companies. Their employees will be able to order a PC and automatically receive the corporate price.
For Dell, the online world promises even greater speed and cost savings. With Dell racing past rivals like Sunday drivers on the Information Highway, there may be a new pace for manufacturers in the Age of the Internet: Dell-ocity.
Before it's here, it's on the Bloomberg Terminal.
LEARN MORE