London's Moviemakers Are Back But Where's The Big Money?
Without more capital, London will never rival Hollywood
Stanley Reed and Julia Flynn
Drive through the rolling countryside of Hertfordshire, north of London, and you're likely to see a film being made. If it's not Stanley Kubrick's Eyes Wide Shut, starring Tom Cruise and Nicole Kidman at Pinewood Studios, then it could be Lost in Space at Shepperton.
Britain is abuzz with film work these days. The nine Oscars won by The English Patient--a film by director Anthony Minghella, a native of the Isle of Wight, with a largely British cast--are testimony to the revival. Some 123 films were made in Britain last year, up from 73 the year before. "If it weren't for British initiative, The English Patient would never have been made," boasts Sir Sydney Samuelson, the British Film Commissioner.
FALLING SHORT. But the British film industry has a long way to go before it rivals Hollywood. Almost moribund in the mid-1980s, it's regaining its health. Total investment was $1.1 billion last year, up two-thirds from 1995, according to trade publication Screen International. With labor costs an estimated 20% to 30% lower than in the U.S., and film talent plentiful and largely nonunionized, Britain clearly has advantages.
The sticking point is finance. Few if any British outfits can come up with the $100 million or more it takes to make a big-budget movie. Minghella, for instance, fell short of raising the $32 million he needed and had to turn to Walt Disney Co. subsidiary Miramax Films Inc.
That's why Britain largely serves as a location and a postproduction site for big-budget pictures. Most activity is in the Elstree area north of London, where the British Broadcasting Corp. has its studios and where many classics were made. At nearby Leavesden Studios, carpenters are building the sets for George Lucas' new Star Wars prequel in a gigantic building where workers once assembled Mosquito bombers during World War II. Leavesden's owner, Malaysia's Georgetown Holdings, is planning to invest $320 million on state-of-the-art film facilities, a studio tour attraction, and a housing development.
Lucas has company. Steven Spielberg, who is getting ready to shoot Saving Private Ryan at another abandoned aerodrome in Hatfield, is negotiating with Britain's Defense Ministry over the use of British soldiers for a scene.
Britain may not get the profits from these potential blockbusters. But led by the Anglo-Dutch Polygram and the nonprofit, government-run Channel Four, it's slowly investing more in home-grown films. Last year, 53 films were wholly funded by British sources, compared with an anemic 17 in 1995. Those numbers could jump even further. This coming May, Britain's Arts Council, backed by $240 million in National Lottery funds, will hand out four franchises to create fledgling film studios. The hope is that Britain can come up with more international hits like Four Weddings and a Funeral and Trainspotting.
ROCK CONCERTS. In the meantime, the action is supporting a thriving cottage industry of lighting companies, sound and camera people, composers, recording studios, and animators. When they aren't working for Hollywood moguls, these craftspeople can find work on smaller features or in Britain's thriving television industry.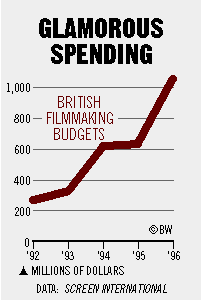 Ronan Willson, for one, is betting that the boom in film production will continue. An entrepreneur who started a business in the 1970s to design lighting for rock concerts, he has sunk $3.2 million into creating Millennium Studios in Elstree. A dedicated film buff, Willson started Millennium to provide space for homeless film businesses after MGM shut down Elstree Studios across the street in 1993. Now, he rents space to artisan companies, such as film editors. One set of offices in his rambling building is occupied by the production company for Basil, a costume drama featuring international stars Christian Slater and Derek Jacobi.
Britain's cost advantage has been eroded somewhat by the fluctuating pound. To create a true Tinseltown by the Thames, the country must become more than a cheap source of talent and begin funding blockbusters on its own.
Before it's here, it's on the Bloomberg Terminal.
LEARN MORE