Loading The Bases In North Carolina?
The sports-hungry Triad area has a real shot at a ball club
Justin Catanoso
Baseball may be the bad boy of major-league sports, but that doesn't mean nobody wants an expansion team. If the owners stick to their agreement with the players' union, there will be two new clubs awarded as early as 1999, and one of the strong emerging contenders is North Carolina's Triad.
What's a Triad? As the group of businessmen cheerleading the push to bag a ball club will tell you, it's an unheralded metropolitan region in central North Carolina anchored by Greensboro, Winston-Salem, and High Point--home to textile, tobacco, and furniture giants. Although the Triad execs profess a passion for the national pastime, they have a bigger passion for economic development. Here's a statistic that makes them swoon: One day after the Carolina Panthers fell to the Green Bay Packers in the National Football Conference title game back in January, the Charlotte Chamber of Commerce logged in 91 business relocation inquiries, triple that of a typical Monday.
BIG GUNS. Triad boosters have more than just hopes that Major League Baseball will give them a go; they have some big reasons on their side. Two are the Charlotte Hornets, which routinely lead the National Basketball Assn. in attendance, and the equally popular Charlotte-based Panthers, which raised $100 million for its $190 million stadium by selling fans lifetime licenses to purchase season tickets. North Carolina is sports country.
The Triad effort also has some big guns. Jefferson-Pilot CEO David A. Stonecipher, Wachovia Bank of North Carolina President J. Walter McDowell, and Hugh L. McColl Jr., chairman of banking behemoth NationsBank. McColl, who sits on the Jefferson-Pilot Corp. board and is one of the most influential sports financiers in America, would like Major League Baseball in his hometown of Charlotte. But he believes the city cannot support three professional teams simultaneously--at least not for another five years. With Hornets owner George Shinn looking to raise money to build a new downtown arena (the team's current home, though only eight years old, is short on skyboxes), McColl's caution is understandable. "I am committed at the moment totally to trying to help the folks in the Triad," says McColl, whose bank provides financing for the Baltimore Orioles, Florida Marlins, Milwaukee Brewers, and Texas Rangers.
But MLB in the Triad? Locals doubled over in laughter at the very notion when it was first introduced about 18 months ago. Michael T. Scanlon Jr., an executive with American Baseball Capital Inc., which has been trying for years to bring big-league ball to northern Virginia and which owns a minor-league team in Greensboro, sneered: "What makes the good people of the Triad feel they've got a shot at Major League Baseball when they can't even build a decent Class-A baseball stadium? I'm sorry, but it flies in the face of logic."
Not exactly. In fact, there is plenty of logic to suggest that the Triad is a front-runner. From the outset, the Triad effort has been well-organized, with strategic connections to corporate leaders, pols, and baseball honchos. The demographics alone are compelling: the Triad has some 6.4 million people within a 100-mile radius of its center. Only suburban Washington, D.C., has more people in that range and no big-league team. Two interstates--I-40 and I-85--put population centers in Charlotte and Raleigh 90 minutes away. Because North Carolina is considered one television market--as it is for the Hornets and Panthers--it ranks among the top 10 in the country. And while baseball will have 30 teams in 1998, none will be located between Baltimore and Atlanta.
NATIVE SON. Unlike recent expansion efforts in Denver and Phoenix, which both struggled initially to put credible ownership groups together, the Triad has that base covered. The man with the money is Don Beaver, a North Carolina native who two years ago sold a chain of nursing homes for more than $100 million.
Beaver, a pitcher in the 1952 Little League World Series, owns minor league teams in New Orleans, Knoxville, Tenn., Winston-Salem, and Hickory, N.C. Last year, he also became a minority owner of the Pittsburgh Pirates and has used that position to lobby influential owners about the Triad effort. Beaver is now courting a small ownership group that will put up $100 million toward the cost of a franchise. He has also pledged to help pay for one-third of stadium construction costs.
The Triad may also benefit from a lack of competition. With Charlotte on the sidelines, the only other viable market appears to be northern Virginia. Although MLB longs to expand into Mexico, the experience in Monterrey last summer, when the New York Mets and San Diego Padres played a three-game series, was sobering: plenty of people, but too much poverty. Orlando competed in the last round of expansion, but baseball is unlikely to put a team 90 miles from the new Tampa franchise. In the Midwest, only Indianapolis stands out, and it has its hands full with the NBA Pacers and NFL Colts. "Northern Virginia and North Carolina are all that's left," says Mark S. Rosentraub, an urban policy professor at Indiana University and baseball scholar. "There are no other large, underserved areas in the U.S."
However, two issues--both outside the control of the Triad organizers--may pose barriers. Although acting Commissioner Bud Selig, owner of the Milwaukee Brewers, has said baseball needs to get to 32 teams, several key owners, including Boston Red Sox CEO John Harrington, have have suggested that the league may need to stick with 30 teams for 5 or 10 years. With TV revenue-sharing, the owners worry about splitting the pie two more ways. And they fret about a shortage of talent.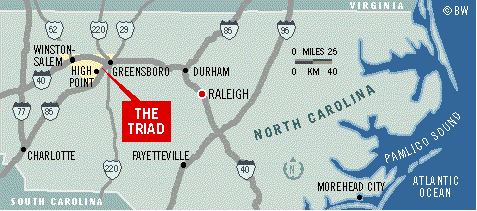 A LUCKY PENNY? If the league waits to expand much beyond 1999, Charlotte would likely contend for a franchise, and that would certainly doom the Triad effort. Then again, the Triad might do itself in. Next summer, voters in the 12-county region will be asked to add 1 cents to the sales tax for one year to help pay for stadium construction. Organizers estimate that the tax increase will raise $145 million. The 1 cents, one-year plan is the most aggressive tax ever attempted in raising public money for stadium construction costs. For a Triad family of four with a total income of $40,000, the tax would add up to an average of $112 a year--and that's if they have no big-ticket purchases, such as a new 4X4.
Given the number of baseball fans who see owners as greedy and players as overpaid, and given the region's conservative nature, the tax can expect stiff opposition. If voters say no, the Triad will have to be content with minor-league baseball--and minor-league status.
Before it's here, it's on the Bloomberg Terminal.
LEARN MORE