Italy: An Eleventh Hour Sprint To Trim The Deficit
by
Italy's struggle to qualify for first-round entry into a single-currency Europe continues. The government has announced a supplementary budget that officials say will cut another 16 trillion lire ($9.4 billion) from the deficit. The minibudget will attempt to reduce the shortfall from a projected 3.8% of gross domestic product to the 3% required by the Maastricht Treaty.
However, Prime Minister Romano Prodi's Olive Tree coalition will have to pass the legislation over the objections of Prodi's parliamentary ally, the Communist Refoundation Party, possibly with help of the opposition Forza Italia headed by former Prime Minister Silvio Berlusconi. Still, the package is unlikely to deliver all that it promises. The Forza Italia is opposed to additional taxes and the Communist Refoundation will fight cuts in social spending, so the plan will depend heavily upon accounting transfers, temporary measures, and other savings that are difficult to quantify.
Prodi is also fighting a weak economy. Italy's preliminary real GDP fell 0.1% in the fourth quarter, bringing 1996 growth to only 0.8%, down from 3% in 1995, and prospects for 1997 are dim. The government recently lowered this year's growth projection from 2% to 1.2%.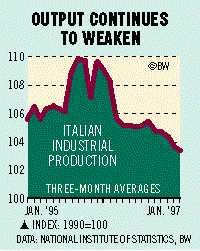 A rebound in early 1997 seems unlikely, given January's disappointing data on industrial production and recent survey results. Business investment is adding some modest support, but exports have weakened with last year's strengthening in the lira, which returned to Europe's exchange rate mechanism in November. Consumer spending has slowed sharply, and fiscal tightening will continue to depress domestic demand generally.
Lower interest rates would help both the economy and budget prospects, since Italy's deficit is all interest. A weak economy and low inflation, which is expected to dip below February's 2.2%, may allow the Bank of Italy to shave the discount rate this spring. But any cut depends on a stable lira, and that requires credible progress toward deficit reduction.
Before it's here, it's on the Bloomberg Terminal.
LEARN MORE