Can Toys `R' Us Get On Top Of Its Game?
Even snazzy makeovers may not win back lost share
I. Jeanne Dugan
For Michael Goldstein, chief executive of Toys `R' Us Inc., the past three years have been anything but child's play. Since he took over the top job at the giant toy retailer in February, 1994, Toys stock has lost a fifth of its value, and operating earnings have fallen 11% from results his first year. "It's been exhilarating," Goldstein says stoutly of his tumultuous tenure. "It's also been exasperating."
Toys `R' Us, the company that long dazzled Wall Street with its unstoppable growth, has been fighting--and losing--a series of battles on all fronts. At home, the market it once owned has been under assault from giant discounters that use toys as loss leaders. Despite being a market share loser, Toys has been accused by the Federal Trade Commission of unfair price competition in a case still pending. An attempt to translate its formula overseas has stalled. Even the much copied design of its stores--cavernous big boxes heavy on merchandise and short on ambience--has lost favor with shoppers. "Customers didn't like the shopping experience anymore," Goldstein says.
REDESIGN. Not that Goldstein isn't fighting back. Following an 18% slide in operating earnings in 1995, he announced a wide-ranging strategy early last year aimed at refocusing every facet of the company's business. The plans include a major redesign for the flagship toy stores that was unveiled last summer. In October, the retailer announced plans to buy its biggest competitor in the baby-equipment market and is planning to redesign its children's clothing stores. It's also experimenting with new concepts, notably a megastore that combines elements of all three chains.
So far, however, the moves have failed to recapture Toys's old momentum. Anticipating improvement in the wake of Goldstein's turnaround plans, Wall Street sent Toys's stock steadily higher last year. From 22 in January, it climbed above 34 in November. But then came Christmas. Despite lobbying trips to Nintendo headquarters in Japan by Toys `R' Us execs, the retailer couldn't get enough stock of the popular video games and turned away 100,000 disappointed customers. Tickle Me Elmo? "They saw it on TV and were disappointed when they came here to get it," Goldstein says.
The result: For the eight-week holiday season, sales were flat. That stiff dose of reality helped knock share prices back down to the mid-20s in January. It has since recovered to 29. Toys ended the year with operating earnings of $813.8 million, up 8.8% from 1995, on sales of $9.9 billion, up 5.4%. Not terrible, but not enough to make it a growth stock either.
This is a long fall for the company that pioneered the category-killer style of retailing in the 1980s. Back then, the giant stores made no attempt to offer entertainment or even charm. With all the excitement of a supermarket, Toys `R' Us piled Barbies like so many cereal boxes on drab floor-to-ceiling shelves. Customers fought through the maze of aisles, reaching high overhead for toys, diapers, and party favors. But with a huge assortment and decent prices, Toys drew baby-boomer parents in droves. Boasting double-digit earnings growth through most of the 1980s, Toys looked unstoppable. "This was a case where trees really could grow to the sky," says Frederick Marx, a partner at Marx-Layne Retail Consulting in Farmington Hills, Mich.
COURT CASE. But an onslaught of new competitors stopped Toys in its tracks. Foremost among them: Wal-Mart Stores Inc., which had long avoided the low-margin toy business. The discounter reentered with a vengeance in 1990, stocking up on the hottest-selling 20% of toys that account for the bulk of sales and practically gave them away, according to Marx and other industry analysts. Since toys only accounted for a fraction of its business, Wal-Mart could afford to cut prices. So could other discounters. They retaliated by following suit.
The company that couldn't afford to fight this war was Toys `R' Us. With toys its only category, lowering prices hurt it far more than the competition. It tried using its dwindling clout by threatening to dump certain toys if they were also sold to warehouse clubs, another group of low-cost competitors. But that brought the FTC complaint against the retailer in a case that went to court last month. "This is common practice," Goldstein says. "It's the same thing as department stores saying they won't carry clothes that Kids `R' Us carries. It happens."
None of that stopped the company's market share from sliding. Its slice of the $30.2 billion toy market has dropped from 25.4% in 1990 to 20.5% last year, according to Tactical Retail Solutions Inc., a New York consulting firm. Meanwhile, Wal-Mart's portion has grown from 9.5% to 15%. "Toys `R' Us had the lion's share of the growth path," says Sean McGowan, an analyst with Gerard Klauer Mattison, a New York brokerage firm. "Wal-Mart stopped it."
Early last year, Goldstein moved to show the world Toys was back on track. He unveiled an array of initiatives designed to win back customers. Foremost was Concept 2000, a plan to convert each of the 683 U.S. stores to a snazzy new look by the end of the decade. The new stores feature a wall of glass in place of the drab stucco facade. The old high shelves have given way to low-slung floor displays, allowing a view clear across the store, from the Barbie boutique to the Lego arena. Bright decals dot the floors. And to make the stores easier to shop in, Toys cut the number of items it stocks by a fifth. "We can't compete with prices at Wal-Mart and other discounters," Goldstein says. "So we're installing a wow factor."
BIG CONCEPT. Early buzz is encouraging. Goldstein says so far customers are spending more time and more money in the 13 stores that sport the new design. Still, the changes have been too slow to make much of a dent: The company has 670 locations yet to convert, at $800,000 to $1.5 million a pop. Toys plans to build 25 Concept 2000 stores this year and convert 57 existing locations, taking up most of its estimated $630 million 1997 capital spending budget.
The new stores may preserve the company's market position, but some doubt they will increase it dramatically. "There's a point at which you get so much market share--in any industry--that there's nowhere to go but down," says Bernice Behar, a portfolio manager at John Hancock Funds, who holds Wal-Mart stock but not Toys. "Toys `R' Us is at that point."
That's why Goldstein is looking beyond toys for growth. A $376 million deal to buy Baby Superstores Inc, closed in February, leapfrogging the company's Babies `R' Us chain to the head of the line in the $20 billion market for baby clothes, furniture, and toys. By the end of the year, Toys expects to have 104 baby stores generating $650 million in sales, compared with just six in 1996. As the leader in a fragmented market, this may well be Goldstein's strongest bid for growth, although he will need to consolidate his position fast. Other retailers are also eyeing this market.
Goldstein also needs to improve results at Kids `R' Us, its 212-store children's clothing chain. A redesign may help, but Toys faces stiff competition from department stores and specialty retailers. The best hope in clothing may lie in KidsWorld, the 95,000-square-foot megastores that combine all three chains under one roof. Borrowing from retailers such as Barnes & Noble Inc. and Disney Stores that use food and entertainment to keep customers in the stores longer, Toys has added party areas, hair salons, and a photo studio to the megastores. Two opened last year, and Toys plans to roll out two a year starting in 1998. Goldstein says results have been strong so far, but the potential of KidsWorld is limited by the stores' sheer size. "The country can only sustain so many," says Toys board member Howard W. Moore, a retail consultant and former Toys executive.
PLOWING AHEAD. Toys has also made a big investment outside the U.S., where it has 396 stores in 23 countries. But so far those markets have failed to live up to expectations. Early this decade, Goldstein predicted that Toys would increase international sales 30% a year and hit sales of $10 billion by 2000. Instead, international revenues grew less than 1% last year, to $2.8 billion, in part because of weakening economies in Europe and Asia. Nonetheless, Goldstein is plowing ahead, convinced that foreign markets still offer good growth prospects. This year, Toys will add 40 new stores, mostly in Japan.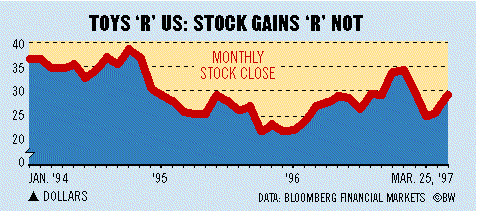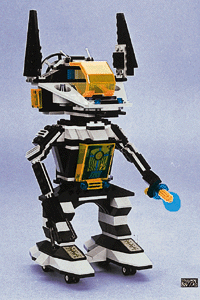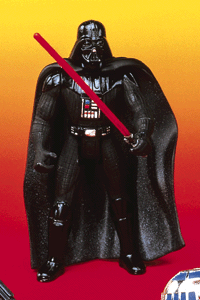 Toys may never recapture the luster of its high-growth years. But this year, at least, it could get a boost from something totally beyond its control: a better market for toys. "This is the strongest start I've seen in years," says Ed Roth, who directs toy-industry analysis for NPD Group, a market research firm. The re-release of the Star Wars movies has sparked a mini-industry in licensed space toys, accounting for $55 million in sales in January alone, according to NPD Group.
Having learned from Elmo and Nintendo, Goldstein is ready this time. On a tour of a newly refurbished New Jersey store, he proudly shows off the store's massive Star Wars display. As if on cue, a grandfather walks in, five kids in tow. "Wow, Andy, look at that," he says, pointing to the giant spaceship suspended from the ceiling. Goldstein looks as if he's just heard a baby's first words. "Did you hear him?" he gloats. "He said, `Wow."' If only Wall Street could hear.
Before it's here, it's on the Bloomberg Terminal.
LEARN MORE