Another Jersey Bank Job?
by
Densely populated New Jersey "has become a hotbed of bank takeovers," says money manager Jerry Ballan of C-B Partners, a New York investment group. Since July, at least nine have been bought out.
Bank deals in the state have become so heated that, just as one bank was expressing an interest last year in acquiring 100-year-old Trust Co. of New Jersey (TCNJ), the suitor was snapped up and taken over by an even larger Jersey bank. But no matter. Ballan argues that Trust Co., which owns 50 branches in upscale areas of central and northern New Jersey, remains an attractive target.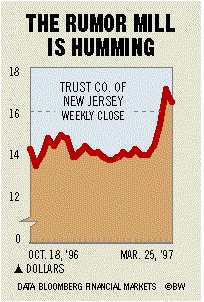 Indeed, Chairman Siggi Wilzig concedes that "only price" has come between the bank and suitors, indicating that he has had talks with interested parties. Wilzig declined to specify what the right price is. But Ballan says the benchmark in recent bank buyouts has been about 2 3/4 times book value. Trust's book is $9 a share, estimates Ballan, pointing to a value of 24 a share. The stock sells for just under 17.
Wilzig says, however, that valuations in recent deals have edged toward three times book. Management has been busy increasing shareholder value by improving and expanding operations, says Wilzig, whose family controls about 30% of the bank's stock.
Ballan estimates that Trust will earn more than $1.25 a share this year, up from last year's $1.02 and 1995's 62 cents.
Before it's here, it's on the Bloomberg Terminal.
LEARN MORE