Yikes! They've Cloned New York
Edward C. Baig
At least you won't need a wake-up call: If New York, New York, is the city that doesn't sleep, New York-New York, the new hotel and casino on the Las Vegas strip, is a place where you can't possibly sleep. Snaked around its ersatz Manhattan skyline--an imposing architectural silhouette of the Empire State, Chrysler, and 10 other famous Gotham buildings---is a humongous Coney Island-style roller coaster that rattles past many of the rooms every few minutes. When I was there, official hours for the attraction were supposed to be from 10 a.m. until midnight. But the coaster started warming up soon after 8 a.m., although the screaming riders weren't let aboard until 10. As a native New Yawkah, I felt at home all right. It was just like living near the El (elevated railroad) in Queens, where I grew up. A bellman volunteered that he had heard complaints about the din from other guests.
Like the metropolis it's modeled after, New York-New York also has its share of traffic problems. During the week following its grand opening in early January, several taxi drivers whined about the bumper-to-bumper conditions getting in and around the joint, just as genuine Manhattan cabbies grumble about having to cross the bridges and tunnels to Brooklyn and Queens. "Now that they have all these bigger casinos, it seems to me that access to a hotel would be second nature," said Joel Burrow, a Vegas taxi driver for 23 years.
There was a lot of congestion inside, as well. The huddled masses yearning for a little room had to elbow their way past shops and one-armed bandits with the fervid determination of Long Island Railroad commuters at rush hour. Asking several staffers for directions to the hotel's executive offices made me feel an instant kinship with the befuddled tourists who try to navigate the real Big Apple.
Of course, one is meant to feel disoriented in Las Vegas, a city founded on the premise that folks ought to not be able to grab a snack or relieve themselves without surrendering a few coins en route. With 2,035 rooms and suites, New York-New York is the $460 million result of a joint venture between MGM Grand, whose hotel/casino across the street is the world's largest, and Primadonna Resorts Inc., which operates a trio of casinos on the California-Nevada state line.
NEXT, PARIS. With its many nickel-and-quarter slot machines, New York-New York is targeting middle-income visitors who might otherwise stay at Treasure Island or Luxor. High rollers are best suited to the more upscale MGM, Caesars Palace, or the Mirage. In its first day of operation, about 98% of New York-New York's slots were in use, according to CEO William J. Sherlock. Casinos are pleased, Sherlock says, with 20% to 30% usage on a typical weekday, and 40% to 50% on a weekend. Currently, about 50% of the hotel's slots are in use during the week, 75% on weekends. Rooms are $69 to $299, with occupancy rates hovering around 98%.
The key question is whether the throngs will keep coming once the newness wears off. One of America's fastest-growing metro areas is planning to add about $9 billion in new or refurbished hotels and casinos during the next two to three years, piling onto the 90,000-plus rooms already in place. Coming attractions include Bellagio from Mirage boss Steve Wynn, which is supposed to evoke a small Italian resort on the shores of Lake Como; and Hilton Hotels' homage to the city of Paris, complete with a 50-story replica of the Eiffel Tower.
For now, New York-New York's 47-story Empire State Building is the tower du jour. But discriminating travelers should be advised that New York-New York has to fill in a few potholes before living up to its billing as "The Greatest City in Las Vegas." Consider: I requested a nonsmoking room but was assigned one with ashtrays. Said room, in an art-deco motif, wasn't made up until more than two hours after my ETA. When I phoned Guest Services to inquire about the roller coaster racket, I was put on hold for several minutes. (Since my stay, coaster hours have been cut back to 10:30 p.m. on weeknights, and the hotel also might install less noisy wheels on coaster cars.) The plastic room key card had arrows pointing the wrong way. Okay, so I was warned of this glitch at check-in--but we New Yorkers are quick to complain. Even so, I must confess that I found parts of New York-New York oddly appealing. The 84,000-square-foot casino space is carved into a variety of interior themes. You'll find the cashier's cages inside a facade dubbed the "New York Slot Exchange." You can peer out over the casino area from a viewing deck a la Grand Central Station. With its trees, pond, and a stream that flows under a bridge, the central casino area is aptly named Central Park, though you would have to down more than a few cocktails before confusing the Vegas variation with the original.
STEAMY SCENE. But during an early Sunday morning stroll through the casino's "neighborhoods"--a rare instance in which the "streets" weren't mobbed--I noticed that myriad details were right on the mark. The many false fronts (hardware store, shoemaker) made me feel like I had wandered onto a movie set. A fake Bonds Clothing store advertised two-trouser suits. A "back in 5 minutes" notice was taped on a barber shop door. The phony Helen Yee Dry Cleaning store window displayed autographed pictures from celebrity/customers such as David Letterman, John Lennon, Joan Rivers, and Robert DeNiro.
There were other true-to-life touches. A replica of the Christopher Street subway entrance contained posters hawking the new Metro card, though there was no evidence that Nevadans were taking to the card any faster than token-loving Gothamites. One building carried a scrolling sign similar to the one that delivers headlines in Times Square. Brick streets contained manhole covers with steam coming out. A "No Parking" sign made me think about having to move my car from side to side back home, to comply with alternate-side-of-the-street parking regulations, enforced so the streets can be cleaned.
Vegas-on-the-Hudson is also populated with parking meters, newspaper machines, and mailboxes covered with graffiti. Apartment houses are suitably appointed with soot-covered windows, fire escapes, hanging laundry, and "no menus" signs. (We apartment dwellers are besieged with take-out menus slipped under our doors.)
Then again, what would New York be like without a nosh? There's no shortage of eateries--a kosher-style deli, Italian bakery, Nathan's franks, and Chinese restaurant, to name a few. To my palate, a pizzeria didn't measure up to the finest Brooklyn has to offer. I passed on the slabs of beef at Gallagher's Steak House, one of the real New York restaurants to open a branch at the hotel. Motown Cafe is another. In a lobby situated under a movie marquee, Motown drew Babyface, Boyz II Men, the Temptations, and other celebs to a star-studded opening bash. At other times, the restaurant, which in New York is located on 57th Street, features Motown-style singers.
Upon completion of a 1,000-seat theater in May, the hotel will be home to a permanent production called MADhattan, featuring city street performers. The show will be produced by Kenneth Feld, impresario of the Siegfried & Roy extravaganza at the Mirage. As with other family-minded Vegas hotels, New York-New York is kid-friendly. Thus, the Coney Island Emporium is a 28,000-square-foot arcade where children can board the roller coaster, play laser tag, or drive bumper cars that resemble Checker cabs in both form and function. The only things missing are a few pedestrians sprinting for their lives.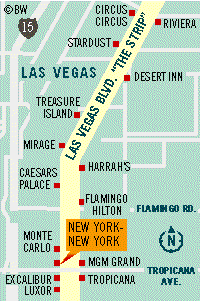 Still, the most dramatic reproductions are those that decorate the outside of the property. The remarkable cookie-cutter skyline can be seen from other parts of Vegas, just as people living in Jersey or the outer boroughs can admire Manhattan views from a distance. You'll have to come closer to appreciate the lower edifice of the hotel and the fine replicas of the Ellis Island Immigrant Receiving Station and the Soldiers & Sailors Monument. A 300-foot mock Brooklyn Bridge, a fifth the size of the original, leads to one of the hotel entrances and is really quite impressive. So is a 150-foot Statue of Liberty. Alas, given Miss Liberty's proximity to the roller coaster, it's a pity she isn't wearing earplugs.
Before it's here, it's on the Bloomberg Terminal.
LEARN MORE