Truck Sales: Unsafe At This Speed
Have the Big Three just hit a bump--or is the problem deeper?
Kathleen Kerwin
It's as close as Detroit comes to a sure thing. The booming $42 billion market for full-size pickup trucks has been the U.S. auto industry's last unchallenged bastion of profits and market share. With baby boomers flocking to gussied-up, extended-cab Ford F-150s, Chevy C/Ks, and Dodge Rams, big pickup sales surged to 1.85 million units last year, up 78% in five years. And most auto forecasters expect those sales to keep growing well into the next decade.
So it was quite a surprise when big pickups hit a bump late last year. Sales flattened in November, then declined for three straight months. Christopher W. Cedergren of auto consultants Nextrend Inc., believes rising sticker prices are to blame: "The fundamental issue is affordability." But even if the pickup skid proves temporary, as most carmakers, dealers, and analysts expect, it could be a signal that the road is getting bumpier for the Big Three.
ROAD WORRIERS. The route is, however, a familiar one for Detroit executives. The markets for minivans and sport utilities already have become crowded with domestic and Japanese competitors. Compact pickup trucks have been waning in popularity, and tough Japanese competition there keeps profits razor-thin. While Motown still dominates the overall category of light trucks with 86% market share, it lost 1.8 points of share in the U.S. in January and February alone.
The assault on U.S. truck hegemony comes at a bad time. Roaring truck sales have been masking a steady erosion of sales and market share in passenger cars, where the Japanese and Europeans have been gaining ground. The Big Three now hold just 60.7% of car share, down nearly 5 points from a year earlier. Declining sales forced Ford Motor Co. to announce on Mar. 17 the elimination of three car models, including the storied Thunderbird, as well as the aging Aerostar minivan. If truck growth slows, Detroit could be stuck with costly plants it would have to close or convert to car production. Susan G. Jacobs, an independent auto industry consultant based in Rutherford, N.J., figures that General Motors Corp. and Toyota Motor Corp. alone plan to add 375,000 units of full-size pickup production capacity by 2000, but she predicts industrywide sales will rise only 250,000 units.
The resulting race to steal market share could wallop Detroit's bottom line. Gross profits on trucks average $6,000 to $10,000, more than double those on cars, estimates George C. Peterson, president of AutoPacific Group Inc. in Thousand Oaks, Calif. Even now, auto makers are offering more rebates and lease deals to lure customers into slower-selling minivans and sport utilities--the way they have moved passenger cars, at the expense of profits, in recent years. Art Spinella of CNW Marketing/Research in Bandon, Ore., estimates that the average truck incentive of $2,200 a vehicle is 52% higher than two years ago. Although car incentives remain higher, averaging $2,900 per vehicle, they have risen only 6% in that time.
Still, inventories of some trucks are double-parked in sales lots. At the end of February, U.S. dealers held a hefty 78-day supply of trucks, vs. 64 days of cars. (A 60-day supply is the norm.) There was a 73-day supply of the newest entry in the large-pickup segment, Ford's F-series, and GM had a 79-day stock of its aging C/K pickup. Chrysler saw its truck business, which accounts for two-thirds of sales, fall 2.6% in January and February from year-earlier levels.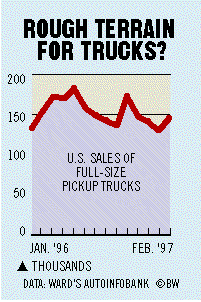 Steven A. Torok, Chrysler Corp.'s executive director of sales and marketing, insists there's no problem, despite Dodge Ram's 7% slide this year. Indeed, most dealers and analysts are calling the sudden skid in large pickup sales a seasonal fluke. Too mild a winter, says one Pennsylvania dealer, explaining that blizzards are what persuade many consumers to snap up four-wheel-drive trucks. No, says another in Wisconsin, it was severe weather that kept shoppers at home. The auto industry will be watching pickup sales closely this spring to see whether the winter slump was a blip--or the beginning of the end of a once sure thing.