Japan: Slowly And Shakily, Growth Tiptoes In
By
The Japanese economy is showing signs of stronger growth, but gains will be limited by the restrictive stance of the fiscal 1997 budget.
Real gross domestic product in the fourth quarter grew at a strong annual rate of 3.9%. Growth was led by an 18.4% jump in exports, while business investment and housing finally responded to low interest rates.
For 1997, industrial output started the first quarter by jumping 5.3% in January, the biggest monthly gain on record. Auto production alone was up 12.6%. The Ministry of International Trade & Industry warned that output fell back in February and March. But orders rose in January, while inventories were flat. Those data suggest that output can rebound in the spring.
Exports are priming the factory pump, thanks to the yen's 14.5% drop against the dollar over the past year. After surging last quarter, exports in January and February still averaged 13.5% above year-ago levels. As a result, the trade surplus' four-year slide has likely ended (chart). It rose to 686.7 billion yen ($5.6 billion) in February, up 6.5% from a year ago.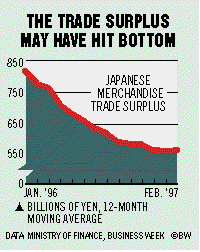 Even household spending is showing some life, despite a poor job market and weakening consumer sentiment. Real private consumption grew at a 4.9% pace in the fourth quarter, and nominal household spending rose 0.1% in January. But that gain may reflect buying in anticipation of the April hike in the value-added tax.
In fact, the spoiler in the outlook is Japan's new fiscal austerity. The government budget that begins on Apr. 1 will likely raise the VAT rate from 3% to 5%, eliminate some tax rebates, and increase medical-insurance fees. That drop in aftertax income, along with slower public-spending growth, is why the government expects real GDP to grow just 1.9% this year, compared with 3.6% in 1996. The fiscal cuts will most hurt consumers who have only begun to crawl out of their slump. The question is whether rising taxes may force them back into hiding.
Before it's here, it's on the Bloomberg Terminal.
LEARN MORE